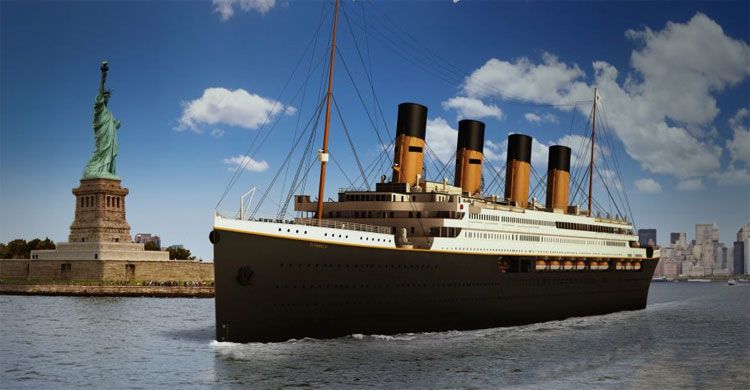 Photos Courtesy of Blue Star Line
While James Cameron may have impressed millions when he brought a new generation aboard the
Titanic
 through his 1997 blockbuster film, Clive Palmer is doing one better. The eccentric billionaire is
physically
 bringing cruise-goers onto the famous ship. Or rather, onto its new and improved twin sister
Titanic II
, that is. Palmer announced his intentions last year to build a modern replica of the legendary vessel and has just revealed some interesting details about what we can expect for its 2016 maiden voyage. 
Palmer is creating the
Titanic II
not only to show people what it was like to sail on the ill-fated ship, but to have them truly experience it and feel like a part of history, minus the iceberg [
fingers crossed
]. Passengers will be given period clothing to don while on their voyage from Southampton, UK to New York City, as it was supposed to happen in 1912. While Palmer is still deciding whether to provide Internet access, he does note that there will be no phones and no TVs. Without these distractions, perhaps a few good conversations and even romance could ensue. It sure worked in the movie.
Mimicking the precise design detail of the original, the 10-deck
Titanic II
will contain all the same restaurants and dining rooms, a smoking room, casino, theater, and hospital. Of course some differences are inevitable, like the top-of-the-line engine and air conditioning, as well as the addition of more lifeboats, including 18 motorized ones, to rectify one of the most egregious errors made during the last century.
One particularly outdated practice from the
Titanic
that could take place on the new ship is the division of first, second and third class passengers, whom may be prohibited from intermingling. The idea that passengers would be able to experience all class levels during their stay is under still consideration as well. And while you may think a successful man like Palmer would be living the high life on board his own grand creation, he claims that he will be found traveling third class in authentic attire, sporting a wig, and dancing around like Leo did. I'll believe that when I see it.
Blue Star Line
, the shipping company owned by Palmer at the helm of this project, already has 40,000 people registered for tickets for the inaugural sailing in 2016. And while ticket prices haven't been released yet, it was revealed that 16 of those registered are willing to pay between $750,000 to $1 million for a cabin to be a part of it.
Finland-based marine design and engineering company Deltamarin has started the plans while Chinese company CSC Jinling Shipyard is being commissioned to begin building the luxury liner later this year. With state-of-the-art technology and high-tech navigation systems coming to
Titanic II
, it has been said that this will be the safest cruise ship in the world. But, at the blue print unveiling in NYC on February 26 when asked the all-important question of whether the new version would be unsinkable, Palmer replied, "It's very cavalier to say that. I think people have said that in the past and lived to regret it." Now there's an understatement.