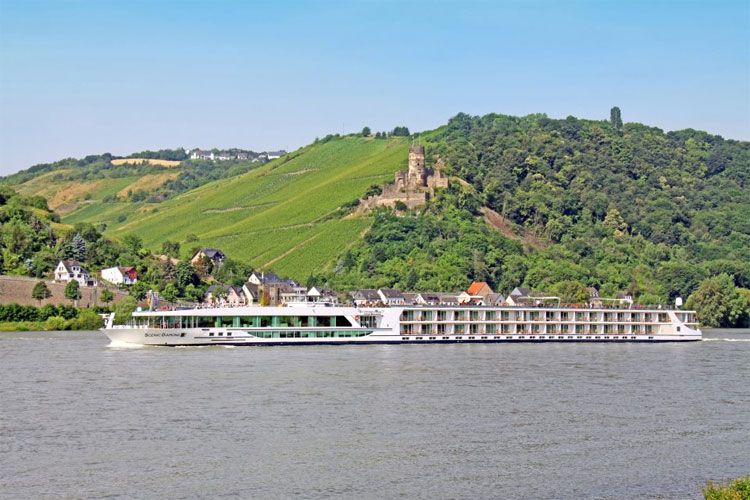 Photos Courtesy of Scenic Cruises
Here's one 'Space-Ship' you wouldn't mind being beamed up into:
Scenic Cruises
' newest river boat,
Scenic Jewel
. It fits in quite nicely with the six other precious and semi-precious stone themed vessels
Scenic Crystal, Diamond, Emerald, Pearl, Ruby
and
Sapphire
. We'll have to venture a guess that Scenic Cruises is calling their collection 'Space-Ships' so passengers know they'll have plenty of room to move around once on board. It sounds so simple and perhaps unnecessary until you're crammed into a tiny stateroom and have to shower over your toilet. Times they are a changin'.
Nearly all of
Scenic Jewel
's spacious cabins feature a private, walk-out balcony called a 'Sun-Lounge'. Let's say you're out there soaking up the sun's warm rays and the next thing you know a storm cloud rolls in and rains on your parade. What now? Flip a switch and the open balcony transforms into a covered lounge to protect you from any unfortunate weather conditions. Maybe this really is a space ship after all.
You can also somewhat sprawl out on your queen size 'Scenic Slumber-Bed' lined with Egyptian cotton sheets and a pillow you've carefully chosen from the handy pillow menu. The Samsung high-def TV is hooked up to a MiniMac computer so you can surf the web from the comfort of your own room instead of hovering over someone at the business center while they try to figure out where the space bar is for 20 minutes. Who has time for that? You have a vacation to enjoy.
While a lot of cruises these days offer all-inclusive stays for their guests, Scenic Cruises takes it a step further with their "fully inclusive" concept. This includes private butler service; all the non-top-shelf beverages you can drink (those come at an extra charge if you must have your fancy brand); daily minibar restocking; 24-hour room service; all food including themed dinners with live entertainment; all shore excursions; gratuities; airport transfers; the 'Tailormade' system, a handy GPS unit that offers audio info on sites along the river and on walking and cycling tours; and that in-room Wi-Fi no one can live without.
To make sure guests don't get jipped when choosing which 'Space-Ship' to cruise on, the owner recently invested $10 million in renovations to five of the river boats to bring them up to standard with the two newest,
Scenic Crystal
and of course
Scenic Jewel.
Scenic Diamond
and
Scenic Sapphire
had their first guests since the makeovers on board to check out everything from the addition of Sun-Lounges down to fresh wallpaper and light fixtures.

These luxury vessels can be seen floating down the rivers around Europe and Russia, welcoming up to 169 passengers in 85 rooms. And even cooler than all the new on board features are the exclusive shore excursions. Guests can customize their experiences through the Scenic Enrich, Scenic FreeChoice, and Scenic Tailormade programs. They could find themselves walking through the peasant villages of Skanzen, feasting on a private medieval dinner at Marksburg Castle, or listening to an intimate Viennese concert at Palais Lichtenstein.
Just when you thought the Scenic Cruises family seemed complete, they plan on launching yet another 'Space-Ship' next year called
Scenic Gem
. At this rate, we might even see
Scenic Chalcedony
or
Scenic Obsidian
joining the group in the years to come, though those names don't quite have the same ring to it.