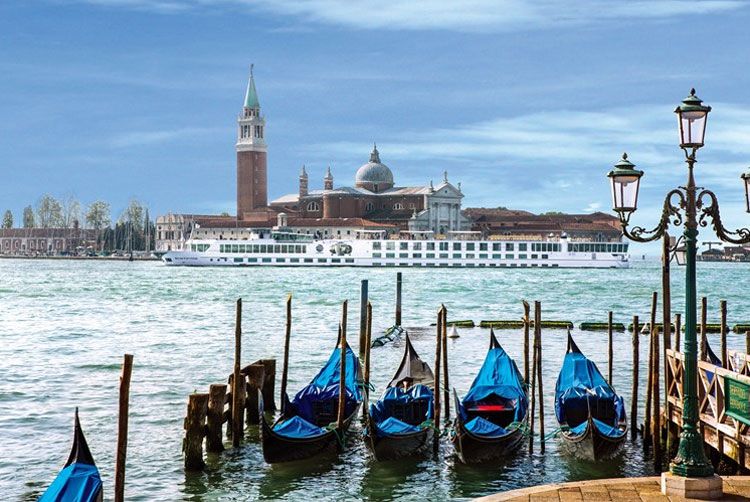 Photos: Uniworld Boutique River Cruise Collection
There are many ways to experience Venice and its surrounding towns, but few as special as from a river cruise along the Po River. This is an experience only available with 
Uniworld Boutique River Cruises
. As this is the city of water, living in the very same lagoon and stepping out for a stroll with the Venetians is an ultimate indulgence.
Your floating hotel, the
River Countess
, is in itself a charming gem, delightfully decorated to reflect the azur blue of the Venetian waterscape that envelopes you. As expected on an award-winning Uniworld Boutique River Cruise, the cabins are cleverly outfitted to maximize space and provide every luxury of a five-star experience. From ship-wide Wi-Fi, to weight and fitness areas, every need has been addressed.
Also, as expected, the service level aims for the highest standards of customer satisfaction. The staff quietly observes and anticipates your preferences, doing their utmost to make you comfortable and exceed your expectations. This is evident from the Captain, to the Cruise Manager, to the housekeeping and wait staff, to all who attentively await the opportunity to make your journey memorable. From our very late arrival (think midnight) that was met with an unexpectedly ready staff and a thoughtfully prepared light meal, to a request for unscented soap that was immediately purchased, to walking assistance for those in need, guest satisfaction is a clear priority.
Aboard
River Countess
, dining is a delight for all the senses. Quality local ingredients, artful presentations, culinary creativity, and overall excellent cuisine is a hallmark and a highlight of this cruise. Besides the dining room, there is an outdoor café and pizzeria where customized meals of local delicacies are sure to satisfy every craving. In addition, diners can eat al fresco on the Sun Deck, where complementary soft drinks, beer, and wine are served during lunch and dinner. Special requests are met with pleasure, as dietary preferences are noted and honored without repeated reminders.
The itineraries and excursions are robust and full of surprises: an exclusive evening tour of St. Mark's Cathedral, where ethereal lighting and music enhance an already over-the-top site; a signature lecture on the Lagoon of Venice; a private sunset cruise via chartered water taxi down the Grand Canal of Venice; and exclusive Epicurean Adventures, such as a dinner with wine pairings, and an evening of opera and popular Italian songs.
Because the Po River presents navigational challenges with the unpredictable water levels, most city excursions are by bus, but many hours are spent gliding in the Lagoon of Venice with unparalleled sites and photo ops. Besides Venice, the Po River Cruise includes visits to Padua, Verona, Ravenna and Bologna.
In Verona, city of Shakespeare's
Romeo and Juliet
, the local guides show off the architectural highlights of this 14th century walled city, including the balcony from where Juliet is supposed to have lived. In Ravenna, view stunning Byzantine mosaics from the UNESCO designated Basilica of Sant'apollinare Nuovo. While in Bologna, called "the culinary capital of Northern Italy," participate in a special culinary experience by observing and rolling pasta under the guidance of expert Italian pasta makers.

Uniworld Boutique River Cruise Collection puts you up close and personal to all the "action". In Venice, the
River Countess
is docked near all the most scenic attractions. Daily tours and shore excursions with local guides are all included to provide maximum time for sightseeing and personal exploration. So, if visits to Venice, Padua, Verona, Ravenna and Bologna are part of your bucket list, this trip is not to be missed.