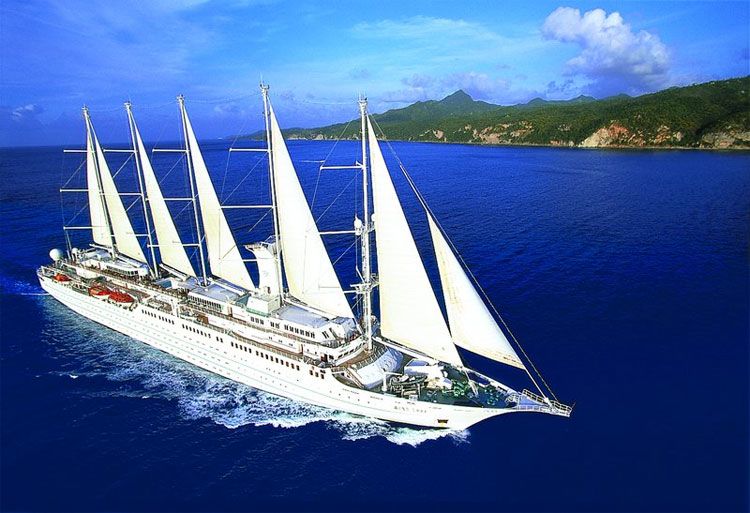 Photos Courtesy of Windstar Cruises
Windstar Cruises
has been known for its intimate small ships and unique port stops for nearly 30 years, but that doesn't mean they're afraid to shake things up a bit. Recently the
luxury cruise line
has expanded their fleet by acquiring new ships to continually evolve the Windstar experience for loyal cruise-goers and new guests alike. Here's what they're been up to:
Welcoming Seabourn ships to the family:
Three new small ships from Seabourn's fleet will be joining Windstar, thanks to an agreement made by the brand's owner, Xanterra Parks & Resorts.
Seabourn Pride, Seabourn Legend, and Seabourn Spirit
each hold 208 passengers in their 104 all-suite vessels, which fits in nicely with Windstar's commitment to small-ship cruising with 300 or less guests at a time.
This acquisition is part of a larger project called 'Global Windstar' which allows the company to broaden their itineraries and port visits to destinations like Tahiti and the Black Sea, with Asia and South America to come soon. The next two years will see the launch of these ships after renovations and new names are given to fit with the Windstar line.
Seabourn Pride
will head out on its first sailing to the Mediterranean in May 2014, and control will be taken of
Seabourn Legend
in April 2015 and
Seabourn Spirit
in May 2015.
Powering up:
Also part of the Global Windstar program is the addition of three new all-suite power yachts.
Star Pride
is the first one to set sail in May 2014, spending the summer cruising around Europe after a rebranding and renovation. Each yacht will hold 212 passengers in 106 suites across six decks and feature signature Windstar experiences like the Open Bridge Policy (guests are welcome to watch the captain and crew operate the ship from the Bridge), their legendary Yacht Deck Barbeque Gala, and Sail-Away Party.
Bon voyage!:
With
Star Pride
getting ready to hit the open seas come next year, Windstar announced the Voyage Collection of itineraries that will be offered on the new ship. The four European voyages went on sale May 14 and will take place from May 5-October 21, 2014. They include:
Black Sea Tapestry:
A seven-day roundtrip cruise from Istanbul to five new ports including Yalta, Sevastopol, and Odessa, Ukraine; Constanta (Bucharest), Romania; and Nessebar, Bulgaria.
Pride of the Aegean:
A nine-day roundtrip cruise from Athens or Istanbul stopping in Monemvasia, Chania, Santorini, and Rhodes, Greece; and Bodrum, Kusadasi, and Cesme, Turkey.
Riviera Enchantment:
A seven-day roundtrip sailing from Rome porting along the French Riviera at Cannes, France; Monte Carlo, Monaco; and Portoferraio, Portofino, and Portovenere, Italy.
Venetian Passageways:
A nine-day roundtrip voyage from Athens or Venice traveling along the ancient trade routes and stopping in Hydra, Corinth Canal, Delphi/Itea, and Zakynthos, Greece; Butrint, Albania; Kotor, Montenegro; and Dubrovnik and Hvar, Croatia.