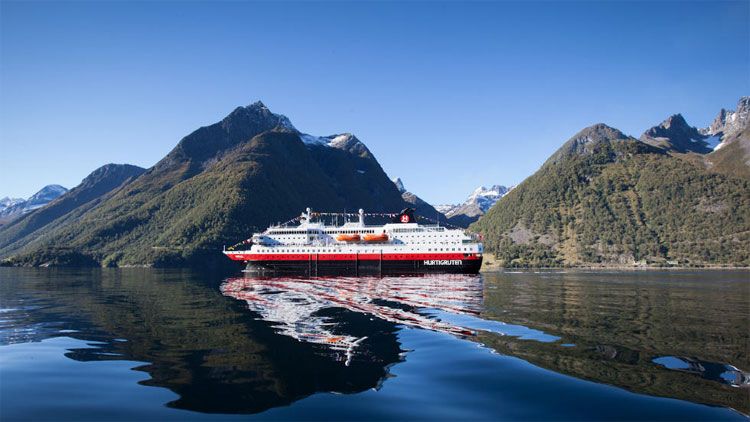 Photo Courtesy of Hurtigruten
The summer season might've just kicked off, but
Hurtigruten
is already gearing up for their fall cruises. The recently introduced "Autumn Gold" program is offering even more incentive to sail the 1,490-mile-long Norwegian coastline with the experienced freight and passenger vessels. On the six-, seven-, eleven- and twelve-day itineraries, the ships will stop at 34 ports along the scenic route from Bergen and Kirkenes, and feature new culinary, cultural and musical treats along the way.
Photo Credit: B?rd L?ken/Hurtigruten
While ports already include fishing villages in the Lofoten Islands; the medieval Viking capital of Trondheim, Art Nouveau ?lesund; and Troms?, Norway's "Paris of the North," the new program adds a rare trip to Hj?rundfjord, one of the country's most stunning fjords. A journey will also be made to the island of Munkholmen, the site of an 11th century monastery turned prison and fortress; and an experience in Arctic bushcraft to get a hands-on feel for how the native people survived such harsh, cold conditions. Guests will learn how to make a fire, fish, or throw a lasso, and after get a taste for the region with items like Cloudberries and cream, rhubarb and dried reindeer meat.
Photo Credit: Trym Ivar Bergamo/Hurtigruten
The "Taste of Norway" excursion allows passengers to traverse Hj?rundfjord even further. The ship will anchor just outside of Urke village, and a small boat will bring guests to shore. From there, a bus will drive through Norangsdalen, often called "Norway's narrowest valley," and make stops along the way including Hotel Union in ?ye —a historic site in the country's Belle Époque period, where writers and royalty used to stay; and Lake Lyngst?yl, where ancient settlements were dammed by a landslide over 100 years ago.
Photo Courtesy of Hurtigruten

Back on board, menus have been specially created to highlight regional and seasonal ingredients, accompanied by soothing melodies to set the mood. While in Bergen, professionals from the Grieg Academy —Norway's oldest music degree program —will provide entertainment for guests before setting sail; in Troms?, students of the local music school with be welcomed aboard to perform; and again in Vads?, Sami- and Russian-inspired songs will be played for all to enjoy yet another inherent aspect of this captivating country.
The Autumn Gold sailings will take place daily from September 1 through October 31, 2013, with rates between $1,448 and $12,850 per person, double occupancy.