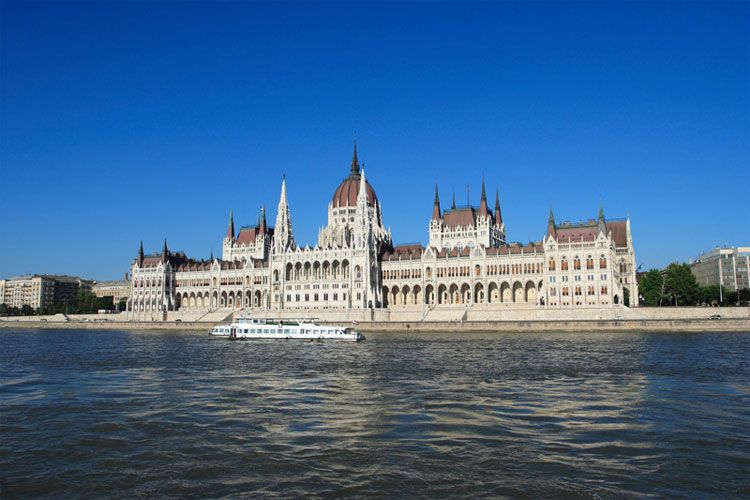 Photo Courtesy of Emerald Waterways
Iíve always had this dream of living in a real-life musical. Iím Anne Hathaway in
Les Misťrables
and every time someone speaks itís wonderfully melodic; or Iím selling papers on the streets of New York and luckily the other
Newsies
know just how to make me feel better ó through song. My second dream was always the ability to go to sleep in one country and to wake up in another without so much as lifting a finger. I know, youíre probably rolling your eyes thinking that planes, trains and automobiles have made that dream a reality several decades ago.
Youíre right, and I applaud your quick thinking. Well, since this dream of mine is easily reached, Iím always on the lookout for new ways to live it out. As luck would have it, a new river cruise line is on the horizon.
Emerald Waterways
, a European company, is the first in more than six years to set sail. Itineraries from eight- to 15-day adventures are being offered to experience Budapest, Prague, Switzerland, Amsterdam, and/or Nuremberg. All right, now weíre talking.
Rendering Courtesy of Emerald Waterways
Emerald Star and Emerald Sky, the new ships, will carry 182 guests in 20 staterooms and 72 suites each. Two staterooms will also be available for solo passengers. More spacious than the average staterooms, the accommodations range from 162 to 210 square feet. Each room offers floor-to-ceiling windows. The Ownerís One-bedroom suite is 315 square feet with a separate bedroom, walk-in closet, lounge area and complimentary stocked mini-bar. Included in the price for Grand Balcony and Owner Suite guests is the option to order a continental breakfast, pre-dinner canapťs or after-dinner sweet treats during their stay.
Rendering Courtesy of Emerald Waterways
Onboard the heated swimming pool is great for daytime lounging and the retractable roof transforms in the evenings into a movie theater. While Uniworldís S.S. Antoinette also offers cinema facilities, the use of the re-configurable roof is new to river cruises. Also among its amenities are a hairdresser (to help manage sea-hairÖweíre pretty sure thatís a thing), massage therapy room and fitness area.
Photo Courtesy of Shutterstock

Aside from the ship, Emerald Waterways has made sure to create unique itineraries that uncover more than just the normal tourist attractions. This includes watching a glass-blowing demonstration in Amsterdam one afternoon and then be whisked away to a local Czech tavern for some dancing and entertainment. All their trips allow for flexibility so there is more freedom while exploring.
Photo Courtesy of Shutterstock
Itineraries
Danube Delights:
an eight-day adventure between Nuremberg to Budapest. Priced from $2,230 to $4,330 per person, double.
Classic Prague & Danube Delights:
an 11-day itinerary that adds three days in beautiful and historic Prague to the eight-day Nuremberg to Budapest sailing. Fares are yet to be priced.
Magical Rhine & Moselle:
a 12-day travel between Switzerlandís Basel and the canal city of Amsterdam. Priced from $3,483 to $6,548.
Splendors of Europe:
a 15-day exploration among many of Europeís top sights between Amsterdam and Budapest. Priced from $3,760 to $8,965.
Rendering Courtesy of Emerald Waterways
The tours will launch April 15, 2014 so youíve got plenty of time to make your plans. I wonder if the other guests, crew and Captain would consider singing all their conversations with me while we venture around Europe. Now thatís something I could get onboard with. (See what I did there?)