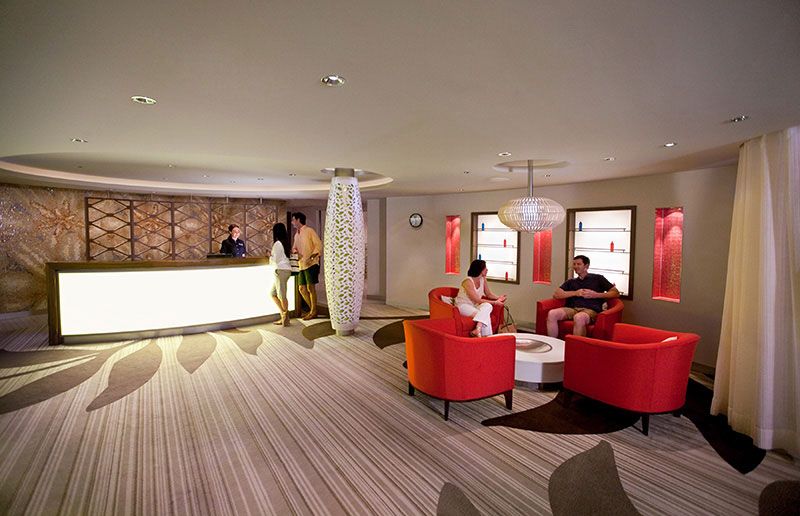 Photo Courtesy of Celebrity Cruises
Celebrity Cruises and Canyon Ranch have partnered in an effort to bring the latter's popular spa programs to the high seas with the SpaClub. Ten of Celebrity's modern ships are planned to be equipped with what they are claiming to be the "largest and most comprehensive SpaClub at Sea offering."
Photo Courtesy of Celebrity Cruises
The spa menu will include spa, beauty, fitness and wellness treatments. Among these, Canyon Ranch's signature services will make their way to sea such as facial enhancements, private and group yoga, Pilates and other fitness classes, acupuncture and nutritional consultation. The SpaClub at Sea staff will also provide workshops, lectures and cooking demonstrations for guests aboard these ten Celebrity ships.
Photo Courtesy of Canyon Ranch Hotel & Spa
While this may not make a prospective traveler choose to go from air- or ground-based travel to a seafaring experience, it could sway some people away from other cruise lines. This is especially true for those who are already fans of, or who have wanted to visit Canyon Ranch's exceptional spas and resorts. That being the case, Celebrity Cruises and its customers seem to be benefiting far more from this partnership than Canyon Ranch.
Photo Courtesy of Celebrity Cruises
However, that looks like the plan altogether as Celebrity seems to be taking things up a notch with a slow, transitional re-branding to more posh luxury cruises. In this case, the addition of Canyon Ranch on a number of the company's ships should make trips that much more comfortable for its guests. Which, in turn, may be a tipping point to making Celebrity Cruises a bigger player in the cruise industry altogether. While only time, reviews and personal experience will determine if that becomes the case, the partnership is a brilliant move on Celebrity's part. Adding Canyon Ranch SpaClub at Sea to their list of offerings really couldn't have come at a better time.