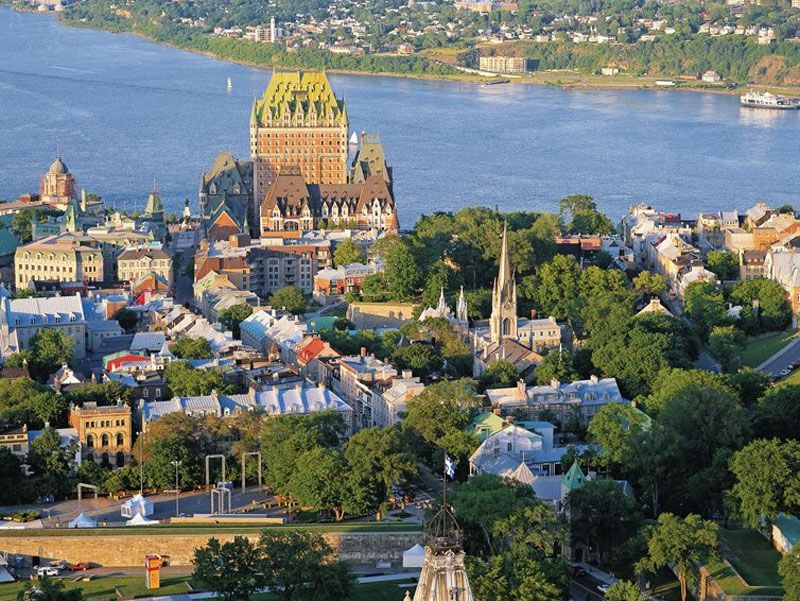 Photo Courtesy of Québec Region
Last year Québec City was ranked as the #8 top destination in North America by readers of Travel + Leisure. Considered by many to be the Paris of North America, the city offers the beauty and architecture of Europe combined with the proximity of a domestic destination. Showcasing all that the city has to offer, Québec City Tourism has six different cruises (did you know you could cruise to Québec?) taking off this year. Most of the voyages explore New England and Canada, on cruise lines like Holland America, Royal Caribbean, Norwegian Cruise Line, Crystal Cruises, Princess Cruises, and Compagnie Du Ponant. Each trip aims to showcase a unique combination of French culture, natural beauty, gourmet dining, great shopping, and generous hospitality.
Photo Courtesy of QuébecRegion.com/Jean-Louis Régis
While Québec City may not be at the top of your list of ports to visit, maybe it should be. There are few cities in North America than not only deliver charm and style, but also immerse visitors in a totally different culture and foreign language. Here are some of the attractions you'll get to experience:
Wendake: A tour filled with history and stories that date back to the 17th century, visiting the ancestral site of Wendake takes you on a journey into aboriginal culture. Live entertainment and dance shows will give you a glimpse into their world and imaginations.
Fortifications of Québec: Instead of traveling to China to see the Great Wall, check out the only fortified city in North America north of Mexico with their own sprawling 4.6-kilometer (2.8 mile) wall and imposing gates to explore.
Photo Courtesy of QuébecRegion.com
Sainte-Anne-de-Beaupré Shrine: Whether you consider yourself religious or not, the Sainte-Anne-de-Beaupré Shrine is well worth the visit. Considered a "place of miracles" for the past 350 years, the shrine is North America's oldest pilgrimage site and travelers go to see the beautiful neo-Roman style basilica, stained glass windows, the nave, and valuable works of art.
Rue Saint-Jean: For avid shoppers, check out rue Saint-Jean's European vibe and array of original shops, artisanal boutiques, and specialty food stores. It's also great for some souvenir shopping and unique finds.
Photo Courtesy of QuébecRegion.com
Auberge Baker: Offering Traditional Québec cuisine mixed with European gastronomy, Auberge is an elegant 19th-century-house-turned-country-inn that is a great place for savoring local dishes.
La Fudgerie: Don't forget about your sweet tooth while on vacation! La Fudgerie takes a unique approach to making chocolate, fudge, nougat and candy by hand, using only the very best ingredients in their recipes. They also boast that biting into their delicacies will take you on a "journey around the world to discover the myriad types of chocolate that serve as both template and muse."
Photo Courtesy of Shutterstock
The Royal Caribbean International Legend of the Seas Tour has five departures, with three of those being round-trip. On the 10-day Roy Cape Liberty to Québec City excursion, guests will leave on September 23 with ports of call at: Cape Liberty, Bar Harbor, Portland, Saint John (NB), Halifax, Sydney, Saguenay, Québec City.
In October, Crystal Cruises is offering a Québec City to New York City 10-day trip with two departures. The first, running on October 6 and 26 has port stops in Québec City, Sept-Îles, Magdalen Islands, Halifax, Bar Harbor, Boston, Newport, and New York. The second option is to depart on October 16 from NYC to Québec City with ports of call at: New York City, Newport, Boston, Portland, Bar Harbor, Halifax, Sydney, Québec City.
Photo Courtesy of QuébecRegion.com
Leaving from Greenland and ending in Québec City, Compagnie Du Ponant's Boreal cruise has two departures as well. One runs for 14 days and starts on September 4 with ports of call at Kangerlussuaq, Sisimiut, Qikiqtarjuaq, Hoare Bay, Akpatok, Battle Harbour, Gros Morne, Perce, Tadoussac, Saguenay, Québec City. The second takes off from Québec City and ends in Boston stopping at Saguenay, Tadoussac, Havre St Pierre, Percé, Cap-aux-Meules, Baddeck, Louisbourg, Lunenburg, Bar Harbor, Boston over nine days starting on September 18.
Surrounded by gorgeous landscapes, the UNESCO World Heritage city of Québec City, is definitely one to be considered for your next cruise trip. With over 40 departures, the hard part is choosing which one to explore.
Photo Courtesy of Shutterstock
Photo Courtesy of Shutterstock
Photo Courtesy of Québec Region
Photo Courtesy of Québec Region
Photo Courtesy of Québec Region
Photo Courtesy of Québec Region
Photo Courtesy of Québec Region
Photo Courtesy of Québec Region