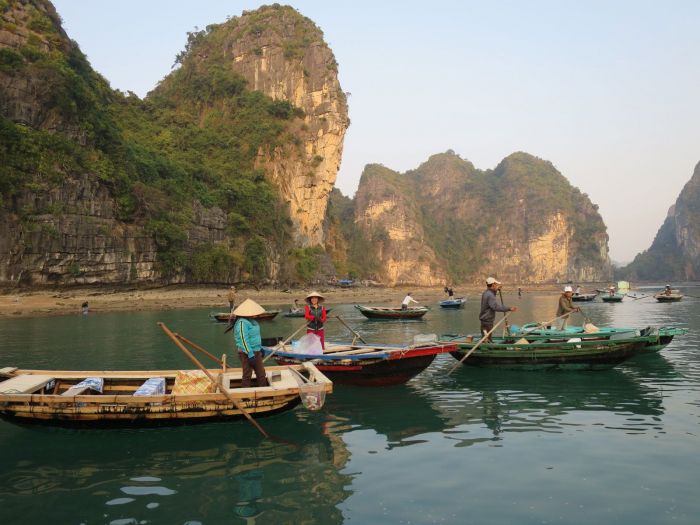 Photo Credit: Michael Reiss
Experience two exotic countries in one exceptional journey through Uniworld, a luxury river cruise company. Traditional country charm and vibrant city life are seamlessly intertwined on their 15-day tour that includes seven nights on the River Orchid plying the mystical Mekong River. It also includes seven nights in luxury hotels near must-see sights, including UNESCO World Heritage site, Angkor Wat. Most importantly, encounter the culture and meet the gracious and resilient people who make Vietnam and Cambodia their home.
Photo Credit: Michael Reiss
Depending on your point of embarkation, your trip begins with a five-star, two-night hotel stay at either The Park Hyatt in Saigon or the InterContinental Westlake in Hanoi. Local guides accompany you on board the intimate, handcrafted, French-Colonial style ship the River Orchid that provides accommodations with luxury amenities for a maximum of 58 guests.
Photo Courtesy of Uniworld Boutique River Cruise
The cruise aboard the River Orchid affords you unlimited access to the experts who are all too eager to answer every question and explain every nuance of their culture. Life onboard includes delicious meals catering to dietary preferences and featuring authentic dishes of the area, as well as Western cuisine. Complimentary wine and spirits during cocktail hours and at dinners make for a fun social atmosphere to meet and converse with fellow travelers.
Photo Courtesy of Uniworld Boutique River Cruise

The cruise also offers daily excursions for a maximum of 20 people that allows guests to experience things like floating markets, fishing huts, villages noted for silk weaving, and brick making factories. Among the included excursions is the UNESCO World Heritage site, Angkor Wat, which is typically an add-on with other Mekong river cruise companies.
Photo Credit: Michael Reiss
Evenings aboard the River Orchid include local entertainment, lectures, documentaries and movies highlighting the area. Although Wi-Fi is available, you may find yourself too enthralled by the river vistas to check your e-mail. Prices start at around USD $4,699 per person with trips running from July to December 2014.
Photo Courtesy of Uniworld Boutique River Cruise