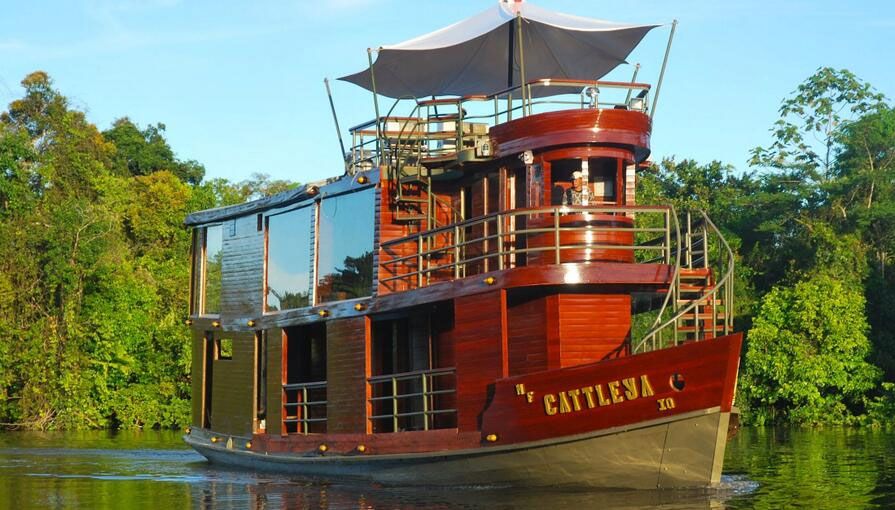 Photo Courtesy of Rainforest Cruises
For the first time, Rainforest Cruises will be offering its passengers the opportunity to experience the wonders of the Peruvian Amazon and branch out with a special cruise and Treehouse Lodge package tour. Rainforest Cruises, a boutique travel company specializing in traditional and authentic Amazon riverboat tours, is offering a new experiential package. The offer takes guests aboard the luxurious Cattleya riverboat on the Amazon River and provides overnight accommodations high into the rainforest's treetops with a stay at the AmazonTreehouse Lodge.
Photo Courtesy of the Treehouse Lodge
The tour begins with a three-day/two-night stay in the Treehouse Lodge set in 345 acres of lush jungle space at the confluence of the Yarapa and Cumaceba Rivers. The lodge has eight en-suite bungalows ranging from 25 feet off the ground to a staggering 65 feet. Suites come with creature comforts that most would not expect to find high in the trees and in the middle of the jungle.
Photo Courtesy of the Treehouse Lodge
Showers, sinks, toilets, fresh white linens, comfortable beds, and chairs are the standard. The entire structure of the bungalow is sealed by finely-woven mesh mosquito mesh nets so guests are protected while still providing unrivaled views of the Amazon.
Photo Courtesy of the Treehouse Lodge
Daily activities at the lodge can be tailored to each guest, each lasting two to three hours, including daytime and nocturnal jungle walks to learn about medicinal plants, or to spot insects and night monkeys, piranha fishing in traditional dugout canoes, early bird watching, dolphin watching, and visits to the local Jibaro and Kukama communities as well as the butterfly farm.
Photo Courtesy of Rainforest Cruises
The six-day cruise and lodge package is $2,499 for double occupancy per person and $3,139 single occupancy. Included in the tour is a three-day/two-night stay in the Treehouse Lodge with full board, choice of excursions at the lodge, the four-day Amazon cruise, all necessary transfers, entrance to National Reserve and bilingual naturalist Amazon guides.