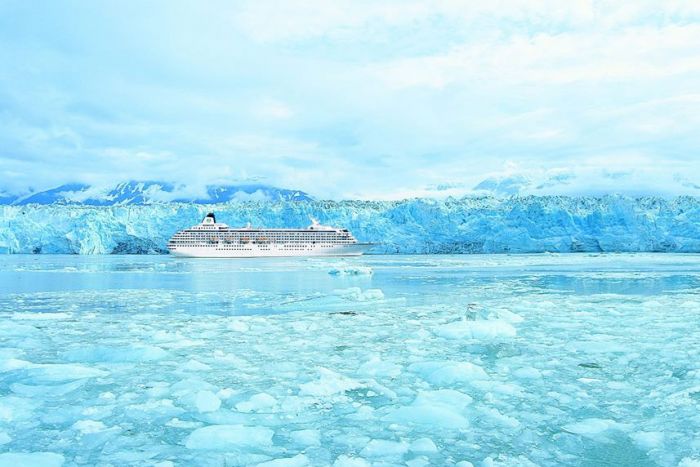 Photos Courtesy of Crystal Cruises
For 32 days from August 16 through September 27 of 2016, Crystal Serenity cruise ship will make its way through the Northwest Passage and will mark the first time a luxury liner has made the voyage. Starting in Anchorage and ending in New York, the route will take travelers to destinations rarely seen by anyone other than expedition ships and rugged explorers.
In the spirit of those who have gone before, passengers aboard Crystal Serenity will have an opportunity, weather permitting, to experience "expedition days." During these unscheduled events, guests can participate in a number of activities, including bay kayaking, polar bear sightings, guided tundra hikes and more. To help facilitate these outings, a 14-member team of expedition professionals is slated to join the crew. And rest assured, their knowledge and experience will help navigate through difficult terrain, intense weather and wild animals.
On August 21, passengers will get to explore Nome, a frontier-like town located on the Seward Peninsula in Alaska. This small region has hosted two famed races: the Gold Rush that began in 1898 and the annual, 1,049-mile sled dog race. Discover Inupiaq Eskimo crafts at local shops or locate the country's tundra wildlife while there.
In Pond Inlet, the region squarely above the Arctic Circle in Canada, guests will venture through scenic mountains and vast expanses of tundra. If you're lucky, you may even spot the fabled narwhal, a medium-sized whale with a single protruding tusk, lovingly called the "unicorn of the sea."
Back on the ship, the Dolby-surround-sound equipped theater is a great place to escape to while relaxing in comfy seats and viewing some of the latest big screen releases. Lido Café and Tastes Bar & Restaurant offer award-winning beverage and culinary selections. Guests can even take in some retail therapy among high-end shops such as Dior, Apropos and more.
Among the room choices, guests can choose from Deluxe Staterooms to Penthouse suites and the Cyrstal Penthouse with verandah option. All rooms come with plush linens, 100 percent Egyptian cotton sheets, Aveda bath amenities, Wi-Fi access, stocked refrigerators and in-suite satellite TV. Penthouses offer Frette bathrobes, kimonos, and slippers; multi-room functionality; complimentary drinks and fruit; and Crystal Cruises' personal butler service.
The trip starts at $19,755 and is currently available to Crystal Society members with tickets becoming available September 2, 2014.