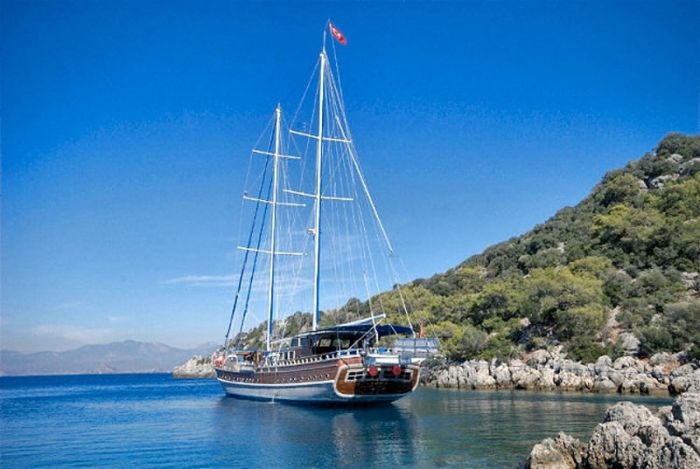 Photos Courtesy of Peter Sommer Travel
Since BBC documentary filmmaker Peter Sommer trekked 2,000 miles through Turkey in 1994, he has put together a number of inspiring tours led by archaeological experts. Come August 30, 2014, his travel company Peter Sommer Travels will be running four eight-day trips by gulet covering some of the Mediterranean Sea's most alluring ancient sites found amongst the Turkish shores.
From August 30 to September 6, the Cruising to Ephesus trip will start in Bodrum, Turkey, and sail north along the coast to the remarkably well-preserved Roman city of Ephesus. Stops will be made along the way at Iasos, Labraunda and Didyma. Featuring destinations such as the Roman lighthouse at Patara, the ruins of Kekova and the archaic Xanthos, Cruising Western Lycia will take place from September 13-20 and offers coastal mountain exploration and opportunities for cultural immersion.
Going from Göcek to Bodrum from September 6-13, travelers will get to experience archaeological sites and beautiful turquoise coast landscapes while visiting locations such as Knidos and Kaunos in the Cruising the Carian Coast from Mediterranean to Aegean package. This excursion is also available in reverse heading east from Bodrum to Göcek from September 20-27.
Each of these trips will be headed by an expert guide from one of a collection of interesting fields of study, including history, arts, classics, cuisine and, of course, archaeology. Where Sommer himself followed the path of Alexander the Great in 1994, we get to reap the benefits of his initial efforts with these eight-day adventures.
These trips have very limited space available and each will only support a total of 18 guests. Rates begin at $3,765, based on double occupancy.