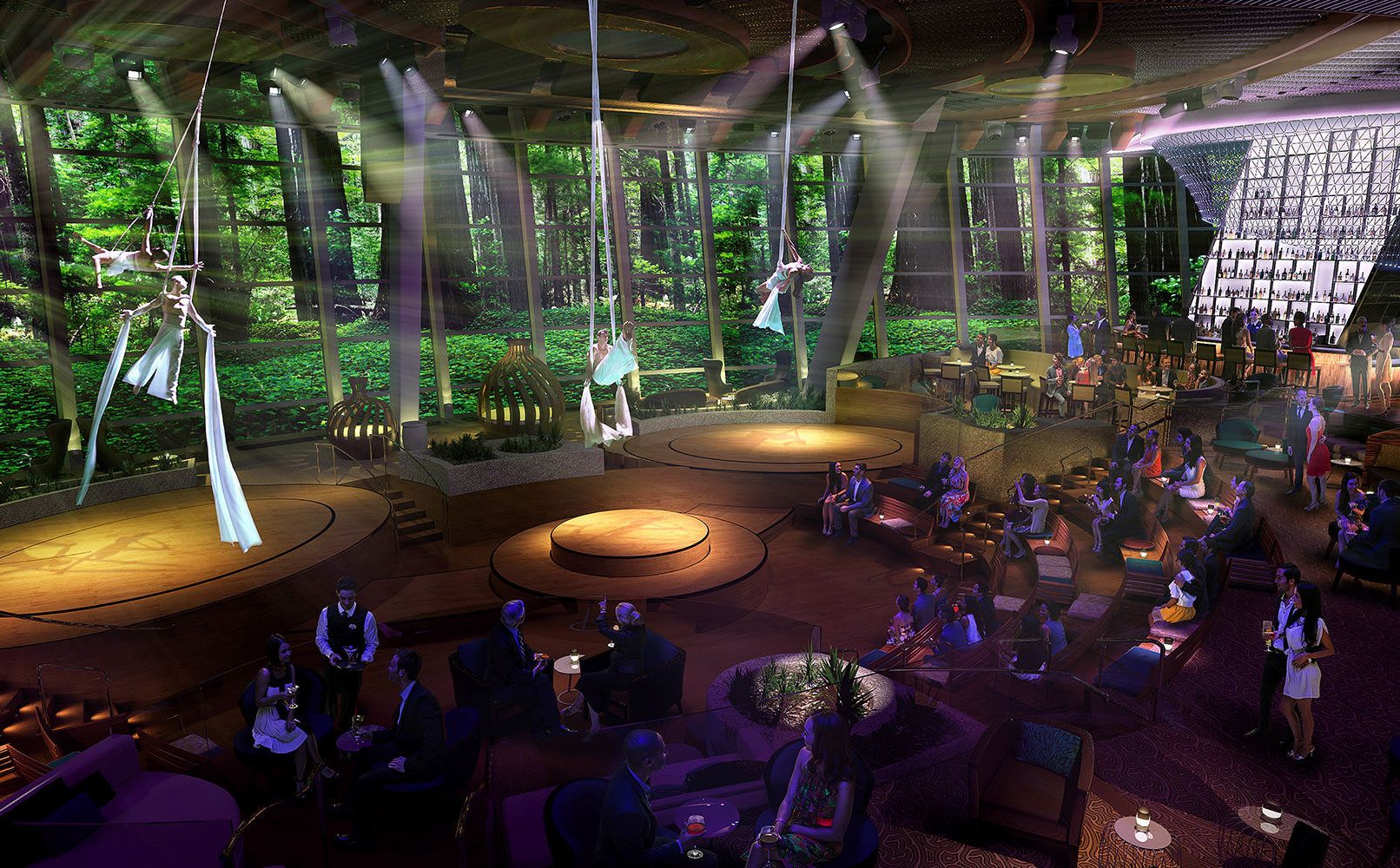 Sure, visiting conventions and trade shows can lead to some cool interactions with new technologies, but we rarely get to experience sincerely awesome gadgetry aboard cruise ships. In fact just a couple years ago we were impressed to find rentable iPhones aboard the Allure of the Seas, usable only to access a map, schedule of events and track our cruising buddies on the ship. Even then, those features were hit or miss and you could forget about a decent Wi-Fi connection altogether. Oh you thought you could just use your regular phone? If you think there is signal out at sea, you have another thing coming. In an attempt to remedy this, Royal Caribbean International has constructed a ship that takes the cake when it comes to high-tech amenities.
And here's the thing with Quantum class ships, we're not talking only about additions that are just enhanced versions of things that already exist on most other ships—like how they have added the single-fastest Internet connection on a cruise ship—no, Royal Caribbean is really mixing it up with their non-traditional offerings, coming as no surprise after their Virtual Balcony unveiling back in January.
Speed and convenience has been a major focus in the cruise brand's Quantum class ships, and before seafaring travelers even leave home, they can use the brand's website to create and receive digital boarding passes and streamline entry to the ship by uploading a security photo. Where it once could take up to an hour getting aboard, checking in at the reception desk and having luggage handled, they're promising it'll now only take about 10 minutes.
And speaking of luggage, bags will get RFID (Radio-frequency identification) tags when dropped off, which will let guests use smartphones to track their items to and from their accommodations. A very handy feature when you are torn between waiting for your luggage so you can immediately change into your swimsuit and heading up to the lido deck for a Mai Tai.
RFID also makes an appearance aboard Quantum ships as wearable technology. Worn as an unobtrusive bracelet, these wristbands give guests some neat benefits. Throughout the ship, a simple tap with the bracelet on consoles will activate easy space navigation, routing, scheduling via Royal iQ (which is also available as a downloadable app), and more. Acting in place of a room key, which typically serves as the all-in-one smart card for purchases, accommodations access and sometimes even identification, the new bracelets can be used for all of the same purposes. This is great news for parents who now don't have to worry about their kids misplacing the easy-to-lose cards, although we could see adults (especially women) avoiding the bracelets for things like dedicated formal nights.
Even more impressive is the Bionic Bar which is outfitted with tablets allowing guests to order drinks from robots. Yeah, you read that right. Watching robots mix and shake your cocktails is just another day aboard the ship. Also the vessel is home to Two70 which has six Roboscreens that stage surprise performances daily and Vistarama which transforms its floor-to-ceiling windows into any scene, real or imagined on 12K resolution screens.
With the use of technology, the ship has even become more environmentally friendly and has reduced its energy consumption with efficient engine design, hull configuration and energy saving devices. Using low-energy LED or fluorescent lighting, Quantum has eliminated the use of incandescent bulbs. Yet, the tech-side of the Quantum-class ships are just the beginning of the new things to come which include Ripcord by iFLY, a thrilling skydiving experience and SeaPlex, the largest indoor sports and entertainment complex at sea with roller skating, bumper cars and more.
Whether you're tech-savvy or just a lover of cruises, the ship Quantum and Anthem of the Seas ships are definitely worth checking out. The robot bartenders alone have us considering our next cruise.