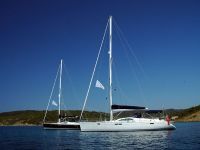 Luxury Yachting:
Spending time aboard a luxury yacht is many people's fantasy, but what's it really like? It may be only a metre or so to walk down the passerelle, but it's the gateway to another world. Even in a five-star hotel, anyone can wander in, walk past your table and overhear your conversation. On a cruise ship the crew have lots of other passengers to attend to, not just you. Welcome instead to a world of privacy, privilege and exclusivity; a world of attention to detail, presentation and service where the primary consideration is to ensure that you have the holiday of your dreams. Let's take a peep at what the diary of a guest might be like.
08.00
Opened my eyes to see blue sky through my cabin window. No sound of anyone else so I thought I'd take a quiet morning dip. Someone was up though - a comforting smell of fresh coffee and croissants baking was wafting from the galley, and as I crossed the saloon I could hear the soft chink of china cups and saucers as the table was being laid for breakfast on deck. The water was perfectly calm and so clear I could see plenty of fish swimming about as I dived in. As I swam across the bay the only sound was the occasional seagull calling. Climbing back on board I was handed a shower with hot water and then an enormous beach towel by one of our crew - their thoughtfulness is quite extraordinary and they seem to appear from nowhere just when you want them. How nice it was to sit in the early morning sun sipping fresh coffee before the rest of the family stirred.
08.30 Spoke too soon - the kids burst on deck already in their swimming kit and waving water sports jackets that they were pestering to be put into. Much squealing and jumping around before one of the crew swept them off out of earshot in the tender to be bounced around on the inflatable ringo. Having someone else to get rid of some of their energy before breakfast is such a boon!


10.00 Lay in the sun and read my book, casting the occasional glace at the sails and the passing scenery to judge our progress towards another spectacular lunch stop. How nice it was to be so lazy with no feelings of guilt whatsoever - it seems all part of travelling by wind power just to let nature take its course. Chilled drinks materialised by simply thinking about them - must be a paranormal yachting phenomenon (they say strange things happen at sea).

12.30 We circled a small bay as our crew chose exactly the perfect spot to drop anchor. This was the immediate call for a swim and within seconds the children were equipped with snorkelling gear before being dispatched off the bathing platform. After a few minutes I left them to it and climbed back aboard to be presented with a glass of chilled rosé. Lorna could only be persuaded to move from her sunbathing mattress when everyone was seated at the table for lunch - lobster and giant prawns, followed by home-made ice cream and fresh fruit. When and how these fabulous meals are produced is another mystery, as they are always timed and served so exquisitely.

15.30 How quickly an afternoon flies when you're doing nothing in particular. Our crew nudged us back into action by lifting the anchor and hoisting the mainsail (I'm pretty conversant with the terminology now!). A large sack had appeared on deck and its contents were now revealed as a great colourful kite of a sail (known as a cruising chute) filled with the afternoon breeze. We were now speeding along and yet it felt incredibly calm - no engine noise so we could listen to some great music and enjoy the ride. I even took a turn at the helm before the kids insisted on having a go as well; our Captain was so patient and kept us on course despite best family efforts to the contrary!

17.30 Arrived in port to a small audience gathered on the quayside. It must be pretty nerve-wracking to park one of these things with everyone watching: they're just waiting to see if you hit anything and assessing whether there's anyone famous on board. Much to their disappointment it was all done and dusted very smoothly and only us on board. Even so, we still attracted a lot of admiring looks - there's obviously something deeply fascinating about looking at the back of yachts whilst you're licking your ice cream! We decided to join them and explore ashore as soon as the passerelle went out.

19.30 Just as well we bought the wardrobe with us as Lorna decided to make the most of the boutiques! How she loved it when our Captain carried her bags aboard for her - I'm sure I wouldn't have had the same effect. Must go, Champagne and canapés now being served on deck before we stroll off to one of those nice little restaurants on the quayside.

23.30 Had a super meal with a great view of the harbour. When we eventually returned our hostess was ready with coffees and I have to admit I enjoyed a rather generous brandy (normal ship's measures you understand). Time for bed - relaxing is such hard work it wears you out!

Michelle Blore
Founder Dreamsailing.com
JustLuxe Contributor