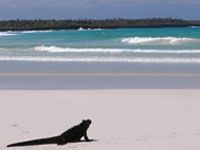 Luxury Cruises:
As the weather gets nicer, we're all getting a little Spring fever; dusting off the sandals and pulling out the beach towels, looking for a little sun. But this Spring, Haugan Cruises brings the perfect way to kick off an amazing summer: Cruising the Galapagos Islands.
The new luxury Catamaran Athala II was built just two years ago with all the furnishings designed to bring you from one beach to another with the finest amenities. Staffed with only 11 people (including one naturalist guide for a personal look into all the islands you'll stop at on your journey) the luxury of your stay will be aided by a small but capable group of people dedicated to the highest standards of service and making your trip one you'll never forget.
With the private balconies and spectacular ocean views, all the cabins are designed to be your safe haven at sea ideal for relaxing in preperation for your next day sailing from one island to the next.
Because of its size and speed, the Catamaran Athala II is able to visit places amongst the islands that other older, slower boats can't get to due to island regulations: aboard the Athala you have the best advantage in the water.


With four trip lengths available, you'll be sure to find one that fits in your schedule. Only have time for a long weekend away? Then the four-day trip is just enough time to really unwind and take in the fresh ocean air, before heading back home, totally refreshed.

But if you're looking for a more extravagant getaway, the Athala offers eight-day cruises, either Tuesday-to-Tuesday or Saturday-to-Saturday. These routes make sweeping arcs over the ocean bringing you to all the islands in the cluster (which your personal, onboard naturalist guide will explore with you, giving you the upper hand of an expert at your side). This trip is the way to start your summer off the right way: soaking up the sun in the lap of luxury, seeing sights of the world, primed with sunscreen and family at your side.




Haugan Cruises has been working with leading conservation companies to reduce their carbon footprint and protect the environment we all live and work in. From using green products on board to working with reforestation efforts on the islands, Haugan Cruises is a company you can be proud to select as the provider of your unforgettable vacation; taking our at-home preservation efforts with us to sea.

Spend some time away from the office this spring and allow Haugan Cruises to take you somewhere extraordinary. The Galapagos Islands and the ocean hugging their beaches are waiting for you.

For LxM Kate Prihoda