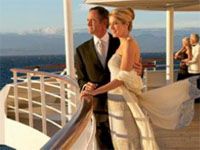 Luxury Cruise Vacations:
Crystal Cruises isn't your typical luxury cruise line. The company doesn't strive to be just the best luxury cruise industry, but the best luxury service provider possible by providing guests with unmatched service, space, quality, and choices.
Service on board Crystal Cruises ships is provided by European-trained staff who hail from more than 40 nations and are hired for their friendly personalities and ability to provide six-star service to voyagers. Crystal Cruises boasts the industry's lowest turnover rate of only 9%, thanks to staff recruiting and training that emphasizes Six-Star Crystal Service standards.
Still half the size of mass-market mega-ships, Crystal Cruise vessels are considerably larger than yacht-like ships, which can be limited in space and activities. The size of the ships allows for plenty of space in the staterooms, suites and the public areas, including extra-wide 360¬į promenade decks, lavish fitness and spa sections, full-sized cinemas and nightclubs, as well as various learning centers.



Quality is evident in every aspect of the Crystal fleet, which includes the the Crystal Symphony and the Crystal Serenity. Stateroom accommodations feature separate sitting areas, ample closet space, and many even offer verandas. Amenities include 100% Egyptian cotton sheets, down pillows, plush duvets, and feather beds as well as a shower, bathtub, fresh fruit and flowers, Frette bathrobes, and English mohair lap blankets, not to mention Internet access, DVD players, laundry and dry-cleaning service, twice-daily housekeeping, and complimentary 24-hour in-stateroom dining.

In keeping with Crystal Cruises' dedication to giving guests choices, there is also a Pillow Menu available, featuring selections including down, therapeutic and hypo-allergenic. Even more special features and options are available in the more luxurious Penthouse staterooms and suites.


A plethora of gourmet cuisine and wine are available aboard the Crystal Cruise ships. Dining options include Prego, featuring the inspired specialties of Piero Selvaggio, Silk Road & The Sushi Bar, boasting celebrity-chef Nobu Matsuhisa's signature cuisine, Afternoon Tea, Late Breakfasts and, of course, special wine lists.

Whether you enjoy leisurely activities like the Spa or are more active, participating in entertainment activities, the Crystal Spa and Fitness center or Hollywood Theatre are sure to keep every luxury cruiser entertained, no matter which boat or package you choose.

For JustLuxe Carly Zinderman

Crystal Cruises

Crystal Cruises

Crystal Cruises

Crystal Cruises

Crystal Cruises

Crystal Cruises

Chef Nobu Matsushisa

Crystal Cruises Pillow Bar

Crystal Cruises

Crystal Serenity

Crystal Serenity

Crystal Symphony

Crystal Symphony Computer Lab

Crystal Symphony in Istanbul

Crystal Symphony

Crystal Symphony

Crystal Symphony Salon

Crystal Cruise in Antarctica