Tahiti Cruise Deal: Save up to 45% by Booking Now!

Right now, Gaia Tours is offering a very special promotional sailing to JustLuxe readers. Simply book your cruise by March 31st and mark your calendar for October 30th. Plus, As a special bonus, also receive 2-for-1 Airfare.
See Itinerary below.
Tahiti Vacations: Personally, my favorite vacations are always tropical. Sure, skiing the Swiss Alps is certainly on my vacation to-do list, but the thought of curling my toes in warm sand, sipping a cold drink and letting the rest of the world melt away is bliss. That may sound like a bit of an exaggeration to some, but I know there are those reading this who would agree. I also happen to love cruising. Vacationing via cruise ship is wildly convenient. Visiting multiple ports without ever needing to unpack is great, of course, but combine that with excellent dining, five-star service and a plethora of entertainment, and you have the makings of an unmatched luxury vacation.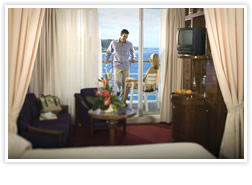 When most people think tropical, they think of the French Polynesia. Simply saying the names of the islands, Tahiti, Bora Bora, Moorea, conjures images of calm cerulean waters, vibrant mountains and brilliant displays of color that streak the sky at dawn and dusk. These little islands have many ports, both small and large to welcome visiting cruise ships. Smaller ports in French Polynesia cannot accommodate very large cruise ships, and as a result are more desirable due to the lack of crowds. Luckily, smaller cruise ships are often the most luxurious, any traveler looking to take such a tropical vacation will want to book a trip on such a ship.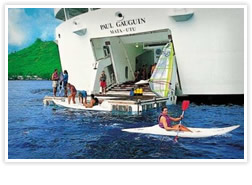 The m/s Paul Gaugin is the ideal vessel for a Tahitian vacation. Designed specifically for navigating the shallower waters of smaller ports, this ship is by far the most elegant to sail the South Seas. With a ratio of one crew member for each 1.5 guests, service aboard this vessel is flawless. It has no interior staterooms, each suite boasts ocean views and 70 percent of them offer balconies. Every meal aboard the m/s Paul Gaugin is a feast. Three separate open-seating restaurants are on the ship, offering a plethora of delectable dishes that reflect ingredients available locally. Complimentary wines are generously paired and poured at every meal. Activities available include an onboard dive program – the only SCUBA certification program on any ship in Tahiti -- and a retractable Watersports Marina. During "Days at Sea," spend time in the ship's extensive spa, or attend cultural history lectures to learn more about the islands you visit. In the evenings, play in the casino, have a cocktail in the Piano Bar or relax in La Palette Lounge or the Grand Salon.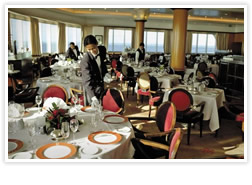 Enjoy seven-days cruising the Islands of Tahiti aboard the luxurious m/s Paul Gauguin, the highest ranked small luxury cruise ship by Conde Nast Traveler in 2008 and has received numerous other awards for excellence. This all inclusive 5-star luxury cruise begins on October 30th, 2010 and as a JustLuxe reader, you'll receive up to 45 percent off of the standard cruise fare, plus get 2 for 1 roundtrip airfare from Los Angeles, as well as a surprise extra bonus!
Receive up to 45% off the standard cruise fare, plus 2 for 1 roundtrip airfare when booking through Gaia Tours by 3/31/2010.
For information visit GaiaTours.com or call Gaia Tours at (877) 556-9428 or (310) 442-2277.
By Courtney Driver
Day 1 Embark Paul Gauguin in Papeete, Tahiti
Day 2 Raiatea
Day 3 Taha'a (Motu Mahana)
Day 4 Bora Bora
Day 5 Bora Bora
Day 6 Moorea
Day 7 Moorea/Papeete (Tahiti)
Day 8 Disembark in Papeete
See all
Luxury Hotels