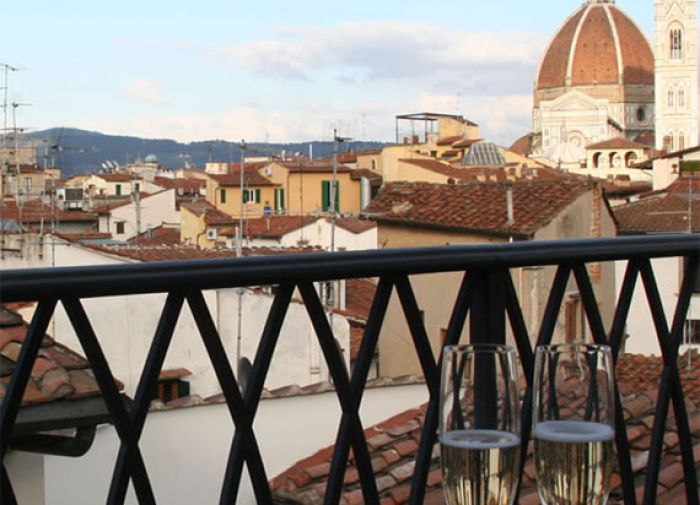 Luxury Hotels:
A beautiful, quiet hotel tucked away in the Piazza Santa Maria Novella, a short five minutewalk from the Florence train station, J.K. Place is tucked into a very inconspicuous part of the
piazza
, so much so that at first it was difficult to spot.
After a bit of searching, we found the entrance and were buzzed in. The short wait to check in allowed us to enjoy some water and delicious meats and cheeses that are replenished throughout the day in the dining room. When we got to our suite, it felt just like home; that is that J.K. Place felt more like a quiet, upscale New York City apartment building than it did a luxurious hotel in the middle of Florence.



The suite we stayed in was two levels; the downstairs contained a living area to work or relax, complete with a desk, mini fridge, and couch. The upstairs was the bedroom area with walk-in closet, large bathroom, incredibly comfortable queen bed, and television. While not everyone will want to, all rooms are equipped with DVD players and J.K. Place keeps a full library of modern day classics on hand in case you want to unwind with a good film at the end of a long day.

While not attached to the suite, there is outdoor seating to enjoy food, drinks, and good conversation that allows you look over the rooftops of other buildings in the area. All-in-all, J.K. Place is a perfect hotel for either the businessman/woman who would like to stay close to the center of the city, as well as, those who are looking for a quiet, lovely, luxurious place to hang your hat while visiting the beautiful city of Florence.

J.K. Place Firenze
Piazza Santa Maria Novella, 7
50121 Firenze, Italy
055.264.5181
jkplace.com

Christopher Koenig