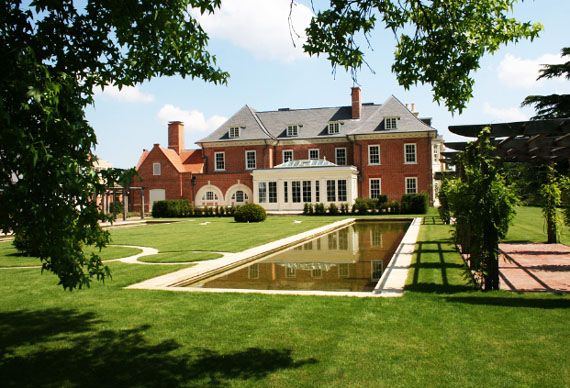 When they tell you it's in the woods-the magnificent setting of the 37,000-acre New Forest
National Park
to be exact-they mean it.
As you leave the small town of Lyndhurst and make your way down the track, you soon find yourself negotiating cattle and shaggy-haired ponies; the hardy type you only find on moors, which are invariably indifferent to motor cars. From there it's just a short distance to the hotel gates and the sweeping drive with its equestrian-themed "easy now" signs, delivering your first view of Lime Wood's Regency splendour.

After an extensive refurbishment and five-year closure, Lime Wood has reopened its doors. They reveal a thoroughly modern and luxurious manor house, complete with state-of-the-art Herb House Spa, the first outside Daylesford to offer Bamford Body treatments.


The only five-star hotel in the area, set in extensive gardens and grounds that adjoin both the forest and parkland, its history dates back to the 13th century when it was originally established as a hunting lodge. The renovation (by the architects who worked on Highgrove) is mindful of that heritage, striking a balance between high luxury and relaxed enjoyment; with immaculate attention to detail but nothing overdone (Chairman Robin Hutson co-founded the Hotel du Vin group). New red-brick buildings (incorporating many of the 14 bedrooms and 15 suites, as well as the spa) have been cleverly integrated with the original Georgian house.

The classically designed interiors make the most of local materials like ash and stone, from a subtle palette that blends in effortlessly with the natural surroundings. Log fires and under-floor heating combine old and new, while the furniture is an eclectic mix of antique and bespoke, with objets d'art, oak leaf chandeliers and eccentric touches that make you forget you're in a hotel. Not to mention an impressive modern art collection.


If your pockets are deep, Pavilion one is for you. The two New England-style duplex Pavilion suites are separate from the main house and perfect for honeymooners or those craving a private weekend retreat. Dominated by a dramatic black-vaulted ceiling, the large bedroom is high on romance and reminiscent of a medieval star chamber. Its tones subtly changing at night to add a celestial effect as you flop into your modern four-poster.

The free-standing bath is separate from the main bathroom, overlooking ancient trees and the fields beyond through large windows which, in interior designer speak, bring the outside in. To add to the luxury, there's not just one real fire but two, both duly lit by country-clad staff on our arrival. The second was in our downstairs living and dining room, of which we discover an additional single bedroom. The bedrooms in the main house are rather less distinctive but no less luxurious, the bathrooms decked out in elegant Italian marble, and all rooms are equipped with an iPad.


There are two restaurants, both welcome children, and a charming Mediterranean-style courtyard with box trees, dominated by the warm colors of the Portland stone. As if by magic, a retractable glass roof transports you al fresco. The informal whitewashed Scullery is bright and airy with a large fireplace and spit, and delivers superb breakfasts. They also offer an all-day menu that includes intriguing desserts based on historic recipes like Nell Heaton's Queen of Puddings, orange and passion fruit flummery, as well as child-friendly favorites. All manner of locally sourced and forest-foraged goodies (girolles, dried and pickled penny buns) are available for sale in hand-labelled jars on the dressers. The elegant ash-panelled dining room is more formal but not stuffy. It boasts carved chandeliers and snug banquettes, making for the perfect setting for Michelin-starred chef Luke Holder's imaginative fine-dining menus.


For the energetic, the Boot Room's neat rows of Hunter wellies in all colours and sizes beckon to the great outdoors. If you fancy playing lord of the manor, shooting and horse riding are available nearby, as well as sailing. Indoor pastimes are catered to in the Cellar, complete with a billiards table, flatscreen television, and an impressive view of the wine vaults. For those inspired by the flora and fauna guides by their bedside, foraging master classes are available. In addition to truffle hunting, an expert will teach you the difference between an edible variety of mushroom and its evil twin, or introduce you to purslane at the nearby marshes.



Designed over three levels, the Herb House Spa is warm, fresh and inviting with honey-colored oak and limestone floors. In addition to the 16-meter pool with retractable glass doors to the garden, there's a Technogym, Mud House, hydropool, and a massive glass-fronted sauna and Hot Pool overlooking the forest. Alongside Bamford, Tri-Dosha (a luxurious take on Ayurveda), NUDE (founded by Fresh & Wild founder Bryan Meehan and Ali Hewson, wife of Bono) and Voya products are featured on the spa menu. The ten treatment rooms include two doubles, each with its own private steam room and an indoor and outdoor garden bath respectively. The changing rooms are boudoir-like with private bathrooms, soft lighting and flattering mirrors; no fun-fair effects that make you run for cover.


Its crowning glory is surely its "living roof", a stroll-through herbary roof garden and meditation area planted with all manner of herbs for use both in the spa and kitchens. It's also perfect for pre-treatment or post-treatment lounging. If the nurturing herbal aromas and uplifting sylvan views don't make your shoulders drop, the chances are nothing will.

The holistic approach to well-being continues in my favorite part of the spa, the fabulous Raw & Cure Bar. They serve everything from fresh smoothies, salads and salmon, to cupcakes, cocktails, Champagne and cured ham from Lime Wood's own Smoke House. It's as much about pampering and pleasure as it is about health, without so much as a whiff of virtuous self-denial.

Everything about Lime Wood is high-end and unsurprisingly, given its pedigree and proximity to London, has quickly acquired a stellar following. But beyond its unique location, excellent food, slick service and quintessential Britishness, what makes it truly special is its quality and attention to detail. As the red brick weathers, this smart and sophisticated bolthole will just keep getting better and better.

Lime Wood Hotel
Beaulieu Road, Lyndhurst
Hampshire SO43 7FZ
+44.0.23.8028.7177
www.limewoodhotel.co.uk