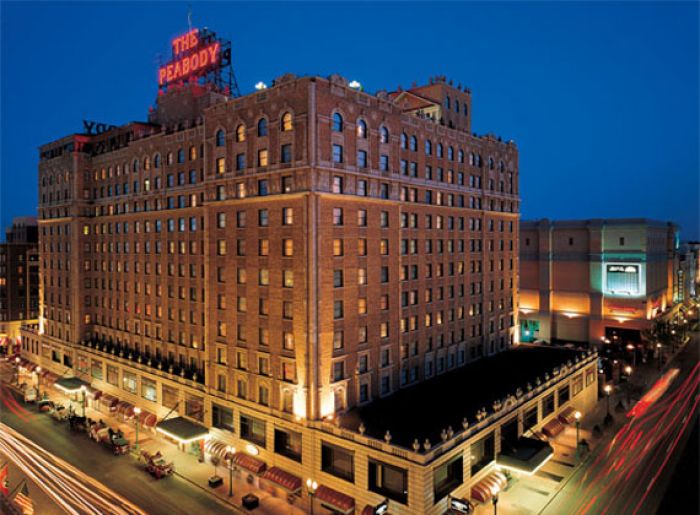 Few
luxury hotels
have had a roller coaster history to match The Peabody. Tempered by four closings and as many re-openings during its 142-year history, The Peabody is once again riding high as "The South's Grand Hotel."

Grandeur, elegance and hospitality have been the hotel's hallmarks since its opening in 1869. Three years later, Grand Duke Alexis, son of Russia's Czar Alexander II, was served an 11-course venison feast, termed "the social event of the century" by many Memphians. Presidents, film and music stars, sports greats and a king (actually it was Elvis) have relished The Peabody's ambiance through the years.


The lobby has always been the heart of the hotel. An imposing fountain, carved from a single piece of Italian travertine marble is the centerpiece, and daytime home of the hotel's most cherished feature: The Peabody Ducks.

The ducks' story started in the early 1930s, when a tipsy general manager of the hotel returned after a whiskey-fuelled duck hunting trip. Not knowing what to do with his live decoys (legal at the time), he parked them in the fountain. The public's reaction was immediate and overwhelming. A legend was born. Today, five mallards waddle their way down the red carpet from the elevators to the fountain in the morning, and make the return trip in the afternoon, under the
guidance of The Duck Master. Their quarters are on the roof in "Duckingham Palace."


The tradition of fine dining at The Peabody continues today at Chez Philippe, the hotel's signature dining room. The classical French menu has but one omission-no duck is served! Chez Philippe is reputedly the only fine French restaurant not offering duck to its guests. Guests may, however, enjoy Scottish salmon, Dover sole and sustainably raised lamb, pork and beef from Niman Ranch, Newman and Neola Farms. The tradition of venison, from the Grand Duke's days, also continues. The Capriccio Grill Italian Steakhouse's menu features a mind-numbing array of beef, including an over-the-top Wagyu-Kobe Beef Strip Steak.


The Lobby Bar, with its up-close view of the fountain and ducks, offers more than a dozen single malt Scotch whiskies and nearly the same number of American whiskies. A popular cocktail is The Fuzzy Duck, made with Grand Marnier, Kahlua, coffee and whipped cream. Jack Daniel's Tennessee Whiskey was the inspiration for the ducks arriving in the fountain in the first place. The relationship between the hotel and the distillery-the oldest in America-has grown over the years, and now features "Jack" from barrels specifically chosen for the hotel.

The Peabody is a few blocks from Beale Street, home of The Blues and birthplace of Rock 'n Roll. In another direction, an easy stroll brings you to the shore of the Mississippi River, where you can watch football-field-long barges plying the muddy waters. Graceland is about a 15-minute drive from the hotel. All in all, Memphis is a universe of its own and The Peabody is its star.

The Peabody is a member of Historic Hotels of America.

Peabody Hotel
149 Union Avenue
Memphis, TN 38103
901.529.4000
www.peabodymemphis.com