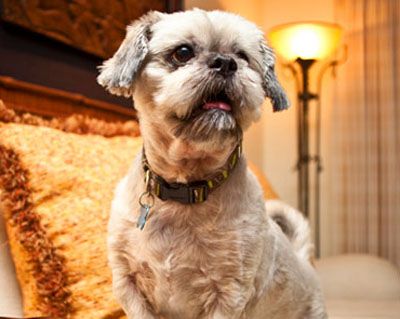 Photo Courtesy of Kimpton Hotels
The
Arizona Biltmore
, the historic desert resort famous for hosting Ronald and Nancy Reagan's honeymoon, will find a new kind of VIP guest exploring the broad green lawns and airy fairways: the Very Important Pet.
Have a seat at one of the patio tables surrounding the central courtyard and you may spy a well-groomed Labrador taking its morning walk. The young couple having a late-night meal at Frank & Alberts might well have left their "fur baby" back in their cottage to enjoy a room-service beef tenderloin & eggs off the pet menu.


The Biltmore is one of many luxury hotels that now not only allow pets, but welcome them with new pet-friendly menus, amenities and services geared toward their comfort. Some hotels charge a relatively small extra fee (the Biltmore has a $100 deposit, $50 of which is refundable) and sell extra pet services on top of that. Some hotels, such as the Ritz-Carlton with its mandatory $250 "Very Important Pooch" package, throw in extras like gourmet treats and bottled water to lessen the sting of a serious surcharge.


In this generation, with pets treated like members of the family, it makes sense for hotels of all classes to permit them. Traditional family weekend destinations like Kiawah Island and New England are seeing a steady increase in pet-friendly lodgings. Kiawah Island Golf Resort offers dog-friendly villas and the charming boutique Inn by the Sea in Port Elizabeth, Maine was even recently named "Best dog-friendly vacation spot in New England" by Yankee Magazine.



It's really not that much of a stretch, though, for sunny, family-friendly seaside resorts to allow furry companions. The real indicator that Fido had arrived in five-star style came in October 2010. Harrah's Hotel & Casino rolled out "PetStay Las Vegas" in multiple properties including Rio and Caesars Palace.

Whether trading sniffs with Oliver, the "Director of Pet Relations" at the Vero Beach Hotel & Spa, Florida (pictured at top), or getting an ear-scratch from military brass in the historic Worthington Renaissance, Ft. Worth, traveling dogs are finally having their day.