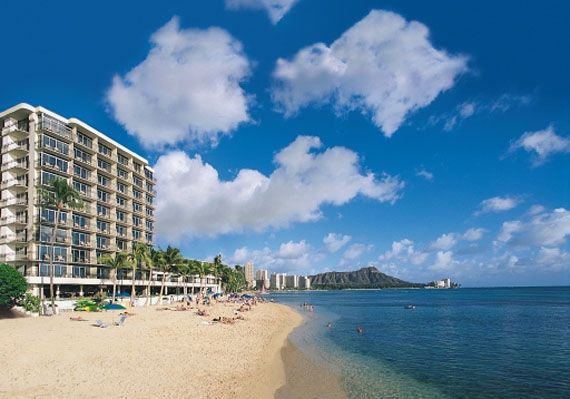 After the recent $110 million makeover, the Outrigger Reef on the Beach has outdone itself and created an idyllic escape on Waikiki, Hawaii. Large in scope and accommodation, the property puts you at the center of Waikiki's lush
beach landscape
and at the heart of island entertainment.
The new Outrigger Reef boasts 639 remodeled guest rooms, including 42 enlarged suites. The hotel's revamped look and feel is fresh and comfortable and offers the perfect sojourn after a day spent in the Hawaiian sun.


The rooms feature full sized bathtubs (and in the suites, whirlpool bathtubs), balconies for a little fresh ocean air, large flat screen TVs and large, restful beds. But you'll find it difficult to spend too much time in your room with all of the activities, shopping, events, restaurants and beautiful landscape surrounding you.

In addition to the updated rooms are several other new services the property has added to their list of amenities. Including complimentary Internet access in the meeting rooms and lobby, the addition of new shops, on-site Hertz rental car desk, a new menu of spa services and a new fitness center with state-of-the-art equipment, open 24 hours a day, seven days a week.


The Serenity Spa Hawaii will let you duck away for a little "me" time and check out the enticing spa menu-from the traditional and completely relaxing Hawaiian Lomi Lomi massage, to the revitalizing Body Elixir, a combination of exfoliation, hydrotherapy, and light aromatherapy massage. If you're looking to really treat yourself, a spa package complete with personalized services will let you pamper yourself for an afternoon.

At the end of the day, after enjoying the crystal blue waters at the beaches, kayaking, snorkeling or surfing, satisfy your appetite for a delicious meal at one of the property's restaurants. You can go to the Kani Ka Pila Grille, which sits poolside and features live music by legendary Hawaiian entertainers, the Shore Bird Restaurant & Beach Bar on Waikiki Beach with outstanding views of Diamond Head, or the Ocean House Restaurant serving Pacific Rim cuisine in an open-air atmosphere.



While it is true that the Hawaiian islands are refreshing, relaxing and beautiful, no one pampers you in the Waikiki atmosphere better than the Outrigger Reef on the Beach. If you're enduring the cold on the East Coast or in the Midwest, looking for a change of scenery from the West Coast or anywhere in between, the Outrigger makes an ideal destination for a getaway.

Outrigger Reef on the Beach
2169 Kalia Road
Honolulu, HI 96815
808.923.3111
www.outrigger.com

By Bruni Bietz