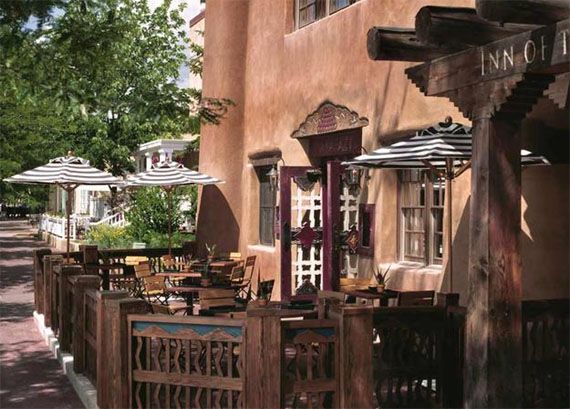 Photo Courtesy of Inn of the Anasazi
The Rosewood Inn of the Anasazi
is mere steps from the main square in Santa Fe, NM. A crackling wood-burning fireplace greets guests alongside warm smiles from the reception desk.
An intimate and unique design incorporates a second to third floor water feature, representative of the Indian Springs and Wells of Life, complete with cozy relaxation spaces. With Piñon ceiling treatments and artfully handcrafted wood accents, the property has something new to offer at every turn.

Built in 1991 using a pre-existing steel framework, the 58 rooms of the inn utilize more eco-friendly electrical and water systems, as well as fixtures throughout the hotel. Local and regional art can also be found throughout and the public spaces are on a six month rotation with area galleries, lending a fresh look to the property at every visit. A living room, library and lobby all have fireplaces, and a video library is available for guests to use, as every room has a DVD player and flat screen TV.


The Anasazi Bar and Restaurant is not to be missed, whether staying at the hotel or passing through the city. Famous for their Gold and Silver Margaritas, the seasonal patio is always packed as guests enjoy a wide array of culinary treats.

Executive Chef Oliver Ridgeway serves up breakfast, lunch and dinner with a casual, yet authentic Southwest feel. Incorporating unique flavors and wonderful marriages of unlikely foods, the cuisine is exceptional and the service is terrific.



A wine cellar, which seats 12, can be found on property, as well as a 24/7 business center and WiFi is available in all rooms. While no gym is on the property, in-room equipment such as ellipticals and exercise bikes can be brought. Two gyms also work with the hotel. In-room massage and aromatherapy treatments are available as well, and 10,000 Waves Spa is close by.


The Rosewood Inn of the Anasazi is an exceptional experience, living up to the Rosewood brand and often exceeding expectations through service. An authentic, historic experience awaits those lucky enough to find themselves in Santa Fe at this wonderful hotel.

Inn of the Anasazi
113 Washington Ave
Santa Fe, NM 870501
505.988.3030
www.innoftheanasazi.com

Via Examiner.com