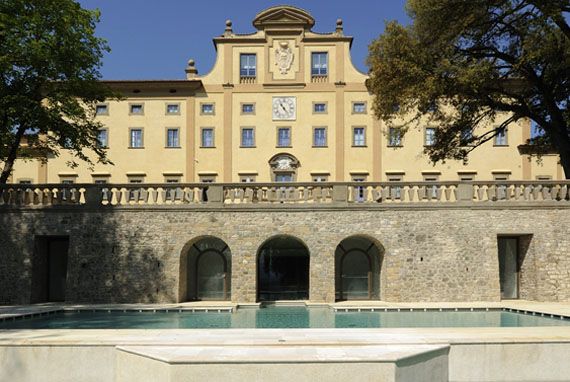 Located deep within the Mugello Valley, surrounded by lush Italian countryside, authentic Tuscan art and culture, and near the sparkling Bilancino Lake, sits
Villa le Maschere
.
This historic hotel dates back to the 16th century and is decorated with historic masks carved from local pietra serena stone. After a five-year renovation, Villa le Maschere has been transformed into a luxurious five-star hotel.


The past and present come together in this beautifully renovated hotel with an emphasis maintaining its classic heritage but introducing new contemporary interior designs. The perrywinkle-violet colored fittings, Venetian-style floors, glass and gold leaf tiles, stone pastes of colored cement and majolica inspired by the early 20th century, all fuse harmoniously in the Villa's contemporary interiors. Careful restorations in each of the 65 bedrooms and suites have brought back to life frescoes, majolica, sculpture and stuccoes restoring royal ambiances of the ancient rooms.


The Junior Suites are located on the top floor with 360 degree views of the surrounding countryside. The suite showcases contemporary furnishings with black and white color schemes, fabrics and ornaments, juxtaposed with rich vibrant reds sprinkled throughout the suite. The spacious bathroom, complete with Jacuzzi, boasts beautiful panorama views of the countryside from the shower.

All the rooms include a desk, LCD television with satellite channels, air conditioning with remote control, free high speed Internet connections, personal safe, hairdryer, bathrobes and slippers, telephones with conference function and message service, radio, minibar and smoke detector. Enjoy peace and quiet at one of two stone swimming pools amidst the backdrop of ancient oak trees and the Italian-style gardens of Villa le Maschere.


Guests are invited to dine at one of three restaurants inside Villa le Maschere. Il Piopponero restaurant utilizes tones of grey to create an evocative and alluring décor. The Foggini designed terrace is available for sunny days.

Chef Fabio Danza's fusion of Italian and Mediterranean cuisine pays tribute to the authenticity of local ingredients prepared in celebration of rich local traditions and modern innovations. During winter months try the sage and wine vinegar sautéed eel with marjoram artichokes. Save room for the coffee parfait flavored with aniseed and a warm hazelnut sauce for dessert.



With lavish accommodations and old-world charm, the Villa stands among the finest hotels in Italy. Guests experience 18th century royalty while enjoying the modern conveniences of the 21st. Stay at Villa le Maschere
for a hotel rich with history and designed with your complete satisfaction in mind.

Villa le Maschere
Via Nazionale 75
50031 Barberino Di Mugello, Italy
+39.055.847432
http://www.villalemaschere.it/