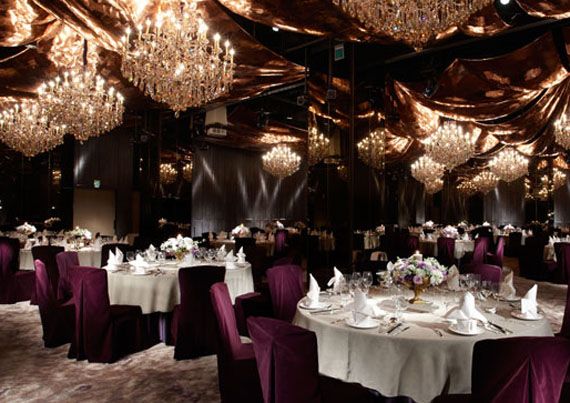 New on the
Taipei hotel scene
, the Palais de Chine marks a new era in hotel luxury for abooming commercial capital.
Not only does it prove simply by its existence that Taiwan truly merits its status as one of the four "Asian Tigers," (so nicknamed because of their prosperity and rapid growth), but it demonstrates Taiwan's metamorphosis from a manufacturing center to a Far Eastern hub.


Most of Taiwan is busy, self-deprecating and slightly childlike in its design stylings. Not the Palais. This hotel — which grabbed attention straight out of the gate by declaring itself a "six-star" property — is as rich and elegant as an oil painting. Indeed, upon walking into the hotel lobby, you almost feel as though you've walked into one. This is a sumptuous, low-lit, utterly formal urban retreat that never tips over to gaudiness. Surprising, considering its royal purple fabric finishes, lavish tea service and the equine statue in the foyer.

If any one thing saves the Palais from being pompous, it's the staff. From the bellhops to the check-in clerks to the GM (an affable German with nearly two decades of experience in Asian hotels), every employee is wonderfully solicitous and concerned with guests' wellbeing.


They nearly all speak excellent English, but will painstakingly provide written information (maps, directions, recommendations) in English, Mandarin Chinese and a transliteration in case you need to speak the Chinese words later. Ask the approximate exchange rate and the desk clerk will whip out a calculator. Housekeeping and administrative issues are handled seamlessly and instantaneously.

Although this hotel obviously gets a lot of business travelers, it doesn't stint on in-room luxury. The bowl-shaped bathtubs are the size of small plunge pools. An elegant escritoire is upholstered in leather with plenty of elbow room for shuffling papers around. The only tiny downside — if you're a woman — is that these rooms seem to have been designed more for men. There's little in terms of bathroom countertop space (which means doing one's makeup can present a logistical challenge), and the only visible plug is intended for a razor.


Like most luxury Taiwan hotels, Palais de Chine does a great buffet breakfast that includes Japanese, Chinese, European and American stations. Afternoon tea in the salon is a formal affair, though light bites are served throughout the day. Reserve at least one evening for Le Palais, the signature restaurant only now debuting nightly dinner service (after a several-month warm-up period where it was available as a private event space only).



According to those in the know, Taiwanese locals like to eat at new restaurants and they always judge a new hotel by its signature restaurant; therefore, in order to win local acclaim, one must win over the local palate. With its exquisite Cantonese seafood, international wine list and adorably earnest service, Le Palais is perfect as a prelude to on's stay or a grace note.

Palais de Chine
No.3 Sec 1 Chengde Road
Taipei 103, Taiwan
www.preferredhotels.com