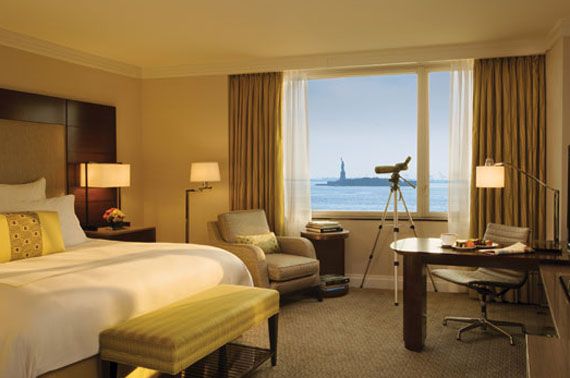 Photo Courtesy of Ritz-Carlton New York, Battery Park
The Ritz-Carlton New York, Battery Park
overlooks the scenic vista to one of the most recognizable American icons - the Statue of Liberty.
Situated at Battery Park, this hotel is truly an "Oasis in the City," steps from the ferries to the Statue and located in Lower Manhattan of vibrant New York City.


With flights to New York offered on several carriers such as United, JetBlue, Continental, Frontier and American Airlines, just to name a few, a vacation to The Big Apple is a viable option for travelers looking to stay within the United States without the hassles of transfers and long hours of travel. The Ritz-Carlton New York, Battery Park overlooks the Hudson River and affords guests Harbor View or Cityside accommodations.

Built in 2002 and receiving a $10 million renovation in 2008, this hotel affords guests modern and comfortable accommodations. With 298 rooms in all, the Lower Manhattan luxury hotel offers unique services and surprises such as a telescope in all Statue of Liberty-view rooms, useful for spying on Lady Liberty and her constant stream of visitors, and limousine service available upon request.


Guests can sink into deep sleep after taking in the sites of New York on featherbeds and goosedown pillows. Snuggled in 400-thread count sheets, a good night's rest is almost assured.

Wedding planners and business travelers alike salivate over the 14th floor Rise Private Event Space, affording guests stunning views of the harbor and an outdoor deck for entertainment. The second floor is also home to 12,000 square feet of meeting space. The entire property is furnished with incredible artwork provided by local, New York artisans. From glass sculptures to oil paintings, visitors should take pause to appreciate the vast collection adoring the walls.


Recently undergoing a renovation itself is the state-of-the-art fitness facility on the 14th floor. With motivating views, gym-goers can break a sweat while looking out over the city. Around the corner, guests looking for a more relaxing experience will find 2,500 square feet of spa facilities with massage and skin/body treatments available. Utilizing Carita Paris products, guests can pamper themselves with several treatment options.

Two West is the award-winning restaurant on the first floor of the hotel. Offering special signature cocktails such as Libertinis and Citrus Cosmos, it is not hard to imagine the property earning the several national awards and noteworthy acclaim.



The Ritz-Carlton New York, Battery Park is a spectacular luxury hotel and perfect for a New York getaway. Located in Lower Manhattan, visitors can expect the high standards of the Ritz brand and enjoy all that New York has to offer.

Ritz-Carlton New York, Battery Park
Two West Street
New York, New York 10004
212.344.0800
www.ritzcarlton.com

Via Examiner.com