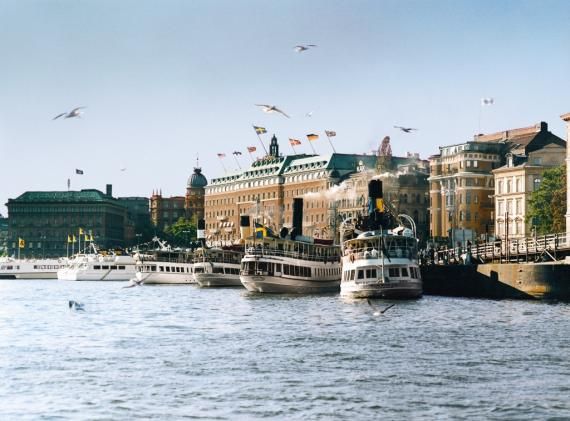 Photo Courtesy of The Grand Hotel
If it's wall-to-wall luxury you're looking for there's only one place to stay in Stockholm:
The Grand Hotel
. It first opened in 1874 and since then has attracted high profile guests from across Europe.
And it is no wonder that it is the premier place to stay in the city. With its imposing frontage overlooking the water, sweeping staircases and glittering chandeliers, is the quintessential example of old fashioned glamour. The Grand Hotel has an enviable location right in the heart of Stockholm with views of the Royal Palace.



There are 340 rooms, including 33 suites and all are elegantly furnished with period pieces to reflect the history of the hotel. But it's not all about history at the Grand Hotel. There are plenty of modern touches, such as flat screen televisions and wireless Internet connection, which sit sympathetically alongside the antiques, and bring the hotel into the 21st century.

Service at The Grand is everything you would expect from a five-star hotel. Staff are friendly and eager to please, and guests are greeted with a warm smile whenever going in or out. But The Grand can boast far more than a wonderful location, gorgeous rooms and flawless service.


Sweden may be known for its massages, but The Grand Hotel's Raison d'Etre spa offers so much more than that. Designed especially for the Grand Hotel it has been inspired by the local nature and heritage to create a spa experience unlike any I had experienced before. Baking hot saunas were followed by a dip in an icy plunge pool, or showers with buckets full of breathtakingly cold water hanging above just waiting for you to be brave enough to pull the lever to have the contents unceremoniously emptied over you. And when the hot and cold proved too much there was a pool and massage jets to relax in.

The restaurant ranked as the 25th best restaurant in the world (according to S Pellegrino's World's 50 Best Restaurants list). Michelin star Chef Mathias Dahlgren has two restaurants in the hotel, the Matsalen (Dining Room) which has two stars and the Matbaren (The Food Bar) which has one. Matsalen offers a more formal dining experience while the Matbaren is more relaxed.


We ate at the Matbaren, where you can sit at the bar and chat to the knowledgeable server/bartender who can not only tell you about the food, but also recommend the perfect drink to accompany each course. To describe the food as delicious really would be selling it short. From the salty/sweet combination of herring, whitefish roe, beets, potatoes and butter, and the melt-in-the-mouth tenderness of the perfectly cooked flank steak, to the baked wild chocolate
with sour cream and toffee ice cream and the plate of cheeses, every mouthful was a delight.

But then just about everything about The Grand is delightful. For unparalleled service, location and a genuine five-star experience that will make you feel as glamorous as a film star, it's the only place to stay.

Grand Hotel Stockholm
S Blasieholmshamnen 8
PO Box 16424
Stockholm S-10327 SE
www.grandhotel.se