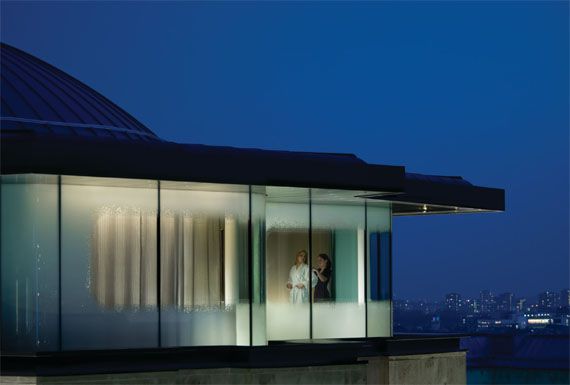 Photo Courtesy of Four Seasons London at Park Lane
Pulling up outside the newly refurbished five-star
Four Seasons
London at Park Lane, my cab driver informs me it's good to be back. I'm his first fare since it closed for refurbishment just over two years ago he tells me, and it would seem he's as excited about it as I am.
As my eyes take in the sumptuously bold interior, I have to agree with him and yet it hardly seems possible I'm in the same hotel that originally opened on the site as the Inn on the Park in 1970 - then the hotel chain's first international luxury location outside Canada. Isadore Sharp, the group's founder, famously described his vision of "a personal, down-to-earth hotel," "not for dukes or duchesses," but "people who want to be treated that way," who are put off by the "stuffy formality of traditional grand hotels."

Nowhere could better embody Isadore's vision. The old building has been completely reconfigured and an additional level added to create a tenth floor, accommodating the rooftop spa with 360-degree views over the capital, a fitness centre and the Tenth Floor Lounge (a chic café complete with a telescope where both spa and hotel guests can either order from the light spa menu or select from any of the other menus, including the Italian fine dining restaurant).


Not surprisingly, given the £125 million investment and redesign by iconic designer Pierre-Yves Rochon (who reinvented The Savoy as well as designing the Four Seasons in Paris, Florence and Washington D.C.), assured luxury and quality are apparent the minute you step in the lobby.

As you turn the corner past the marble reception desk and concierge, there's a small, discreetly screened-off seating area, and further rooms leading off past the lifts and magnificent two-story atrium to the Amaranto fine dining restaurant and smart, clubby bar - each with an eclectic mix of antique and modern paintings and a lushly opulent feel. Separating the lobby, a six-panel glass screen depicts the seasons, moving from darkness into light, winter to spring, and summer to autumn.
Floor-to-ceiling windows and a stunning 1930s-style monochrome frieze depicting wildlife scenes of deer and organic motifs, further bring nature and Hyde Park in. Hand-molded by French artist Michele Létang and comprised of 110 panels of seamlessly sculpted plaster, the frieze rises to the full height of the Lounge, forming a backdrop to the spectacular three-tiered crystal chandelier.

Attention to detail is everywhere, from towels and cold water in the lobby (for that run in the park), and the stunning marble fireplace (one of no fewer than 32 in the hotel), to dramatic equine statuary - including a stunning bronze horse's head by leading British equestrian and wildlife sculptor Jonathan Knight. There is also an Art Deco-inspired scrolled balustrade with its rosewood treads and deep red velvet wall panels. Even the lifts are works of art, sensuously clad in come-hither red leather with distinctive Lalique fanlight panels, while on the guest floors black-and-white Vogue photos of 50s and 60s models and actresses lend further glamour and elegance.


But enough interior design. Caressing the leather with my fingers on my way to the tenth floor, the first stop is the spa, a clean-lined oasis of calm with the most incredible, uninterrupted views over Hyde Park imaginable, short of taking a helicopter ride. Although I've seen the photos before my visit, I'm still taken aback by the light and sense of space.

Through the curved-glass floor-to-ceiling windows, London life plays out like a silent movie, and somehow there's something about the height that makes the cares of the day float away. The views go literally all the way round the spa, from the welcome lounge to the café, each of the nine minimal-chic treatment rooms and even the sauna.

If you can, go for the Sky Suite, a double treatment room with 180-degree views, its own private double steam shower and separate dressing room and relaxation area. With prices starting at £750 for a two-hour treatment, it's not for the faint of wallet, but the experience of extreme pampering in such unique surroundings will stay with you long after the treatments have worn off. For the more energetic, inspiring Westminster views over Big Ben, the Houses of Parliament and the London Eye are to be had from the spa's adjoining Fitness Centre.


After a refreshing welcome drink of pomegranate, lemon and mint, I'm ushered past an impressive yellow alabaster water feature (one of several sculptures dotted around the spa, including a covetable uplit alabaster table in the café) and into the wet and thermal spa area. As well as a serene skylit vitality pool, there's an airy sauna with natural daylight and curved contemporary tiered benches, and a slick steam room with subdued lighting.

The changing rooms are light, minimal and sleek - pure white broken up with cherrywood - and generously kitted out with bottles of mineral water, handy accessories and products by The Organic Pharmacy on the dressing table, and well-placed power sockets for my iPhone and entourage of gadgets. Having slipped into a soft robe and comfortable plastic spa shoes, I take a seat in the warm, cozy pre-treatment lounge - a Zen cocoon of dark wood and light stone with a glowing feature fire, primitive stone faces embellished with gold and little trays of dried fruit and nuts alongside an array of herbal teas.


The spa menu features holistic and ultra skin-friendly treatments by The Organic Pharmacy, ESPA and Hungarian brand Omorovicza, but, inspired by the views, it's the Hyde Park Awakening that catches my eye. It is a treatment designed exclusively by The Organic Pharmacy for the Four Seasons to relieve everyday stress and strains.

My 80-minute treatment with Amie begins with an aromatherapy foot soak infused with neroli, lemon and bergamot, and then it's time to slip under the sheets of the heated, and incredibly comfortable, molded treatment bed. Using an organic bamboo and calendula body scrub, Amie gently exfoliates me from neck to toe and then wraps a sheet around me in clever origami folds so I can process to the rain shower. Like all good therapists, she has the knack of making you feel completely at ease, and each stage of the treatment is seamless.


Emerging from the shower polished and pampered, and a good deal more relaxed than when I first arrived, I'm ready for the part of the treatment my neck and shoulders crave most: a vigorous, tension-relieving back, neck and shoulder massage.

Using a bespoke, deliciously aromatic Organic Pharmacy oil with rosemary and St. John's Wort, Amie is firm but not overzealous; the pressure just enough to unknot my office-weary muscles.


By the end of it, my arms are dangling over the sides of the bed like a leopard in a tree. As Amie pulls pack the curtains to reveal late afternoon London sunshine, I feel as though I've stirred from a deep sleep - rested and invigorated at the same time and for a moment a little light-headed - not to mention an inch or two taller now my shoulders are back where they should be. I spend some post-treatment time in my private relaxation pod, jasmine tea and magazine in hand, and plug into some suitably chilled music.

Each pod is rather like a first-class transatlantic sleeper pod - only more plush and spacious - with a comfortable curved bed, adjustable head-rest, neck support cushion and soft covers and a curtain for privacy. But in truth, pods aren't really my thing. Besides which all that pummeling has built up my appetite. So I abandon pod in favor of a ritual of a different kind: afternoon tea - decadently, not just one but two, English and Italian - at Amaranto. This really is La Dolce Vita. Go to FourSeasons.com/London to learn more.