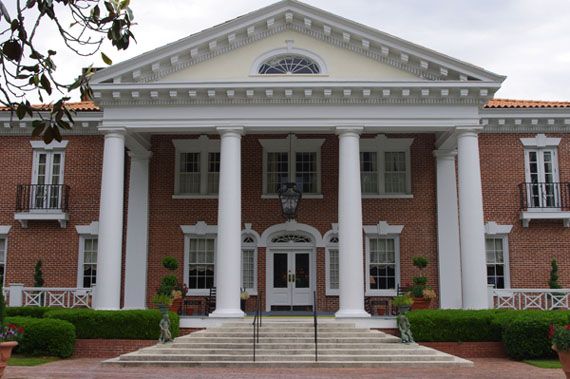 Photo Credit: Karin Leperi
I arrive at the gate to Woodlands Inn in Summerville, South Carolina - a small yet sophisticated town close to many of the states much heralded gardens. An understated sign marks the entrance to the property - totally belying the opulence and grandeur that lies ahead. Pines, palmettos, magnolias and Spanish moss-covered live oaks set the scene: This is 42-acres of wooded bliss sheltering one of the finest small hotels in the world.
After driving the winding and woody private road, I come upon a stately mansion - much like I would imagine an original Southern plantation from yesteryears to be. Woodlands Inn, just 25 miles northwest of historic Charleston, is a 1906 classical revival mansion lovingly restored to the days of its antebellum grandeur. Today, it is owned by the Johnny Linton and his wife Pam, and operated by Salamander Hospitality. According to Linton, a respected Charleston attorney, he sees Summerville as the epicenter of lowcountry hospitality, culture and cuisine.



A Room Fit for Royalty
From the moment I walk up the entryway of Woodlands Inn to check-in, I feel as if I am visiting a favorite uncle's estate - albeit a wealthy one. The concierge is attentive but not obtrusive, duly noting and respecting any preferences I proffer. He shows me my Executive Suite - a picture-book princess room of southern splendor and refinement along with modern-day conveniences such as flat-panel TV, BOSE CD stereo and wireless Internet access.


From my four-poster king bed to my designer-like sitting room around a gas fireplace, the suite is generous in space and luxurious in feel. My private bath has an over-sized whirlpool tub with a separate walk-in shower and heated towel racks - though I'm not sure I need the heat with the sweltering temperatures outside. I note that the bathroom is outfitted with Molton Brown amenities, some of my favorites!

It is now official: I feel like royalty. And no wonder. The 19-room inn is one of only six properties in America to receive the Five Star (Forbes) and Five Diamond (AAA) awards for both lodging and dining. In 2010,
Travel & Leisure magazine readers voted it as fourth finest property in the U.S. and Canada. No one is left out with wheelchair and handicap accessible rooms available, as well as specialized services such as dog walking and even grooming for pampered pooches. Custom pet beds and special canine meals are also available.


Southern-Style Hospitality
I am greeted by Casey Lavin, the General Manager for Woodlands Inn, where upon I am assured whatever I might want or need can be accommodated, including spa services and transportation to local gardens. His professional demeanor is punctuated by his good looks, charm and affable smile. He is the quintessence of southern hospitality.


I roam the property to check out the pool and tennis courts. Plenty of walking and biking trails abound as are strategically-placed "moments of leisure" - places where inviting rockers beckon guests to sit down and soak in the natural beauty.

After a leisurely stroll of the grounds, I settle in at The Hotel Bar for an afternoon sip of Pinot Grigio. In the process, I meet a couple who are piloting their Seawolf seaplane from a Caribbean winter home to their summer home in the Canadian Rockies. They are so smitten with the place that they extend their stay from one to two nights - in part to wait out some potentially bad weather in the forecast. I also talk with a local author being featured at the inn's "Author Dinner Series." Ken Burger rolled out his latest novel Sister Santee to an admiring dinner audience, while reading favorite passages with Ella Fitzgerald music in the background.


The Pines: Casual Dining with Distinction
I arrive for my much-anticipated 7 p.m. reservation at The Pines Bar & Café. The menus change daily to showcase "the freshest, most delectable ingredients gathered from private gardeners, day-boat fishermen and farmers." Plus, all the breads and pastries are made in-house.


Executive Chef Andrew Chadwick is known for using the freshest of bounty for a very approachable cuisine. With a global view of cuisine, he emphasizes sourcing out the best quality products and using them as much as possible in their natural state. According to Chef Chadwick, he wants to accentuate taste but not mask flavors. My seared scallops with snow peas certainly hit the mark as a succulent dish bursting with complementary flavors. My quartet of handmade sorbets add a nice finishing touch to my meal.


While dining, I meet the Director of Operations, Wayne Malagon, the conductor and brains behind Woodland Inn's superb food and beverage service. A consummate professional, he and his team of hospitality professionals redefine what sterling service is all about. He didn't skip a beat in service and presentation, even jumping in when necessary to do a simultaneous food presentation. The staff knows their guests and anticipates needs in ways only seasoned hospitality professionals can do. Only one other property I have been to equals this caliber of service - the Inn at Little Washington in Virginia, just outside of Washington, D.C. In a world of superlatives, Woodlands Inn manages to best the best. Visit WoodlandsInn.com to learn more.