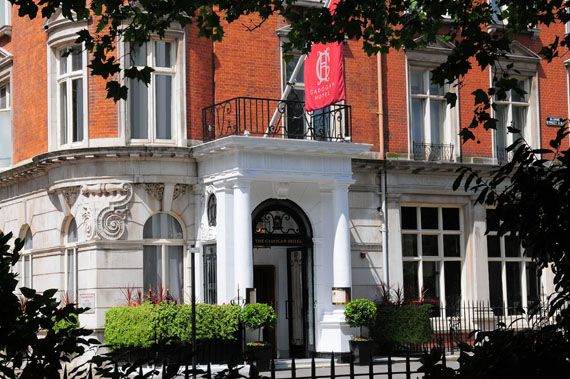 Photo Courtesy of The Cadogan Hotel
Love, Literature, Scandal
and Tradition
When we decided to review the Cadogan Hotel, we weren't sure what to expect.
We had received positive reviews, we knew a little bit about its history and the place it has in the memory and imagination of Londoners, but we were not ready to be so pleasantly enchanted by its bewildering charm and character.
That's when our job is the most rewarding. We went to review a
luxury hotel
but we ended up falling in love with a building that carries within itself a rich and exciting reverberating soul.
Before reaching the heart of the matter, let's begin with first impressions. As it happens with people, and with many beautiful and exciting hotels we recommend, the hotel doesn't look the most sumptuous and glamorous from outside. The building is a town house, bearing an elegant and yet mature and unpretentious style. The reception area of the hotel is small, quiet and unostentatious. There is a large reception desk to the left, a beautiful old style lift in front (the kind where you have to close its rail-like doors before it can start to ascend, or descend), and from the reception area you can see an elegant room beyond with comfortable sofas and armchairs in every corner, low coffee tables in front of them and you can hear whispers, laughter, the sound of teas being stirred, wine being poured, people walking and being served.

It's only when you reach the bedroom that you feel the need to stop for a minute and look carefully all around you. Everything about the Cadogan Hotel has a theatrical and historical feel to it: From the echoes of your steps on the wooden floors to the dramatically large and heavy windows with beautiful heavy curtains, ropes and tassels framing them. You start browsing the brochures and you are reminded of the history of the building, and all of a sudden you feel you are at the very spot where nostalgic poets, bohemian intellectuals and powerful city merchants once have been.

It's an inspiring place, even for those with very little artistic tendencies in them.

"Illusion is the first of all pleasures" -Oscar Wilde

The Cadogan Hotel is well-known for being part of the lives and history of three major historic figures. It was there where the famous playwright Oscar Wilde lived, and was arrested for gross indecency. Anyone who has read or seen The Picture of Dorian Gray, The Importance of Being Earnest and Salome amongst others, will understand when we say that it is a real privilege to be able to stay at room 118, where he lived, wrote and was finally arrested 115 years ago. It was also there that Edward VII, the future king of England would court and secretly meet his mistress, the highly paid actress and renowned society beauty Lillie Langtry.

Lillie continued to live in her apartment even after she sold her house, which then became the Cadogan Hotel, and today anyone can have a taste of the elegance, grandeur and romance that surrounded the life of this interesting historic figure by visiting what was then part of her quarters. The Langtry Restaurant, the Cadogan Hotel's exquisite fine dining restaurant, named after her. The restaurant's beautiful original glass chandeliers, striking intricate ceiling designs, round medallion armchairs and mirrors, create a seductive and romantic atmosphere.

Everything about the hotel and its location play havoc with your imagination. The hotel is located at one of the finest shopping destinations in London. Gucci, Armani, Prada, Harrods and Harvey Nichols amongst others, are only five to ten minutes walk away.

It's fascinating to go from shopping in contemporary London a few blocks away from the hotel, to being temporarily immersed into Edwardian London inside the hotel.

To make the hotel atmosphere even more special and unique, they have established a partnership with Kings Road Art Gallery so that guests and visitors have the opportunity to view and buy a number of exclusive paintings displayed on the walls. The paintings are beautiful and vary in style and size, they make the rooms come alive with colour and images and give a vibrant, artistic feel to the property.


We have fallen in love with the Cadogan Hotel for its history, its characters, the imagery it provokes, the management's appreciation of fine art and interest in promoting the work of local artists and art students, its large old fashioned apartment style bedrooms, fresh and well prepared food and committed staff.

Leaving the hotel was like experiencing past history and watching it continue to be made. The hotel isn't stuck in the past; its moving picture is very much alive.


This post originally appeared at Five Star Magazine