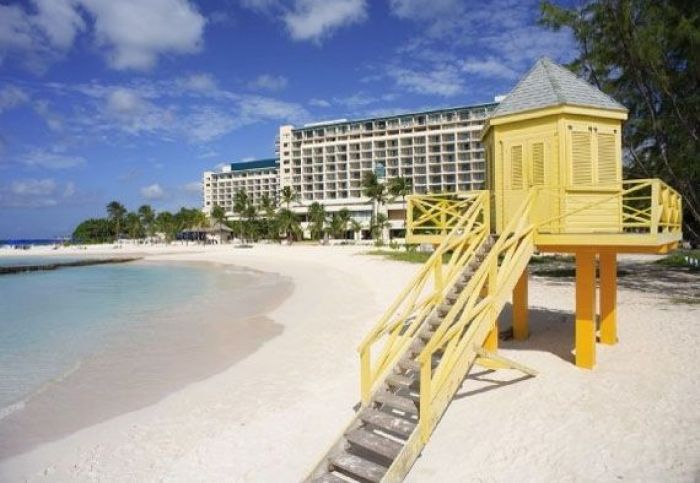 Photo Courtesy of HIlton Barbados
Today's travel is brutal, which is why every traveler wants to wind down after enduring that ordeal, at a picture-perfect destination hotel. One with, say, two gorgeous beaches on the
Caribbean Sea
, lovely cascading pools, excellent restaurants, terrific gym, three tennis courts, an Executive Lounge, beautiful guest rooms - all with blue-ocean views - and a lot more. In other words, you want to arrive at the Hilton Barbados.
On our second trip to this lovely property, we arrived late at night and couldn't wait to get to the beach the next day. The minute we put our toes in the talcum-powder sand the next afternoon, all was right with the world and all our travel fatigue immediately disappeared. Isn't that what a great resort is all about?

The Hilton Barbados boasts a prime location on the tropical peninsula of Needham's Point, just minutes away is the capital city of Bridgetown and the popular St. Lawrence Gap. Gina Sealy, Director of Sales and Marketing, explained to us that many people are under the misconception that this property is a corporate hotel for meetings and conventions; but nothing could be further from the truth. About 72 percent of the hotel's business comes from leisure guests, and the hotel certainly has everything to offer leisure travelers who want to unwind (just one look at the hammocks on the property and you know you are in the right place to relax).


Why Barbados? "Bajans are very friendly; famous for their hospitality," Sealy told us. "We also have a vibrant polo season, and all beaches are public in Barbados." Another fact she shared with us is that basically the entire island is non-smoking. "If it's covered you can't smoke there, and never at historic sites."




Rooms At The Top
This Four-Diamond hotel features 350 rooms. The best room in the house is #835, the Bernard St. John Suite, a one-bedroom that goes for $1,800 per night. It was occupied on our visit so we couldn't view it, but we fell for the Executive Rooms, such as #821. They feature complimentary access to the Executive Lounge featuring an honor bar, newspapers, free Internet use, and snacks.


Luxury travelers would also be interested in a one-bedroom suite such as #801-803, featuring a spacious living room and double sinks in the bathroom. Its pricing ranges from $499-699 per night, depending on the season. All rooms in the hotel feature breathtaking ocean views, private balcony, Internet, cable TV, safety deposit boxes, iron and ironing board, and more. And of course, access to the hotel's two stunning beaches.



When you want to get away to somewhere memorable, the Hilton Barbados is the real deal. There are two beautiful beaches along with a swimming pool area, which are the heart and soul of every sun-kissed getaway. Boogie boards and snorkel equipment are complimentary, and available to be taken advantage of. Just a quick 10-minute walk away is Carlisle Bay, which is known for great snorkeling.


The hotel is planning to open a spa at some point in the future, but spa services are available presently nonetheless. The oceanview treatment rooms offer The Full Monty of services, including seven facials, eight body treatments, five body wraps (try the chocolate and honey), five body polish services, along with numerous waxing treatments, and five spa packages.



For a sun-filled wedding and honeymoon, the Hilton Barbados in Bridgetown is also an obvious choice, with three packages starting at $1,500.

It's Fine To Dine
The property features three restaurants, including a beach bar and the Lighthouse Terrace, where you can enjoy a delicious buffet. We also had the pleasure to dine at The Grille, which was a gorgeous experience. We sat at a lovely table-for-two in the elegant beige-and-cranberry-colored, 70-seat restaurant, and sadly, had to pass on the amuse bouche of seared duck (what can we say, we're finicky and fussy).


Instead, we started with a non-alcoholic lime squash, which really set the tone for our Caribbean dinner. Appetizers include wild mushroom ravioli (a standout), spinach salad, lobster bisque and lobster tail salad. Entrees include pan-fried parrot fish, vegetable mille feuille and signature steaks with a variety of sauces including Béarnaise and three-peppercorn.

Desserts were showstoppers including fruit in lemongrass milk; molasses caramel flan; and Caribbean cheese cake. But if you're there on a Friday night, you just might want to take advantage of the notable fish fry in nearby Oistins. And when you want to work it all off (to look good in your swimsuit, of course) the Hilton Barbados has a state-of-the-art, impressive fitness center featuring Precor equipment.

Find this fantastic property on the map, or in the dictionary under "My Blue Heaven." For more information call 246.426.0200 and visit http://www.hiltonbarbadoshotel.com/.