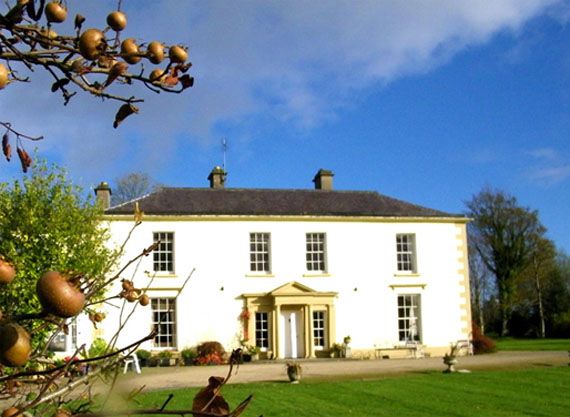 Photo Credit: Columbia Hillen & Castle Grove Hotel
What makes a vacation in 
Ireland
 memorable, some say, is the warmth and informal spontaneity of its people. If so, then those at Castle Grove Country House Hotel, nestled among the rolling hills of east Donegal, have mastered the art.
Not only does the luxurious Georgian country home and its congenial hosts allow visitors to immerse themselves in a bygone age — the world of 'the Big House' as it is most commonly known — surrounded by exquisite antique furniture and artwork, but the chance to listen to colorful stories of a past era; those of the personalities that walked its long, narrow corridors and hallways and the conversations they may have conducted on major issues facing the nation.


Listening to the petite, elegantly-dressed general manager, Mary Sweeney (right), a natural conversationalist, is a mesmerizing pleasure unto itself. Her intimate knowledge of the region and its people and her beguiling story-telling makes those who stayed before — 19th century orator and political leader, Daniel O'Connell, known as 'The Liberator,' past Presidents of Ireland, Mary Robinson and Mary McAleese, and well-known Irish author, Edna O'Brien — come to life almost before your very eyes and ears. Nor are there many better to explain the twists and turns of Irish life through the centuries than this quiet-spoken Cork-born septuagenarian. And, delightfully, she's not shy to give her opinions either.

Like many Irish stately homes of that era, Castle Grove, set amidst four acres of land, is reached along a narrow, winding driveway, with the flowing waters of Lough Swilly, leading to the Atlantic Ocean, lying straight ahead. Beech, oak and cedar spread their branches languorously around an expansive front lawn while sun-seats, chairs and benches set outside the main entrance door provide comfort for viewing. We were most fortunate to be favored with warm November sunshine so, armed with books, and the daily newspapers generously supplied by our kind hosts, we took full advantage during our two-day stay to engage in leisurely reading outside in fine autumnal weather.


Upon arriving at the main entrance, a large wooden door leads into a wide, high-ceilinged lobby with comfortable, well-furnished drawing rooms and a library on either side. Upstairs, each bedroom is named after well-known individuals. Ours was in honor of George Bernard Shaw, Irish playwright, co-founder of the London School of Economics and the only person to have been awarded both a Nobel Prize for Literature (1925), and an Oscar (1938) for the film adaption of his play, Pygmalion. The bed was undoubtedly the highlight of our room, an artistic feat, hewn from five different varieties of wood, of the highest standard. "It was made on specific orders from the court of Archduke Franz Ferdinand of Austria, but there was a failure to collect," explained Mary deadpan.

Aside from a major renovation, including transformation of the old stables, the Sweeney's enlarged the three-hundred-year-old house from eight rooms to its present fifteen. What is deftly displayed throughout the rooms is a testament to their excellent ten-year-long scouting campaign and sharp eye for taste. The mantel shelves above the fireplaces alone are lined with some of their many excavations, including delicate porcelain vases, Roman peace symbols and ornate antique clocks.  


Aside from providing utmost privacy for individual guests, Castle Grove also caters as an exclusive wedding venue able to seat 120 guests in its dining facilities. Additional good news is that an award-winning chef will take up the helm in the kitchen later this month.

With several prestigious awards testifying to the success of the restaurant, we were not surprised to learn that soft fruit, herbs, plus a range of vegetables including cabbages, peas and leaks are grown organically in-situ. Starters of crabmeat salad, with orange and vanilla dressing, slow roasted peppers and garden lettuce, as well as pan-seared hand dived scallops with sweet potato puree and rosemary jus illustrated how local products have been put to good use.



With the soft lullabying sounds of farming life nearby, Irish lamb and beef seemed apt choices as main dishes. Slices of pan-seared loin of lamb melted in my mouth, accompanied by a perfectly cooked ratatouille on a bed of pea puree. And I felt the satisfaction one of the long-gone landlords must have felt after tasting the succulent fillet of beef, enriched by a rosemary sauce and other seasonal flavors. But the real litmus test for traditional Irish cuisine is the potato — it being a centuries-old staple.


With a delicious variety on offer — from rosti to mashed, fondant to gratin — I was left with no doubt that traditional fare here not only survived, but has excelled. Having been spoiled by a heavenly chocolate fondant — whilst stealing some of my partner's garden apple and cinnamon crumble with homemade ice cream — all washed down with the last of a 2005 Cote de Nuits Villages, there was no better choice than to retreat to the nearby drawing room and plunk ourselves down on luxuriant soft seats before a crackling log fire with aromatic coffees and home-baked cookies.

For live entertainment, a Grianan in the nearby town of Letterkenny offers visitors an array of theatrical performances, while the riverside town of Ramelton, even closer, offers live music of all kinds. Golf aficionados are spoiled for choice, with five fine courses within easy reach: Rosapenna, Portsalon, Letterkenny, Murvagh and Ballyliffin.

There are also opportunities for diverse sports activities including horse-riding, deer stalking near Glenveagh National Park, pony trekking, as well as fishing either on the lough for pollack, mackerel or salmon, or for trout in the River Finn. You never know, you could end up having your very own catch cooked fresh right before your very eyes. Ask Irene, marketing manager and daughter of Mary and Raymond, and she will do the organizing for you — including giving precise coordinates to your helicopter pilot if you decide to arrive this way at the castle. Visit CastleGrove.com to learn more.

Entrancing Entrance

Archduke Ferdinand doesn't know what he missed

Russet autumnal colors embrace Castle Grove

Chandeliers and an open fireplace enhance fine dining experiences