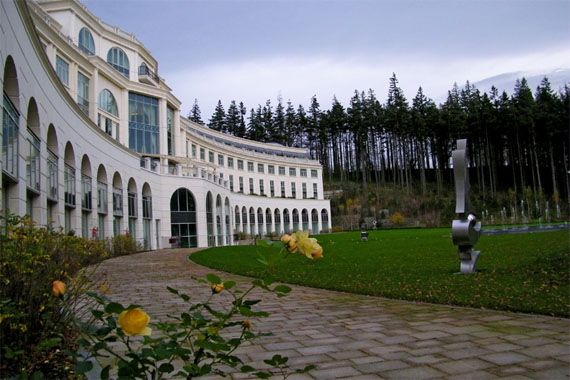 Photo Credit: Columbia Hillen/Ritz-Carlton
Smoked mashed potatoes and basil and lime sorbet; unlikely as it may seem, these were among the surprise delights of a recent short stay at the Ritz-Carlton Powerscourt just outside
Dublin
.
The twin culinary curiosities were part of a formidable tasting menu created by Irish-born Chef Peter Byrne in what he describes as "back to basics" cuisine. Much of it is based on products sourced among the hills and valleys of county Wicklow, otherwise known as 'the Garden of Ireland,' where the five-star hotel is located. What was served either side of aforesaid items amounted to what could best be called a 'holistic experience.'  



And interestingly, the combination of local produce and sophisticated presentation complements a comment made by the hotel's 38-year-old General Manager, Damien O'Riordan — a man with a decade of coast-to-coast hospitality experience in the United States — about the aesthetic values of the impressive-looking property. "Countryside location, city destination," he said simply.

Nestled deep in a rolling patchwork quilt of a landscape — the same region that two-time Oscar-winning actor Daniel Day-Lewis calls home — the Ritz-Carlton stands within the historic 405-hectare Powerscourt Estate, about forty minutes from Dublin airport and five minutes from Enniskerry, a town renown for reputedly having more high-level executives per square inch than any other place in the nation.



A narrow road snakes upwards off the M50 highway past the quaint little town to a hotel checkpoint and onward to a short, downward curving road leading to the building. The striking creamy-white stonework exterior and Palladian-style architecture make the hotel stand out like an elegant wedding cake from the myriad all-encompassing countryside colors embracing it.

Though the five-star hotel, owned by Treasury Holdings, has only been opened four years, a stately building has stood near the site since the 13th century and has undergone multiple renovations over the years. The area itself has also been a magnet for visitors for generations, with the Powerscourt Waterfall, several miles away, attracting thousands of tourists every year, not to mention the many walking trails through the rugged Wicklow Mountains. There are also two popular golf courses, known simply as East and West courses within the Powerscourt estate, with the East hosting the 1998 Irish PGA and the 2001 Irish Seniors Open.



Two-story-high Christmas trees festooned with garlands of reds and greens explosively transform the hotel's expansive lobby, with the reception areas tucked discreetly away in the corners thus not interfering with the impressive view towards large floor-to-ceiling windows that provide a panoramic view over the conical peak outside known as the Great Sugar Loaf. Lazy plump sofas positioned here and there in the foyer and open hearths either side of the open rectangular room create comforting invitations to linger and admire the balloon-shaped chandeliers inspired by the classic movie, The Count of Monte Cristo, filmed earlier in the area.

The hotel has 200 rooms including 93 suites, with an average room size of 700 square feet. Ours was discreetly located at the end of a long corridor, deep, plush carpet underfoot. We enjoyed generous balcony views down over the hotel's unique giant chessboard and accompanying man-size pieces laid out below on the grassy grounds. A forest of firs nearby swayed like an army of butlers at the ready, with the dark folds of the green-brown mountain range directly, tantalizingly, ahead.  



Being in the midst of a bucolic landscape, opportunities for outdoor activities are manifold. Aside from a nearby equestrian center, a short scenic walk begins at the hotel. There are also bicycles for guests' use on the designated pathways, with basket picnic hampers available upon request. A nearby boutique shopping center featuring local foods and fashion items located beside the ornate Powerscourt Gardens, which boasts Japanese gardens, winged horse statues, the Triton Lake and a pet cemetery, helps satisfy those with diverse interests. The hotel has a pet-friendly policy and to attract more families has also established the 'Ritz Kids,' a set of activities including a cinema and various arts and crafts for children of all ages.

Space devoted to bodily pampering is impressive, stretching across two separate floors. One houses a large round unisex steam room with marble-like floor and ceiling in which fifty people could probably sit comfortably. A 20-meter Swarovski crystal-lit pool and Jacuzzi are but a step or two away.



Upstairs are the ESPA massage and relaxation rooms, twenty treatment rooms in all, including one private suite, as well as separate men's and women's saunas, steam-rooms and Jacuzzis. Out of the menu of tactile delights I chose the 'Peat Body Wrap,' an intriguing treatment that utilizes one of Ireland's oldest natural products as its main ingredient. Laboratory tests have shown that the inherent elements of peat bog enhance skin tissue preservation so multiple creams and sprays have been developed for such purposes.



My 90-minute treatment began with a salt and oil body scrub, then gently-heated Og Ireland Peat was applied with an accompanying oriental head massage, followed by a full-body one. Senses awakened, worries forgotten, I met my partner in the relaxation room. No need to ask about her 'infinite brightening age defyer facial' treatment.

Dining options in the Ritz-Carlton Powerscourt include an informal range of appetizers and popular dishes such as fish 'n chips in the traditional Irish pub atmosphere of McGills. Or, for the more sophisticated palate, the Gordon Ramsay restaurant under the keen supervision of soft-spoken Byrne, who honed his considerable skills at Dublin's Michelin-starred, Chapter One. The hotel's premier dining venue presents a soothing, minimalist ambiance — vanilla-and-wenge décor with a fine view over the surrounding countryside.



If the intention is to platform natural flavors, the freshly-baked selection of breads here is a perfect start. Then the real battle for taste buds begins, each dish and accompanying wine vying for supreme attention, a performing duet: 'chef's magic, and sommelier's juggling skills.' Butternut squash soup, herb dumplings with Sardinian Costamolino Vermentino; chilled Irish lobster, potato salad with Languedoc Francois Lurton Les Fumees Blanche; Wicklow lamb rump, braised lamb shoulder and 'Gold River Farms' organic pork plate, smoked potato puree with Jean Bousquet Malbec.

Swept away by successive succulent flavors, we were ready to wave our white serviettes and retreat in delicious surrender, only to be tempted back by decadent desserts — sweet slices of hazelnut praline and orange tart, suzette sauce and iced nougat parfait, balsamic roasted figs and pistachio tuile. Thank goodness for the walks, the bicycles and the clear mountain air.

Let the food do the talking, leave it to Gordon Ramsay!

Sugar Loaf Lounge, coffee never tasted sweeter.

Traditional Irish pub ambiance in McGills with drinks to match.

Mountain-view suite, opening doors to a dream world.