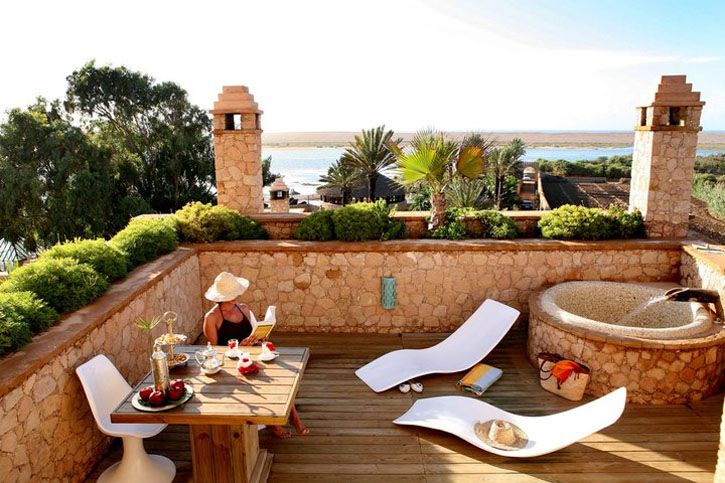 Photo Credit: Columbia Hillen/La Sultana Oualidia
If it's peace and tranquility you seek in
Morocco
— especially after the rambunctiousness of Marrakesh — then it's hard to beat Oualidia and its stately, five-star La Sultana property. A three-hour drive northwest of Marrakesh (unless, like us, you suddenly veer off the road's razor sharp edges to avoid oncoming rumbling trucks and spring a puncture) this Atlantic coast property is a classic hideaway, fronted as it is by a long stretch of impressive lagoon.
La Sultana was built by a French couple who also own a fine riad of the same name in Marrakesh. Presumably, they sensed potential growth opportunities here and have stepped in early before this sleepy coastal resort really takes off. With only 11 suites in a 6.5 hectare area, La Sultana is an idyll of privacy. Its network of buildings is laced together by meandering pathways and lush vegetation, all located within 500 meters of the ruins of a former royal palace now under renovation.
It was after 8 o'clock and dark as we eased down a sloping, dusty road towards the sea and the property. The harsh realities of the world began to disappear as we saw outlines of elegant buildings and palm trees stretching languorously upwards with the promise of relaxation. When we arrived, general manager, Khalil Guerraoui, whose hospitality experience includes a long stint in New York, was there to greet us.
The hotel's layout is extensive with rooms and suites separated on various rising levels to create maximum privacy, each having its own terrace and Jacuzzi. La Sultana has been built with a sensitive eye to sustainability with its water supply derived locally, desalinated and filtered by osmosis.
The property doesn't protrude rudely into the landscape, instead blending with the surrounding environment, with its sandy-colored building-stone being a visual hallmark. Even the floors and walls of the rooms feature this soft, smooth stone, which creates a sense of coolness away from the bright Moroccan sun.
Each room is designed around different paintings by French artist, Régis Del?ne-Bartholdi, whose great grand uncle, Frédéric-Auguste Bartholdi, designed the Statue of Liberty. A four-poster bed with ornate lamps embedded with decorative blue and green stone along with a round marble bath, were suitably seductive. Most suites offer wonderful views over nearby rolling hills, the lagoon, and a crescent-shaped sweep of beach.
We dined in the La Sultana restaurant whose glass doors open directly on to the private beach and the facing lagoon. Einstein once said, 'everything should be as simple as it is, but not simpler,' and the restaurant's design, with its local white rock walls and oleander wood ceiling, is just that — subtle, minimalist, allowing instead the intricate flavors of the food to capture the senses.
La Sultana has an extensive seafood selection, a highlight being fresh Oualidia oysters raised but a stone's throw away. After an amuse-bouche of pumpkin soup and nutmeg, we settled upon a surf-turf combo, my selection being medallion de boeuf. The medallions were tender slices cooked perfectly to order, presented with a light sauce, accompanied by a bouquet of sautéed vegetables. The winner of the feast, however, was the sea bass my partner ordered, the covering salt-cake so well crusted, it left the flesh beneath soft and well-seasoned, its pure sea-flavored taste remaining firmly intact. No additional help was required from the sauce served with it but the accompanying white asparagus, crisp and earthy, was a welcome complement.
Various location options are offered for breakfast including a table at the end of a long, wooden pier stretching into the water, or under the woven folds of a nearby Berber tent. We chose the third option, an open terrace overlooking the rocky inlet and lagoon. From here, we watched seagulls, swallows and storks glide majestically in the sky above and godwits, egrets and flamingos hop daintily around the rocks below. Adding an extra dose of intrigue was a view of the local oystermen nearby arranging their nets.
Breakfast includes various omelets, freshly baked croissants, berber breads and pain perdu as well as jams and yogurt served with beghrir and meloui, traditional Moroccan pancakes, and toast with amlou — a splendid alternative to peanut butter, made with almonds, honey and argan oil. Guests are presented with a simple one-page international news update for easy reading.
La Sultana offers multiple excursions including special boat rides for guests who wish to have a closer look at the lagoon and enjoy a private picnic in a sheltered, secluded place. The excursion includes a tantalizing lunch or early dinner menu that features grilled fish and half lobster, seasonal fruit baskets and Moroccan pastries.
In contrast, one can choose to linger on lounge chairs arranged around the open infinity pool or slip inside to the basement of the main building and the stone-pillared, airy spa and enjoy a massage, a short swim or a soaking in the Jacuzzi.
Being incurably curious, I chose to wander outside the property along the uneven rock-studded platform beside the lagoon and meander towards town. It's an easy 30-minute hour walk past the ruins of the old royal palace and on to a beach with several restaurants and small hotels scattered nearby.
The highlight of my excursion was coming upon a large fleet of simple wooden fishing boats corralled together high on a sand dune, their owners standing below on the road in lively negotiations with potential buyers over the price of the day's fresh catch. Visit
LaSultanaOualidia.com
to learn more.