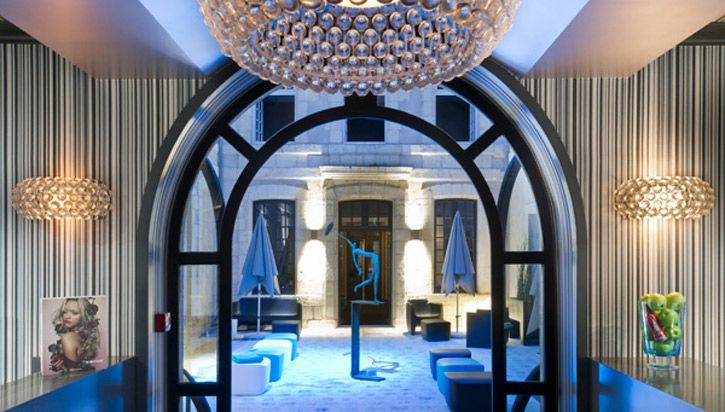 Photo Credit: Columbia Hillen/La Monnaie Art & Spa Hote
La Monnaie Art &
Spa Hotel
couldn't be in a much better location for those wishing to soak up the picturesque, French Atlantic coastal town, La Rochelle. The recently-renovated centuries-old hotel, a former Royal mint in medieval days, lies along a narrow cobblestone street, just 200 yards from the town's quaint horseshoe-shaped harbor and the many boats bobbing in its waters.
Columbia Hillen
Owner, Sylvette Lebeau, gave up her school position as a long-time teacher several years ago and, with her lawyer husband, indulged in her dream: take an old, ornate building, rich in story and legend, and renovate it with the trappings of modernity. She has done an excellent job.
The Art
As its name suggests, La Monnaie Art & Spa Hotel features many artistic pieces that simply cannot go unmentioned. Upon approaching the walk-in entrance, the first thing to catch one's eye is a creative window display fronting the street — a decorative chandelier hanging as if by an invisible thread. Just inside of the sliding glass entry, a niche in the wall nearby reveals an interpretation of The Thinker. Sculpted in bronze, a seeming genderless person with elaborated, elongated limbs, head in hands sits deep in thought. Close by are two large facial portraits of a boy and girl — quite somnolent — lost in space and time.
Columbia Hillen
If Sylvette's appreciation of art in its many forms is not already obvious, then the cozy lobby's large and vivid wall-painting makes it so. The display depicts a jazz musician playing trombone, bass and drums, the whole scene over writ with scribbled graffiti, in the colors of black, white and pink, are hard-hitting, creating strong contrast.
At the second entrance, where access to the hotel's private parking is located, Sylvette has decorated the high stonewalls with two eclectic paintings. One is of a gargoyle, an endearing expression of quiet contentment on its face, lovingly licking upon an ice-cream cone. "When I first came here, I was taken by the large number of people walking the streets all enjoying their ice-cream so for me it was a hallmark of the town," explained Sylvette simply. The other is of a second gargoyle listening to music on high-tech earphones.
The Rooms
Bedrooms in this
boutique hotel
look down on to a large, but discreet courtyard. The view provides a gentle prod to the imagination offering a sense of the leisurely tete-a-tete's that must have taken place here down through the centuries. Above, one enjoys a clear, dramatic view towards the splendid spire of nearby Tour de la Lanterne, a former lighthouse and prison.
The décor of the bedrooms is minimalist, with a light motif, white, grey, beige and black being predominant colors. Interestingly, the base of the shower is a narrow-gage, metal-grill affair with the added advantage of a subtle foot massage as one moves about on it. Doubles, triples and executive suites are all on offer.
The Amenities
La Monnaie provides a high-tech style spa in the basement where we enjoyed a massage, courtesy of an electronic apparatus inside a waterbed, as well as a sauna and a Jacuzzi. For privacy — the spa, being small and catering for up to for persons — can be reserved at the reception desk.
Evening meals are not served at La Monnaie, although Sylvette seems to enjoy an excellent relationship with many restaurant owners in the town (La Rochelle offers more restaurants per head of population than most French cities). Instead, the hotel provides a substantial buffet breakfast including a generous selection of yogurts, French cheeses, cold cuts, freshly baked croissants and breads as well as fresh fruit and delicious coffee. Guests even have the chance to cook eggs exactly to their liking in a special boiler provided.
An added attraction about La Monnaie is the down-to-earth and infectious enthusiasm of Sylvette herself. Keen on the concepts of sustainable development and environmental protection, the owner introduced us to several of her suppliers, including a nearby farm that provides her with milk and yoghurt, a micro-brewery that provides her with beer and the local Sunday market where we tasted organic local oysters (farmed by Frederic Voisin on the Ile de Re) and homemade chocolates (by La Cabosse Enchantee).

Outside the cozy interiors of La Monnaie, La Rochelle offers a wealth of relaxing and energy-giving options — a delightful walkway around the harbor ending near the aquarium; a visit to the many shops along its narrow, winding streets with their characteristic overhanging stone arches; a ride on one of the many yellow bicycles provided specifically for tourist use (La Rochelle was among the first French cities to introduce sustainable development measures in the 1970s under visionary Mayor, Michel Crépeau); and, for yacht lovers, wide open sea spaces to explore. For more details on La Monnaie, visit
HotelMonnaie.com
.