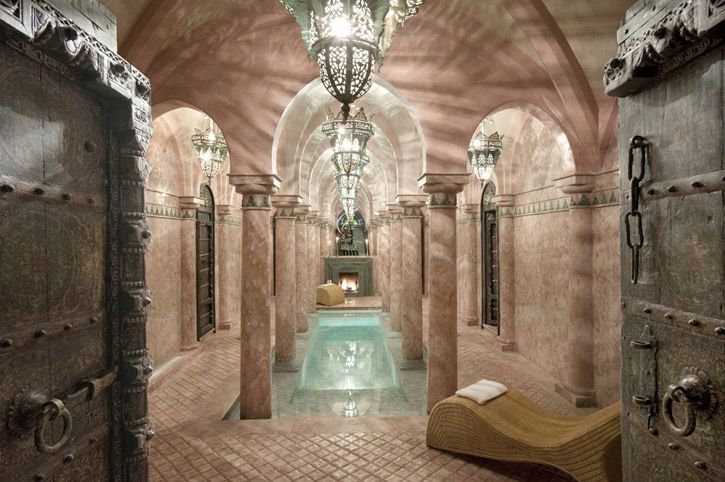 Photo Courtesy of La Sultana
We wind our way around one of the frenetic souks in
Marrakech
, sun rays beating down on our faces and traders in all directions wanting to tempt us into perusing their wares. My husband and I trek on, past the veiled women selling their henna designs, past the autumnal hued spices, and past the stalls bursting with magnificently decorated plates, glasses and teapots.
Our hotel, La Sultana, is just a short walk away from the hustle and bustle of everyday life of this colorful Moroccan city. We turn a corner and walk along a short, cobbled pathway, to the end where two large copper doors open into the reception of our home for the next four nights. The noise and heat disappear as the doors close behind us. A member of the Great Hotels Of The World, a stay at La Sultana comes with high expectations, which are met as soon as we're inside its calm, cool oasis.
A maze of corridors snakes around the riads, complete with an endless, impressive array of artwork, sculpture, marble columns, antiques and artifacts as well as bold designs. Voted by
Forbes Travel Magazine
as one of the 400 most beautiful hotels in the world, La Sultana is comprised of five separate riads, or courtyard houses, with each wing boasting its own unique decor. Riad Bahia is the epitome of tranquility, with its crisp, sleek, white design, mixed with deep brown wooden balconies and a compact pool directly underneath the blue sky.
Riad Almohade opens up on to a swimming pool surrounded by sun loungers in a patio bursting with vegetation such as banana and sica trees and is hugged by high brick walls covered with Virginia creeper. And Riad Sabah boasts the fiery reds of terracotta and beijmat brickwork mixed with blues to create a distinct South America feel. There are just 28 bedrooms and suites, all with their own individual style, meaning it feels incredibly exclusive.
Our impressive suite is found in the deluxe Riad Scheherazade, in which Africa's influence is apparent, with a mix of warm colors, impressive woodwork and lavish furniture. The heavy doors into our room are opened by a member of La Sultana's smiley staff, revealing an elegant mix of bold hues, artwork, and Moroccan craftsmanship, including hand carved woodwork. There's a king-sized bed draped in Egyptian cotton, leading to a common area with a chaise lounge, a fireplace, and magnificent chairs which look fit for royalty.
The marble columns also add a monarchial feel to the room, but it's the the bathroom which provides the piece de resistance — it can only be compared to an impressive Roman bath, with an extravagant marble tub in the middle of the room, which is opulently designed, boasting columns, two sinks, a shower and a marble floor. My husband and I wander up to the roof terrace that connects all the separate riads. Here guests are able to relax in the sunshine or shade, order food and drinks from the bar, and indulge in a cocktail or two.
Dinner and breakfast are also sometimes served on the roof and the location offers diners a stunning panoramic view of Marrakech during sunrise or twilight and of the Atlas Mountains. Before we dine, it's time for La Sultana's Moroccan tradition of serving fresh mint tea. Poured from a height, the warm drink is refreshing as we relax in the calmness of our riad. It's nearly impossible to imagine the chaos on the streets outside.
La Sultana also boasts a
luxury spa
, in case you're not chilled-out enough, offering a wealth of traditional treatments including massage. There is also a gym, sauna, Jacuzzi and indoor pool in which to wile away the hours. In keeping with the theme of the rest of the hotel, the spa is impressively designed with marble columns clearly inspired by Rome's ancient baths and a star-domed, marble Hammam.
After our refreshing tea and a trip to the spa, we're rejuvenated enough to brave the mayhem of Marrakech. We brace ourselves and open the large doors and walk into a wall of heat and noise, leaving behind our oasis of calm. However, there's a huge smile on our faces as we know it's not for long before we can return.
Prestige rooms at La Sultana start from ?217.00. For more information or to book please visit
LaSultanaMarrakech.com
.