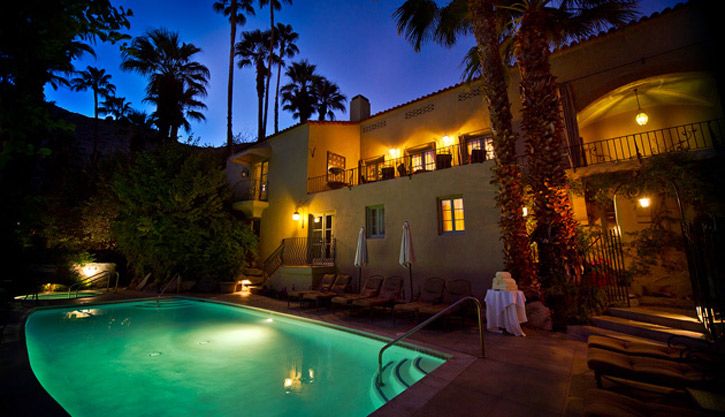 Photo Courtesy of The Willows Historic Palm Springs Inn
This serenely luxuriant inn, all but hidden behind lush landscaping, is the epitome of excellence. While evoking the aura and opulence that once attracted the brightest stars of Hollywood's Golden Age, the inn today offers an even greater amenity to its guests: restful, pampered privacy.
The inn lives the axiom, "excellence is doing ordinary things extraordinarily well" — a quote attributed to American writer John W. Gardner. For instance, there is no registration desk. When I arrived, I was met in the car park by an innkeeper, who led me to my room, offering pertinent information along the way. By the time my host, Lorraine, and I got there, we were chatting like long-lost friends! Only a signature on the guest card was needed and I was given a key for the room and security entrance. Another nod to excellence is that all guests are always greeted by their first names, with sincerity and warmth.
The Willows was designed by William Dodd and built about 87 years ago as a desert retreat for prominent Los Angeles businessman William Mead. Upon Mead's death, star attorney Samuel Untermyer purchased the home. This is when, arguably, the inn's most famous guest entered the picture. Dr. Albert Einstein, a friend of Untermyer, loved to
relax in Palm Springs
and found The Willows' environment perfect.
Today, in a tranquil setting near the waterfall is the bench Dr. Einstein favored for resting. The mid-1950s saw another change of ownership and gradual deterioration. In the 1990s, the current owners, Drs. Tracy Conrad and Paul Marut took ownership. With their loving care, The Willows was resurrected and transformed into an exclusive and intimate luxury hotel.
As a former residence, The Willows offers just eight guest rooms in its Mediterranean design, with each room unique in décor and appointments. I stayed in the Einstein Garden Room with double doors leading to a private garden patio beside the soothing waterfall. The free-standing, claw foot slipper bath in the large bathroom was a first for me, and a grand way to put my head back and soak in sheer decadence.
John Wooden, famed UCLA basketball coach, is known for saying "It's the little details that are vital. Little things make big things happen." At The Willows, little things like silent, self-closing toilet seats, herbal guest soaps free of impossible to unwrap plastic skins, and furniture arrangements as comfortable as in your own home make the "big thing" of excellence alive.
The list of amenities includes everything one could think of. My favorite was the daily, ever-changing three-course gourmet breakfast, designed and prepared by Chef Joan Johnson. Served in the dining room, with one entire wall open to the 50-foot waterfall, the experience was total joy and relaxation.

International travelers seek out The Willows. On a recent stay, I indulged in my favorite thing to do: experience the stunning sunrise over Palm Springs while nursing my first cup of coffee, covered in a warm blanket on the large central balcony overlooking the pool. Other early birds were conducting business on their laptops and cell phones to far-flung parts of the world. Later in the afternoon, many of us congregated here again to share our day's adventures while enjoying fine wines and Chef Johnson's signature hors d'oeuvres, attentively orchestrated by Innkeeper Gordon Leake.
The lure of Palm Springs is strong, especially from September through May. The desert shimmers with crystal clarity, desert flowers and cacti are a riot of color, and the air is crisp, dry and clear. Summer, with its sizzling temperatures, is another matter, unless you are a true desert rat. That's why The Willows is closed from the end of May to the beginning of September. During that time, staff tends to those "little details" so important to John Wooden, and to your total comfort. Visit
TheWillowsPalmSprings.com
to learn more.