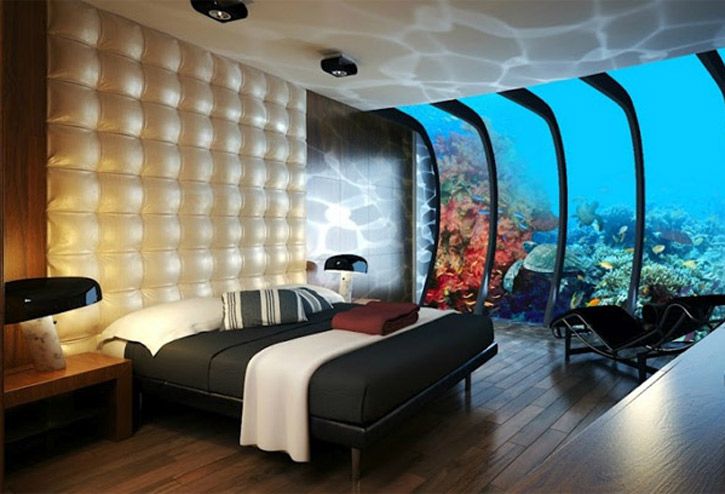 Photo Courtesy of Deep Ocean Technology
Deep Ocean Technology, founded in 2010 in the Polish city of Gdynia, is combing modern technology and visionary greatness to create a luxury hotel experience like none other. The groups of innovators behind the company are comprised of engineers and scientists who are making the dream of living underwater a dream-come-true. The mystery of the ocean depths will shortly become the scenic backdrop during a stay at one of the Water Discus submerged hotels and resorts.
Here, guests will be able to enjoy the sensation of being immersed in the natural environment of the ocean floor, while tropical fish, starfish, sea anemones, and many other wonders act as a radiant underwater garden that waits just on the other side of the glittering divide. This luxury vacation destination will be the perfect romantic vacation idea, full of adventure, beauty, and possibility. At the Water Discus resorts, guests will be able to savor the best of both worlds, the warmth of environment above and the cool mystique below the sea.
The Water Discus hotels have been designed to consist of two, disc-like compartments. One lies deep, beneath the water's surface, while the other one is above. The parts are connected by three legs and a central, vertical compartment that houses both an elevator and a stairway. The submerged disc is located 10 meters beneath the surface and holds 21 suites that each feature the most beautiful ocean views. The resort will also include a restaurant, a spa, and an impressive indoor swimming pool that cuts through the center of the disc.
A salt water training pool will be situated above the water while incredible glass-walled tunnels, made for divers, will dice through the indoor pool. An exotic botanical garden will provide a rejuvenating place to relax after swimming in the pool or enjoying the day's activites. All of the guests at the Water Discus resorts will have the opportunity to not only enjoy the sea from their rooms, but get up close and personal with invitation to board one of the hotel's three-passenger submersible vehicles. Diving courses and submersible piloting courses will also be available.
The realm of dreams and science fiction combine, creating what is sure to become one of the leading hotels in the world.

For more information visit DeepOceanTechnology.com.