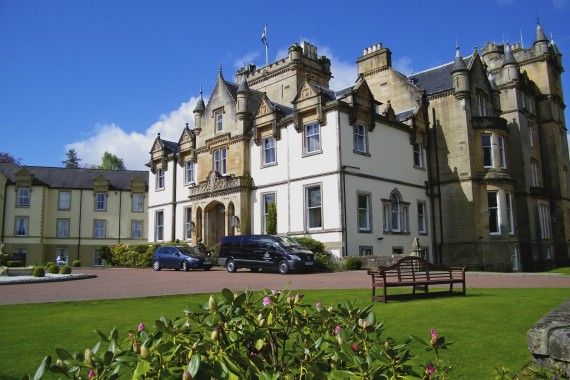 Photo Credit: Columbia Hillen/Cameron House
Loch Lomond is one of the most popular Scottish tourism destinations and the De Vere Cameron House provides stately accommodations and a convenient base from which to enjoy the beauty of the surrounding area. The property is located 20 minutes from Glasgow International Airport and 40 minutes from Glasgow city center.
A baronial mansion of sturdy sand-colored and rusty-red stone, the five-star De Vere Cameron House stands in the midst of its own extensive, 100-acre tree-lined grounds bordering the loch itself, with ducks and swans wandering around undisturbed. The narrow driveway that travels through the demesne from the main road winds its way from a hefty entrance gateway, past the hotel's expansive sports facility, then splits in two—one arm leading to a circular driveway fronting the hotel itself and the other going a half-mile further, parallel to the loch-side, to a restaurant and marina complex.
A seaplane stands ready to take people for aerial views over the famous waters. Or, as an alternative, a large speedboat, the Celtic Warrior, in the marina, carries up to 10 passengers on leisurely, champagne cruises past the islands (David, on board, both diver and sailor, is an informed and highly-entertaining guide).
Named after the old Celtic name of this strip of land, Cam Sron (meaning 'crooked nose'), Cameron House was the family dwelling of the Smolletts family, merchants and shipbuilders. The most famous Smollett was Tobias, an 18th century novelist. Cameron House has had a number of celebrities pass through its doors including former British Prime Ministers, Winston Churchill and Anthony Eden, as well as Princess Margaret and Empress Eugenie of France. There was even a time in the hotel's history when owners turned it into a safari park and black, brown and Himalayan bears and bisons roamed the grounds.
Helpful ghillies (attendants), dressed in traditional high-stocking garb, stand ready outside the hotel's stone steps to assist guests with bags and valet vehicles to a nearby secure car-park. The first impression upon entering the long, narrow lobby is of classic Scotland—deep, tartan-patterned carpet underfoot with matching wallpaper and stained dark-wood panels all around. Adding a touch of eclecticism is a series of almost surreal paintings bedecking the walls of the corridors of haggis with a head of cabbage; a common watch; a skull; a child's doll in a bed.
Our suite, at the head of the stairs— named 'Glenmorangie' after a well-known Scottish whiskey, one I ended up buying later on my travels— was awash with sumptuous furniture including an impressive four-poster bed, leather, high-back, nail-head trim wooden chairs and a lush, soft sofa facing a large, flat-screen television in the bedroom. Beds are fitted with Egyptian cotton sheets in a comforting coordination of color—antique ruby, green, white and brass—blending the thick curtains, wall-paper and deep carpet together. The head of a large stag complete with well-developed antlers affixed to a side wall indicated the popularity of hunting in the nearby hills and forests.
Next to it, adjoining the bathroom, complete with the 'Loch Collection' toiletries by Arran Aromatics, a substantial sitting room is furnished with another large sofa, a small writing table and a similar-size television, with views out the window over the loch.
Cameron House has an ample pub, the Great Scots Bar—its walls lined with framed photographs of well-known Scottish celebrities such as Sir Alexander Fleming, discoverer of penicillin; well-known comedian and actor, Billy Connolly; and long-time pop singer, Lulu—with curved bay windows granting fine views over the fields and loch behind.
The hotel has four different restaurants. Fine dining takes place at Martin Wishart's. The Cameron Grill with its own butchery, wine cellar and an impressive wall-length mural designed by Gary Myatt is where breakfast is also served (not to be missed on the breakfast menu here is tasty, homemade haggis, the traditional Scottish meat dish made from the internal organs of sheep). The New England-style Boathouse overlooks the loch, with ducks waddling outside on the wooden boards to the accompaniment of buzzing crickets and the glow of fireflies and a firm favorite with families, with pizza prominent on the menu. The Claret Jug, with round tables, is suitable for elegant yet informal t?te-?-t?tes.
Cameron House also provides a considerable-sized game room and sports area, easily accessible along a long corridor off the main lobby. The game room contains a billiard table and table football, with a small swimming pool, running machines and a water slide for kids in the adjacent sports area. The hotel also offers free transport to the nearby Carrick Resort, its off-site golf and sports center offering wonderful views over Ben Loman.

Carrick Spa, located on the resort, is a perfect alternative for those infamously rainy Scottish days as one has a wide choice of massages to choose from, as well as an open-air Jacuzzi and various aromatic hammams; it also has 17 dry and wet treatment rooms with products provided by French cosmetic house, Carita. The spa café serves light lunches and afternoon tea while the bar in the Golf Club has a wide selection of food and drinks.
Visit
Devere-Hotels.co.uk
to learn more.