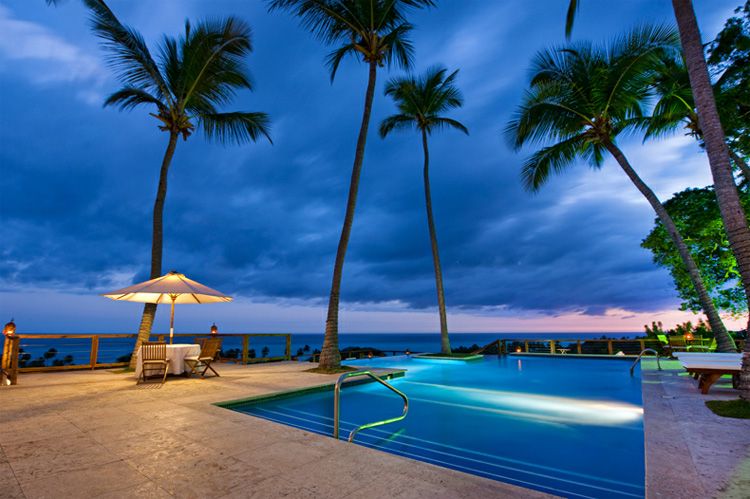 Photo Courtesy of Casa Bonita Tropical Lodge
It seems that every month a new
luxury vacation
spot opens its doors to a more earth conscious approach in the name of being environmentally friendly, and we think that's fantastic. Family owned and operated, the small Casa Bonita is surrounded by picturesque mountains and lush greenery and prides itself on being a complete eco-lodge. Nestled in the heart of Barahona, an unspoiled natural haven in the southwest region of the Dominican Republic, and near the only biosphere in the country, Casa Bonita is a unique paradise that offers guests a rare ecological experience.
With only 12 deluxe rooms at Casa Bonita, guests can be assured that they will be relaxing in one of the finest small luxury resorts available. Each room was built by architect Rafael Selman and his love for nature was used as his inspiration, designing each room to have a balcony view of the Caribbean Sea and the Sierra Barahuco Mountains. The rooms feature a light and refreshing decorating scheme, complete with fresh white linens and dark palm wood trim, and artwork by the esteemed conservation photographer Eladio Fernandez.
Casa Bonita maintains its own organic garden for use in the restaurant and spa, placing itself firmly in the community as a supportive entity. The fresh menu is centered around seafood that is caught by local fishermen in Barahuco. Cheese is made fresh, as well as artisanal bread, and the "De Mi Siembre" marmalades are made by women from the La Ciénega community. While the menu features many house specialties, including Baked Cheese and Chillo Bahoruco Style, the chef would be more than happy to cater dishes to the specific tastes and needs of the guests.
The Tanama Eco Spa at Casa Bonita is set beneath towering trees where you can relax to the sound of the breeze rustling through the leaves. The
luxury spa
specifically designs their treatments around natural elements like chocolate, coffee, coconut, basil, mango, noni, bamboo, and pineapple. One of the special treatments combines hot and cold "Ciba Azul" stones to promote healing and relaxation.

With rates for a one-night stay ranging anywhere from $205 to $301, depending on the season, Casa Bonita has many exciting experiences available to guests, including the amazing Canopy Tour. Enjoy a stimulating ride on cables as you soar for 3,280 feet, giving you a breathtaking view from high above the tropical jungle. For those who want to journey farther than Casa Bonita, there are many amazing experiences nearby, including the Jaragua National Park and the Oviedo Lagoon.
For more information on pricing and packaging visit
CasaBonitaDR.com