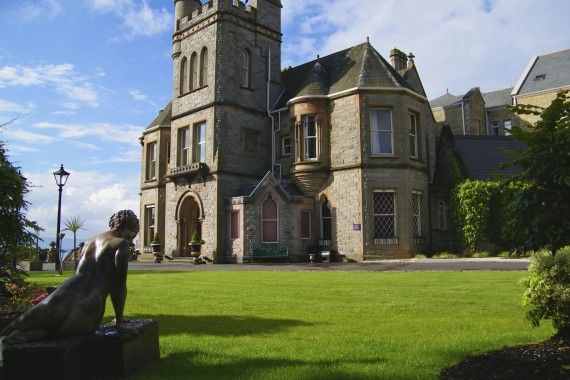 Photo Credit: Columbia Hillen/Hastings Hotels
Gazing into the darkness past ivy-clad walls down a grassy knoll towards the twinkling lights of Belfast Lough while sipping a glass of wine, makes one think of resplendent evenings in private English clubs during the Victorian era. And indeed this well may have been the case here at the Culloden Estate & Spa more than a century ago; for one of Northern
Ireland's most prestigious five-star hotels
was once the palace of the all-powerful bishops where private dinners and hush-hush tete-a-tetes were weekly, if not daily, affairs.
Reached via the A2 that runs past George Best Belfast City Airport and the stadium of Glentoran Football Club, the Culloden, built in 1876 and standing on a 12-acre estate, is a striking example of Gothic-style architecture and 19th century landscaping. Its ashen-colored brick tower stands out against the blue of the sky amidst an expansive carpet of a manicured lawn that seems to stretch across and around the group of buildings and down towards rolling fields and the waters of the lough.
Parking is ample, enough for 400 cars, with various lots located around the hotel. The paths from them to the hotel's front entrance wind past copses of majestic cedar, eucalyptus and pine trees intermixed with stunted dwarf bushes and hedgerows. An interesting feature of the gardens is a series of modern metallic and classic stone statutes—a monk akin to the classic interpretation of Saint Patrick, a slim female nude dancing gloriously in the rain and a woman dressed in a thin slip, hands on hips, defiant.
Complementing those of people are others of animals—an elongated camel baring its teeth, its bent back creating a rounded arch, a cloth-capped human head as its hump, a phalix-like protuberance sticking out of its back and a copper-green metallic stork pecking at something in the grass. Outdoor benches and tables set here and there provide opportunities for sun-bathing or a refreshing drink. Stone steps beside the hotel's main entrance door lead down to the Cultra Inn, a large, Alpine-style bistro in the grounds, and a panoramic view over the lough and the coast beyond.
Columbia Hillen
The hotel lobby is impressive, high-ceilinged with overhanging chandeliers, stucco decorations and gold-leaf framed paintings. Classicism really comes into its own in the adjoining room, where twin bronze statutes of stags stand either side of an open fireplace. 'The Pawnbroker,' a 19th century painting, is just one example of the artistic works adorning the walls, with a Shakespearian-like alabaster bust on a small white plinth and a grand piano near the entrance to the fine dining restaurant.
Columbia Hillen
Glass-fronted shelves scattered here and there filled with various jewelery pieces make for interesting window-shopping pauses on a meander through an extensive ground floor of interconnecting drawing-rooms, furnished with framed portraits of well-to-do personages, heavy, ceiling-to-floor rose curtains, thick carpets with an autumnal-leaf pattern, candy-striped sofas and decorative lamps positioned in discreet corners—all reinforcing the idea of a select, private-club atmosphere. Flower-boxes lining the window sills provide an added touch of warmth.
Our room, the Carnoustie suite—one of 105 such suites, as well as 11 self-catering apartments—overlooked the gardens and was spacious. It was furnished with a large central table, cozy twin sofas fronting a large flat-screen television and an extremely large bed, one in which four people could conceivably fit comfortably into. A remote-controlled gas fire provided a touch of romantic ambiance. The color scheme was pistachio and magic mint, with paintings by local artists along the walls.
Columbia Hillen
Culloden Hotel & Spa is proud of their 'local produce' mantra, with ample evidence of its policy in action. Its apple juice is provided by the Armagh, Cider Company, a county with a moniker as the undisputed northern Irish kingdom of the fruit; muesli and granola from Crawford's Foods in County Down; black and white pudding from Gracehill in County Antrim; milk and cream from Farmview Dairies in the nearby Castlereagh Hills and probiotic yoghurts from the nearby Clandeboye Estate.
We dined at the Cultra Inn, a high-ceilinged, wood-beamed bistro with a welcoming open fireplace and enjoyed a well-cooked Glenarm organic shorthorn beef fillet with rocket and parmesan salad and Hereford rib-eye steak on the bone with creamy spring onion mash. Until the chef masters the classic dessert, however, better perhaps to miss out on the Irwin's fruit loaf bread and butter pudding. The hotel's second restaurant, in the main building, The Mitre, boasts an international menu.
With a major renovation costing more than a million British pounds, the Culloden has created a hexagonal-shaped gym, Mediterranean-blue with white pillars; a small similarly shaped pool dominating the center area with a walkway around it leading to the steam room and the equipment room, complete with every conceivable instrument to encourage fitness and athleticism. An added benefit for guests is complimentary participation in any of the, mainly evening, activities. These include 90-minute yoga sessions and Pilates. A 30-minute fitness analysis is also offered for a small fee. The ESPA spa has eight treatment suites.
With the multi-million dollar Titanic Experience opening in Belfast earlier this year to mark the centenary of its sinking, the Culloden Hotel & Spa provides a special afternoon tea at a cost of 22 British pounds which, it says, includes menu items similar to those served to first-class passengers on board the doomed vessel. These include Victorian Madelines, strawberry and champagne mousse, cucumber cream cheese, smoked salmon, horseradish butter and ham and tarragon mayonnaise sandwiches.

Aside from fine coastal walks, the Culloden is close to Bangor and other resort towns along Belfast Lough. Belfast, the capital city, is a mere 15-minute drive away, with plenty of arts and cultural activities on offer, including the Lyric Theatre. Here we saw a fine performance of Oscar Wilde's 'The Importance of Being Ernest,' and the excellent, interactive nine-gallery Titanic Experience. (
Photo courtesy of Lyric Theatre
)
For more information on the hotel visit
HastingsHotels.com
.