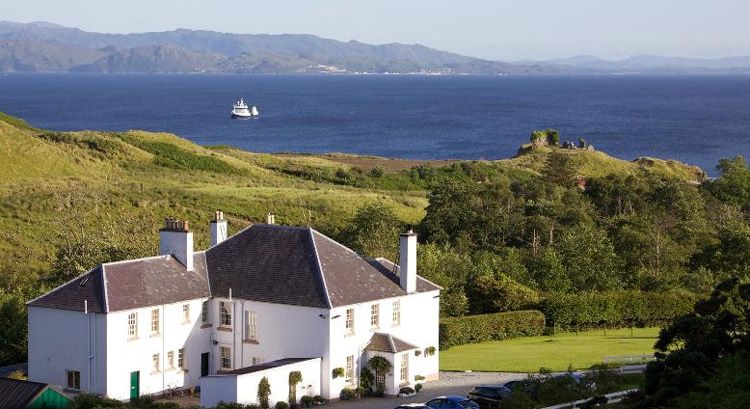 Photo Credit: Toravaig Hotel & Duisdale Hotel
With a wealth of experience gained from many years working in the hospitality industry, husband-and-wife team, Anne Gracie and Captain Ken Gunn, have opened not one but two
luxury hotels
—Toravaig House Hotel and Duisdale House Hotel—on the evocative Isle of Skye on the west coast of Scotland.
Toravaig House Hotel stands road-side on raised ground offering a panoramic view down over the Sound of Sleat, which separates Skye from mainland Scotland, with the port town of Mallaig in the distance and the ruins of Knock Castle (c. 1345), a former stronghold of the MacDonald clan, immediately below. First sight of the hotel is of a manicured lawn with a picnic table in its center and an outdoor wood patio with matching chairs adjacent to the main building.
Several years of renovation has transformed what was once, as Ken described it, "a cycling center with sets of rooms crammed with bunk-beds, pool tables and dart boards" into a comfortable, chic, nine-room hotel with a fine dining room and a cozy sitting-room-cum-bar with an open fire and an open piano. The reception area is small and simple as befits a boutique hotel with warm, informal Scottish friendliness greeting guests.
White wood-paneled doors and arches are a characteristic of the hotel. Rooms are up a short flight of carpeted stairs immediately above the restaurant and, while not expansive, are more than adequate for one's needs. The showers are delightfully strong, especially welcome after a long, tiring walk or climb.
The sitting-room across from the reception area is the best place for general R&R and to enjoy both before and after dinner drinks. It reflects a modern and contemporary design with twin standing-lamps, an open fire and paintings and photographs adorning the walls depicting the mercurial nature of the local weather (we experienced all four seasons in one day—bright morning sunshine, afternoon snow during a short hill climb and evening rain on the drive back).
Overhanging mini-chandeliers, black and purple puff cushions and glass-topped drink tables add to the overall attractive ambiance. Ash and grey, blue bell, classic rose and English and old lavender weave their different tones throughout the property's interior. A grand piano made by 'Brinsmead & Sons,' a London-based company with a reputation stretching back more than 100 years, stands in one corner, with—on one occasion—the music pages opened at 'Canzona Toscana.'
Paying strong homage to the importance of whisky-making in Scotland, the bar at Toravaig House Hotel is generously stocked with versions of this particular beverage. I counted more than 30 on one shelf alone, a veritable alphabetical soup of them, including anCnoc, Scapa, a 15-year-old Lagavulin, Oban, Laphroaig, a peated whisky from Islay, and Talisker, the only whisky distillery on the Isle of Skye itself. For non-whisky drinkers, there is a plethora of other choices including Islander, a locally-brewed beer, having both 'Clansman' and 'Celtic Black' varieties. There is also a diverse collection of wines.
Eating at Toravaig House Hotel is an enjoyable experience without being ostentatious. The dining room, where breakfast is also served, is split into two with strategically-placed mirrors and two unadorned archways and a corner bar. A premium is placed on local Scottish produce—for breakfast, black pudding from Stornoway on the Isle of Lewis in the Outer Hebrides and haggis from the MacSween company in Edinburgh, a business with a reputation as 'the guardians of Scotland's national dish.'
To accompany dinner, we chose a South African Meerlust Red from Stellenbosch peculiarly described as having 'hints of dark chocolate and ink' and were highly-satisfied with how it complemented our food, including homemade goat's cheese and parsley ravioli and slow braised lamb terrine as starters; and main courses of assiette of Mallaig fish (basically a local version of Bouillabaisse with halibut, cod, monkfish and shellfish) and pan-roasted loin of lamb.
Luscious desserts were rosemary set cr?me (my favorite) and rich dark chocolate and Drambuie torte. Excellent dinner experiences usually require interesting conversation and Archie, our head waiter, provided that with a passionate recall of his experiences as a climbing consultant in the shooting of the movie,
Prometheus
, near the hotel. Talk then moved easily from Saint Columba (who is supposed to have established a monastery on the island) to local social enterprises and on to the main differences between Free Presbyterianism and Free Church.
Ten minutes back along the road is the 17-room Duisdale House Hotel, which just like Toravaig, sits on a prime location overlooking the Sound of Sleat. Again, the experience of the owners helped turn what was once, as Anne described it "a very tired-looking and jaded place, with ugly, external plumbing fixtures everywhere" into attractive ensuite rooms reflecting a classic, contemporary look, with high ceilings and four-poster beds.
Built in 1860 and originally a hunting lodge, Duisdale House had been a hotel for around 50 years before the Gunns took it over in 2007. Now its sitting-room is awash with lavish furniture, oriental vases and a glass chess-set among the ornaments and classic paintings and portraits adorning the walls. The restaurant overlooks an extensive garden with a very old Monkey palm tree taking pride of place in the center. A polytunnel at the back of the hotel provides fresh salad leaves and other vegetables.

Complimenting an experience at either hotel is an interesting additional feature: a 42-foot yacht, 'Solus na Mara,' skippered by Ken, offering daily sailing trips around Skye, exclusively to the hotel guests. As for activities in the area, the Museum of the Islands is but a five-minute drive away. Six interconnecting galleries take you through 1,500 years of the history and culture of the area once known as the 'Kingdom of the Isles' through the story of Clan Donald, its most powerful clan. There are also plenty of excellent walks and hikes to take in the Trotternish area and the Cuillin Hills, as well as quaint towns to visit such as Portree, Staffin and Dunvegan.
For more information visit
SkyeHotel.co.uk
or
Duisdale.com
.