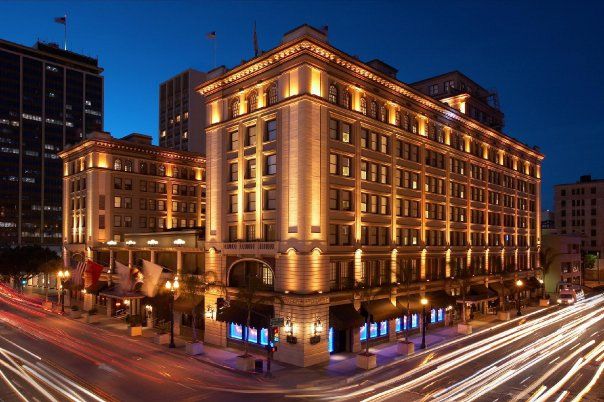 Photo Courtesy of THE US GRANT
Since 1910, The
US GRANT
, a Luxury Collection Hotel, has been welcoming guests with unparalleled luxury and stunning style. Upon arrival, guests will be awed at the Grand Lobby, adorned with sparkling crystal chandeliers, hand-loomed silk carpets, and artwork. In the midst of San Diego's historic Gaslamp District, THE US GRANT San Diego is centrally located around high end shopping, dining, and entertainment and is just moments away from the top tourist attractions and beaches that San Diego is famous for.
The revered hotel takes pride in its rich history, including a former speakeasy which is now the Celestial Ballroom and the Penthouse Suite which was added to the hotel in the 1930's as a radio station. The award-winning hotel is esteemed for its services and each guestroom features one-of-a-kind artwork. THE US GRANT San Diego has 270 guestrooms, including 43 San Diego suites. All rooms contain a custom Yves Clement drip-painting headboard and classic furnishings. Both luxurious and modern, all rooms have a regal feel and modern amenities.
In the Grand Deluxe rooms, guests will find lush carpets, first-class technology, and a private whirlpool. Suites are spacious enough to provide room for work and pleasure. Suites can be made to give extra privacy and the more luxurious suites include separate bedrooms and even a fully stocked refreshment center. Over the years, THE US GRANT San Diego has become a favorite dining spot, serving up great food in a perfect location.
At the Grant Grill, diners can find contemporary "farm to table" California cuisine for breakfast, lunch and dinner in an art-deco ambience. Other dining options at the hotel include the GG Lounge, Lobby Lounge and 24-hour in-room dining. The GG Lounge was named Hotel Bar of the Year (2012) by Nightclub & Bar, thanks to a speakeasy setting serving cocktails, seasonal cuisine and live music. The Lobby Lounge has comfortable seating for a place to enjoy a cocktail amidst marble floors and crystal chandeliers.
Click Here to Book THE US GRANT Hotel
For guests looking to get away from the hustle and bustle, visit THE US GRANT Spa, Journeys by Relax & Rejuvenate. In an intimate spa suite on the 8th floor, guests can relax and indulge in a spa treatment. Guests can also bring the spa experience to them for a customized option. The traditionally designed fitness center is filled with top notch TechnoGym cardio equipment as well as Hampton free weights and a Radient weight machine. There are even towels, fresh fruit, and water, all complimentary and available for guest access 24 hours a day.
With a convenient location and history of excellence, it's easy to see why THE US GRANT San Diego remains one of the city's favorite hotels.
THE US GRANT Hotel
326 Broadway
San Diego, California 92101
(619) 232 3121
USGrant.net
.