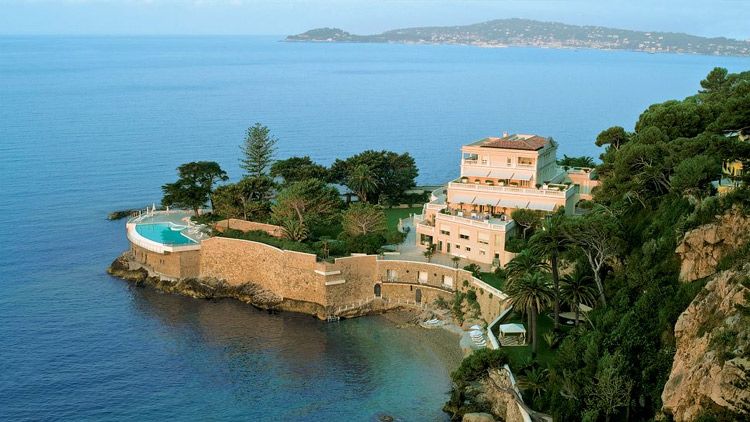 Photo Courtesy of Cap Estel
You may have heard of Cap Ferrat and Cap d'Antibes, both exquisite destinations in the South of France, but not many will have heard of Cap Estel—and therein lies one of the
French Riviera luxury hotel
's many charms. Without any obvious signs or directions, with an imposing gate and visible high security, Cap Estel makes privacy and discretion a big priority, which might explain its A-list status on the Cote d'Azur.
We were immediately struck by Cap Estel's gorgeous setting—the impressive driveway meanders through lush greenery, leading to the palatial lobby and reception area. The sheer magnitude of Cap Estel's glorious surroundings is only realized on walking through the lobby, past the glamorous bar with its chandeliers and leather bar stools, reaching the terrace at the edge of the steps that take you down to the gardens.
The hotel greeted us with views of extreme beauty—meticulously manicured lawns and pristine plants and foliage lead to a saltwater pool that sits ceremoniously at the edge of the cliff, stretching out to sea, blending with the sky in the distance. If the pool isn't enough to tempt you (it really should be), there's also a private pebble beach on the other side of the cap, which offers a secluded, calming retreat.
Cap Estel is a grand property that also feels rather bijoux. There are only 18 rooms, 14 of which are suites, and it feels like your own private (yet enormous and lavish) home. Our junior suite was located in its own building perched on the edge of the gardens, built into the cliff, suspended over the Mediterranean sea, all of which results in truly stunning vistas.
The room was designed in summer blues, with a separate sitting area, ample closet space, an outdoor seating area and two balconies suspended over the rocks and sea below. However, we thought the bed was surprisingly uncomfortable and the bathroom was small and could benefit from a redesign.
Cap Estel's gourmet restaurant, La Table du Cap Estel, offers refined Mediterranean cuisine in a serene and picturesque setting with flavors highlighting local products and seasonal specialties. Freshly picked asparagus, line caught fish and local tomatoes were prepared with care and skill and provided a luxurious accompaniment to the beautiful surroundings of the formal restaurant, which spilled into the gardens for the summer season.

The summer bar opens at the foot of the cap where you can revel in the evening panoramas over an Armagnac before retiring to bed to the sounds of sea outside. The gym, indoor pool and spa rooms are built into the cliff next to the infinity pool, and with the windows of the gym and spa looking out to the sea, you may be lucky to catch a stray wave on a windy day crashing into the window from your exercise machine.
For fear of being too effusive, I shall end with saying Cap Estel is an exquisite hotel in a majestic setting that fully captures the essence of the Cote d'Azur.