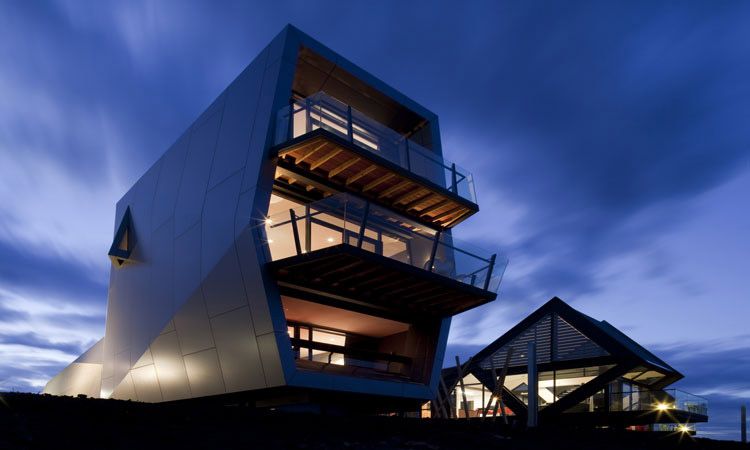 Photo Credit: MONA/Paul Barbera/Karin Leperi
Once considered to be on the outskirts of civilization, Tasmania is still an island at the bottom of the world. But that hasn't prevented Australia's smallest and most remote state from taking center stage by being at the cutting edge of
luxury hotels
.
As sophisticated elegance goes, MONA Pavilions sets the stage for a unique concept, contemporary design, and service-oriented execution. Located on a private peninsula about 15 minutes drive from the city center of Hobart (Australia's most southerly city), MONA Pavilions are simply an indulgent experience in architecture, art, amenities, high-tech convenience, the art of rest and relaxation, and of course gastronomical delights from onsite restaurant The Source.
In Homage of Australian Artists and Architects
Checking into the Arthur (Boyd) pavilion—one of the original four accommodations that celebrate Australian artists—I notice that my cantilevered deck has a panoramic view of the Derwent River (The other three pavilions are named after Australian modernist artists Sidney (Nolan), Brett (Whitely, and Charles (Blackman)). Today there are a total of eight pavilions, with the four newer pavilions having opened in late 2009 and being named after influential 20th century architects.
My spacious one-bedroom suite harbors a prominent painting by Arthur Boyd, dramatically displayed in the modernist living room. Light wood and steel define the contemporary design. But that's not all as I am shown ancient artifacts and museum-quality pieces encased in glass with security locks. Incredulously, I stare at what appears to be Pre-Columbian era statues encased in a display case separating the kitchen from the dining room. Roman coins mounted in a framed glass casing are hanging in the nearby hall entrance.
The antiquities and artworks showcased in each pavilion are from the collection of MONA (Museum of Old and New Art) and the brain-child of MONA founder, David Walsh. An eccentric multi-millionaire, Walsh's vast wealth was reputedly acquired through his numerical prowess and proclivities toward gambling.
The (Tasmanian) Devil is in the Details
Once over the shock that I'll be sleeping with ancient artifacts bearing hatchets and severed head trophies dating before the arrival of Columbus, I notice elegant and bold detailing everywhere. Custom-made furniture by Tasmanian designers such as Philippe Starck and Ron Arad add to the uniqueness of each self-contained pavilion. A stack of magazines and books personally selected by MONA staff are waiting for my perusal.
Karin Leperi
The bathroom features a Jacuzzi with a view overlooking the Derwent River. And with the under-floor heating of the bathroom tiles, I don't have to get cold feet while enjoying my Aesop amenities made by an Australian company in Melbourne. Plus, I can wash and dry my laundry ensuite while sipping wine from my private cellar stocked with Moorilla wines and Moo Brew beer. Each suite features a state-of-the-art full kitchen that is stocked for nights you may want to cook and dine in. But who really wants to get out the pots and pans with an award-winning restaurant onsite?
Cutting Edge Technology for Comfort
Electronic toys are everywhere with state-of-the-art technology that includes wireless touch panels for temperature control, iPod docks, Wi-Fi, Blu-ray disc players, HDTV in each room and the living room, and in the newer pavilions, an Aquavision LCD screen with waterproof controls in the bathroom. Though Bang & Olufsen phones are noted for their superior sound and are in practically every room, unfortunately they left me technologically challenged when I attempted to call reception at extension 911. I never figured it out.
The Bonus
MONA/Paul Barbera
A MONA Pavilion stay includes breakfast at The Source Restaurant where accomplished chefs hone their skills using locally-sourced, seasonal and organic products from small producers. And as if this wasn't enough, an overnight also includes admission to the world-class MONA museum, Australia's largest private museum.
Karin Leperi
A subterranean gallery, the edgy museum consists of four underground levels carved into the cliff-side of an old sandstone quarry. Over $110 million USD of works are housed including British artists Damien Hirt and Chris Ofili, American-born Neo-expressionist painter Jean-Michel Basquiat, U.S. conceptual artist Jenny Holzer, and well-known Australian painter and print-maker Sidney Nolan.
The installations and exhibits go beyond what you might expect to see in a typical museum and are designed to promote and even provoke dialogue on issues of global significance as well as that of the mundane. MONA succeeds in doing both. Visit
Mona.net.au
to learn more.