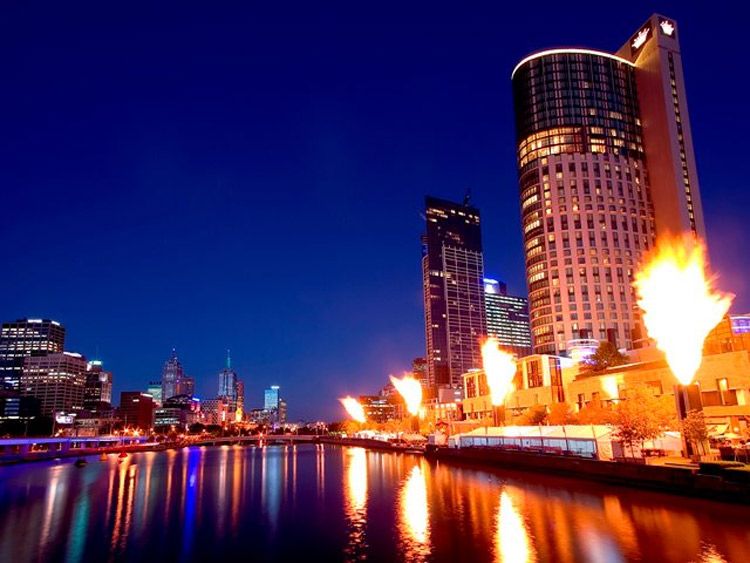 Photo Credit: Karin Leperi/Crown Towers
As the second largest city in Australia (second only to Sydney), Melbourne is known for its vibrant coffee culture, multi-cultural culinary scene, avant-garde street art, and sophisticated hotels. It's a beautiful city that was well-planned and artfully designed. As one guide put it, "Melbourne had the luxury of being a planned city since it was not a convict state." And as far as svelte hotels go, the Crown Towers stands in a class of its own as arguably one the best, if not
the
best hotel in Melbourne
.
Courtesy of Crown Towers
2012 Reader's Choice Award
Readers of
Australian Gourmet Traveller Magazine
recently affirmed the hotel's urbane appeal by voting Crown Towers as the 2012 Readers' Choice Award for Best Large Luxury Hotel. It's not hard to figure out why. After all, the property is simply oozing in elegance and offers a level of service that easily commands it as one of the leading hotels of the world. It is a benchmark for luxury.
Karin Leperi
Convenient Location with a Secret Down Under
Situated on the southern bank of the Yarra River, Crown Towers is conveniently located close to dining and bars and is only a ten-minute walk from downtown Melbourne, Federation Square, and the famous shopping district located on Collins Street. However, the secret that lurks down under (under the Crown Towers) is that it sits on top of an entertainment complex only an elevator ride away. From a casino, up-scale shopping venues, movie theaters, night clubs, and first-class dining, it is all here.
Take note that the complex houses some of the best dining experiences in Melbourne. Be sure to try Rockpool Bar and Grill or Spice Temple, both Neil Perry restaurants (Neil Perry is one of Australia's leading celebrity chefs who manages several restaurants, authors cookbooks, and is coordinator for Qantas's Flight Catering under his company Rockpool Consulting).
Decadent Elegance Everywhere
The hotel's newly renovated lobby shimmers with contemporary opulence, complemented by a cosmopolitan Neil Perry run-bar called "The Waiting Room." Here you can enjoy a casual bar by day that transforms into a glittering cocktail lounge by night.
However, the center piece is definitely the ultra-modern bathrooms. With marble floors, deep soaking tubs, separate shower and toilet cubicles, a flat-screen TV, bathrobe and slippers, the bathrooms look as if they are from a page straight out of Architectural Digest. Plus, there is a separate walk-in dressing room and closet.
Crystal Club Access: A "Must Have"
Without a doubt, one of the pleasurable perks of staying at Crown Towers is accommodation access to the Crystal Club. What that means is that certain rooms are entitled to purchase Crystal Club access for a set fee per room. Well worth the price, the Crystal Club offers expedited and personal check-in service as well as exclusive access the to the Crystal Club lounge. The Crystal Club also has doting service that offers complimentary breakfast, afternoon tea, and pre-dinner drinks and canapés at scheduled hours with a range of premium brands and wines served in bottom-less glasses. In other words, Club attendants will offer to fill your glass even before it is empty.
Stellar Service with a Caring Smile
On my recent stay at Crown Towers, I missed my international flight back to the States due to a miscommunication of times. Somewhat devastated, my first reaction was to bury my head in my hands and sob uncontrollably. However, my "cooler" head prevailed as I sought the services of the hotel concierge to help sort out this sticky situation. Without going into the many details, I can confidently say that this was "over-the-top" world-class service by David, my concierge. I can also say without any reservation that it is the best service I have ever received anywhere, anytime. Period.
The complications were overwhelming but David attended to the details and provided immediate follow-up to me. Besides getting in touch with the right people to help with a rebooking on Qantas, he was able to arrange an extra night stay at Crown and also contacted my hotel in Washington, D.C to work out a penalty-free extension of my reservation on that end. Kudos to David for providing stellar service with a caring smile!
Famous Faces at Crown Towers
Because of their well-deserved reputation for world class service, celebrities are known to frequent the Villas and Presidential Suites of Crown Towers including recent well-known guests such as Oprah Winfrey, Tom Cruise and Katie Holmes (pre-divorce), Sara Jessica Parker, and Zac Effron.

Other "A-List" guests over the years reads like a laundry list of the rich and famous and includes the likes of George Clooney, Hugh Jackman, Mariah Carey, Sylvester Stallone, Barbara Streisand, Justin Timberlake, John Travolta, Stevie Wonder, Will Smith, Ricky Martin, Billy Joel, Elton John, Whitney Houston, Julio Iglesias, Celine Dion, Shirley Bassey, Andrea Bocelli, and Bill Gates. No wonder Crown Towers is considered the "crown" jewel of Melbourne. Go to
CrownTowers.com.au
to learn more.