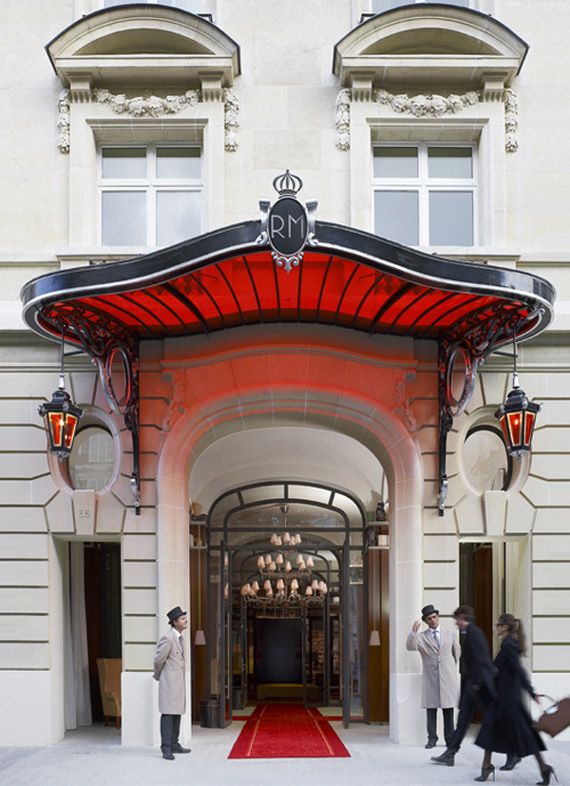 Photo Courtesy of Le Royal Monceau
When it originally opened in 1928,
Le Royal Monceau
was one of Paris's grand palace hotels, situated just steps from the Arc de Triomphe along tony Avenue Hoche, which quickly became a gathering place of the artists and intellectuals of the day.
By the time Raffles took it over in 2008, however, this grande dame (now Le Royal Monceau Raffles Paris) was in need of a refresh, so the exclusive hotel group brought in uber-designer Philippe Starck to re-envision the space as a hallmark of 21st century luxury and joie de vivre (before doing so, however, he threw a demolition party for celebrity guests) as well as paying homage to the hotel's history as the watering hole of artists and luminaries. Especially since it continues to attract a diverse crowd of well-heeled celebrities to this day.
That idea of an artists' legacy is central to the hotel's current ambiance, where the public spaces feel like a cross between an artist's exhibition studio and an informal salon. Visitors will find artworks throughout the hotel—in the central courtyard garden, in the staircases (check out the installation of wooden statues of gazelles, antelopes and deer on the second-floor landing), and even in their own rooms.
Les Chambres
The hotel's 85 rooms and 64 suites are decorated with an eclectic panoply of objets d'art, such as African masks, Murano glass seashells, faux love letters left in desk drawers, and signature acoustic guitars (pick one up and start strumming) drawing the eye to a corner of each room—all inspired by the study of André Malraux, a French novelist and art theorist who frequented these very halls.
Philippe Starck took care to highlight "rigorous lines, fine materials, warm colors," and a "poetry of sensitive details," all meant to convey a bygone elegance of the 1940's and 1950's that contrasts but still resonates the ultra-modern feel of these rooms with elements such as white-on-white bed linens, satiny enough that you could picture Marilyn Monroe snuggling up beneath them (perhaps she, too, would have enjoyed the silhouettes of Jean Cocteau embroidered on many of the hotel's pillowcases, as though the famous filmmaker were wishing you a personal
bonne nuit
).
Or perhaps it is the cream-colored leather loveseats where Audrey Hepburn might have been at ease as she studied scripts. Only these days, guests can lounge on them while surfing the high-speed Internet and catching the day's international news on the flat-screen television.
Bathrooms, too, marry 1950's glamour with clinical cleanliness—nearly every surface mirrored, an entire third of the junior suites taken up by a glass-enclosed hydra-headed shower that gently sprays away the grit and grime of Paris's streets as guests apply the Clarins products carefully arranged throughout the toilette. This is a French hotel, remember, so chances are you'll find your WC separate.
The rooms and suites are intended to be the private domains of those who inhabit them as well as a callback to previous tenants, such as Ray Charles who once lived in Suite 714 and now bears his name. Better call and ask for a reservation in that particular suite far in advance.
Privé
The hotel also incorporates a second tower called Privé where its residential accommodations are found. It has its own private entrance off Avenue Hoche, with a key-activated elevator to its five floors, which house three Presidential Suites—each 350 square meters (3,700 square feet) with a gym, kitchen, living room, dining room and three bedrooms and bathrooms. Guests staying here still have access to the hotel and all its amenities, however, including room service.
La Réception
Though many hotels' public areas are at odds with the private nature of their accommodations, Le Royal Monceau takes pains to make momentary visitors welcome as well—beginning with the classic door lanterns outside the main entrance that have been recast with red glass, shedding an alluring light on the sidewalk beyond the hotel's.
First, visitors pass an unobtrusive reception area off to the right where guests can check in and be initiated into the secrets of their
chambres
with a private tour. To the left of the entrance is the eclectic book and gift shop, La Librairie, full of curios, coffee-table books and one-off artifacts to please even the most seasoned traveler, as well as a team of concierges who can arrange art excursions for guests.
Passing directly through the entry foyer, one comes to the Grand Salon, with various informal seating areas created from a hodgepodge of armchairs, sofas and loveseats arranged around low-slung tables.
Take a moment to look left and admire the grand staircase. Its walls and ceiling have been mirrored to reflect the light of the myriad vintage chandeliers that used to be found throughout the hotel in its heyday, but have been relocated and hung all together here, creating a breathtaking lighting effect that's a veritable kaleidoscope of cut crystal and light.
See if you can spot the entrance to Le Cinéma, a state-of-the-art screening theater with 99 oversize leather seats (some are doubles)—each with a power adaptor and USB port—where patrons are treated to screenings (even in 3D) and classic movie theater food reimagined by Pierre Hermé. The space can also host private concerts.
The Grand Salon is just adjacent to Le Bar Long, where guests can share a quick bite, or indulge in cocktails before an evening out, either in the small seating areas arranged throughout the room, or at a raised communal table near the bar— it looks like a backlit, mirrored armoire or traveling salesman's kit that has been opened to display its wares.
Those mismatched cocktail glasses aren't just for display. Philippe Starck's team hand selected each one from flea markets all over Paris. Guests can choose any one they like for their drink and the bartender will serve it in the chosen piece of stemware. Perhaps the glass itself should suggest the drink?
Behind the bar will be a new private club called Le Cigare Bar, where 55 members will be able to enjoy their favorite Havanas and Montecristos from personal humidors. The only outsiders who will have access will be guests staying in the hotel's Presidential Suite.
With an entrance near Le Cigare Bar, as well as one directly off Avenue Hoche, Le Royal Éclaireur is an exclusive retail space created by Armand Hadida a private collection, selection of clothes, jewelry, art works and designer objects where you might catch other guests browsing on the way to or from their rooms.
O? Manger?
The hotel's main restaurant La Cuisine, is situated just off Le Grand Salon and comprises a large, high-ceilinged dining room with views upon the hotel's central garden. Lining the walls on the left side are cabinets filled with a collection of one-of-a-kind dishes with signatures and doodles by artists and actors as well as semi-private tables around which guests can draw sheer curtains.
The rest of the dining room is punctuated by pillars with Murano-glass capitals, and populated by tables where guests cast glances toward the open kitchen at the far end (in the morning, this is where the breakfast buffet is served), which is backlit by a wall of color created by white, red and rosé wine bottles.
The menu here (and the hotel's entire dining program) is overseen by Executive Chef Laurent André, who worked with Alain Ducasse for 14 years before joining Raffles. His watchwords are seasonality and freshness, so the menu here changes every three months like clockwork.
A recent meal here might have included a dish of minced Brittany crab with pureed avocado and julienned spring vegetables including beets and carrots, and a crabmeat gelée; followed by a succulent filet of John Dory encased in paper-thin potato "scales" with spring asparagus, baby artichoke, red pepper and olive—for a taste of Provence—all accompanied by French wines such as a Chateau Simone 2008 Cairette de Provence white wine from the slopes of Mont Sainte Victoire, a landscape that figured prominently in some of Cézanne's most famous paintings.
Adventurous guests can amble over to the marble-countered open kitchen after dinner to create their own millefeuilles for dessert, along with some help from the pastry staff, of course.
The hotel's other restaurant is Il Carpaccio, an Italian-inspired fine dining outlet whose shell-bedecked foyer feels like a grotto or reef that will have you reminiscing about that enchanted July day you spent yachting around Capri's Faraglioni before a meal of fresh seafood and crisp Vermentino. The tables in the glass-enclosed Conservatory with a view onto the garden are the most sought-after.
Le Jardin is a gorgeous public space whose bucolic greenery belies the bustle of the Paris streets just beyond the hotel's corridors. It was conceived by Louis Benech and includes not only tables where guests can indulge in the hotel's various cuisine offerings, but also several art installations—a whimsical arbor by Paris-born artist Joana Vasconcelos (one of only four contemporary artists whose works have been displayed at Versailles) as well as a large reflecting pond with a transparent bottom that reveals the hotel's pool one story below.
Spa My Blend by Clarins
That pool is 28 meters (90 feet) long, with plush white lounge banquets and shimmering mirrors in gilt-mirrored frames casting reflections from the water. It is just a part of the small gym complex that resides on the hotel's lower levels. Guests are free to use the fitness facilities, which are manned by a staff of trainers ready to assist with any lunges or curls, along with consultations.
However, most guests venture down here to experience the hotel's Spa My Blend by Clarins, which specializes in treatments utilizing signature products of the famous French beauty house. Before their My Blend treatments, guests are invited to enjoy the sauna, hammam and laconium room.

Relax with a Firming Age Corrector Tri-Active Body Treatment, a Tonifying Body Wrap, a Mist & Massage Detoxifying Water Ritual, or an Anti-Jet-Lag Skin Blitzer Facial Firmer, among other unique treatments meant to refresh, revitalize and reinvigorate.
All the more important after a long flight to the Continent, or before another day out in the French capital...or at Le Royal Monceau taking full advantage of the hotel's amenities. Visit
Raffles.com
to see more.