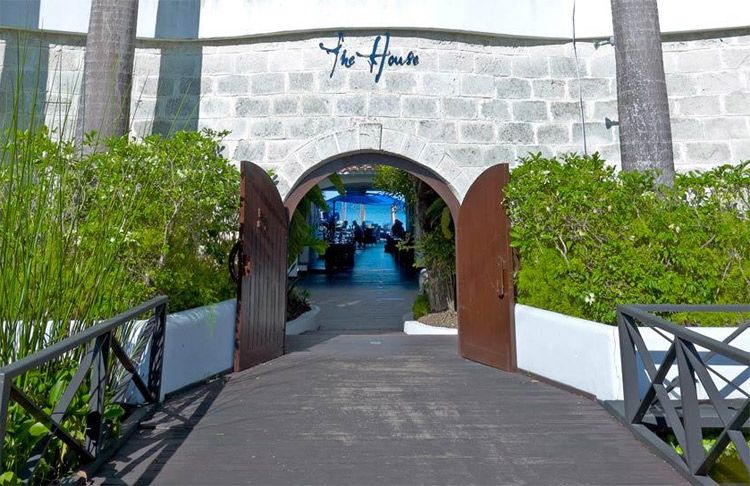 Photo Courtesy of The House
You take months to plan a luxurious getaway with your significant other. The long anticipated day finally arrives, and as you sit down to enjoy your first romantic meal of the trip, a child at the next table starts crying and throwing a tantrum. Didn't you leave the kids at home to avoid this exact situation? If you've ever felt like your romantic vacations have taken a turn for terrible twos, then the ultra-exclusive, adults-only beachfront resort,
The House
, may be just what you need to keep the screaming children and Tickle Me Elmos at bay.
Located on West Barbados along the Platinum Coast (referred to as such because of its clear warm waters and stretch of powdery white sandy-beach), this unique Caribbean vacation destination gives overworked adults the chance to unwind and focus on their loved ones without any unwanted distractions.
If it's not enough to just get away from the kids and stresses of everyday life, upon arrival you will be greeted with a complimentary jet-lag revival massage in one of the beautiful beach cabanas. Follow that up with refreshing afternoon tea and light canapés, all the while taking in the breathtaking view. Afterward, explore the tropical island's endless array of activities such as helicopter tours, biking tours, horseback riding, dinner cruises or couples photo shoots—all great opportunities to reignite the spark in your relationship, or keep it going even stronger.
On October 6, 2012 this boutique, 34-suite hotel will unveil its highly anticipated new look following an extensive five-month refurbishment, including modern interior design and updated room décor featuring hand-crafted mahogany wood sculptures from local artist, Reggie Medford.
All bathrooms will be redone with new state-of-the-art equipment like rainfall shower jets, and the one-bedroom suites will be redesigned for a more spacious area to truly sit back, relax and let the attentive staff take care of the rest. Ensuring an authentic "home away from home" atmosphere, this intimate escape offers personalized services in a soothing environment.
In the evening, you can both indulge in a candlelit dinner at the Zagat-rated Daphne's Restaurant. Chef Marco Festini Cromer uses fresh, local ingredients and Barbados-inspired preparations to create his acclaimed Italian dishes in a casual and cozy ambiance. To keep the flame burning bright, end the night with a passionate stroll under the moonlight along the crashing waves on the beach.

If you're interested in reclaiming the romance with loads of love, sans the little bundle of joy, then consider The House. With rates starting at $500 this fall, it could be exactly what your relationship needs. For more information visit
TheHouseBarbados.com
.