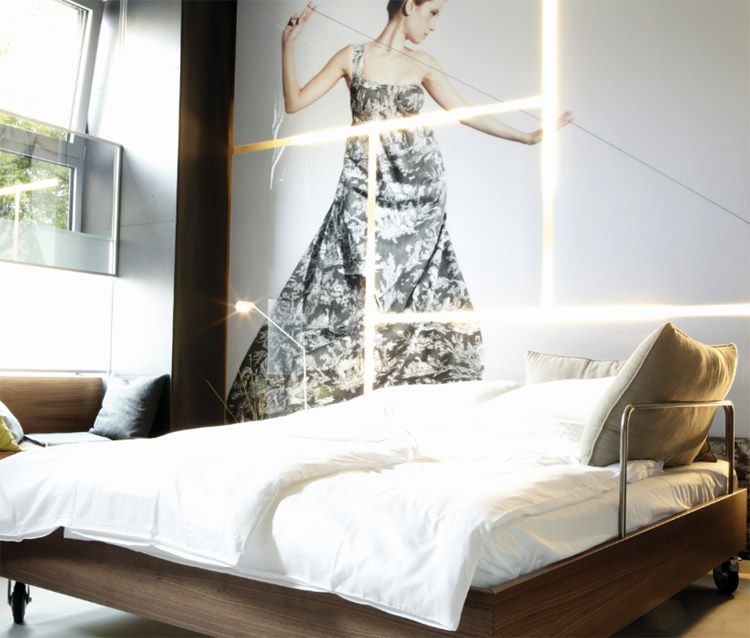 Photo Credit: Julian Mullan/Sue Sellinger/Urbanauts
As Vienna continues to become a
top travel destination in Europe
, luxury hotel brands are starting to open up properties throughout the city. While developers have been busy locating land to build on, breaking ground and constructing expansive towers, a less flashy, more personal approach to hospitality has found a unique place of its own in town.
And when one door closes another opens, as is the case with the innovative hotel concept URBANAUTS. Three up-and-coming architects came together to breathe new life into vacant storefronts nestled in Vienna's local infrastructure and give guests a fresh outlook on the Austrian capital. Instead of feeling like a lost tourist in an intimidating city, URBANAUTS makes visitors feel like part of the community, working closely with nearby businesses to form an "inner circle of friends" rather than employing a staff in stiff uniforms.
These street lofts work to authenticate a guest's experience by offering a place to stay that feels like more a cool apartment than a formal hotel room. Step right onto the pavement from the loft door and stroll to breakfast down the street at Café Goldegg instead of to a hotel eatery; go shopping at Gebrüder Stitch to be fitted for a tailor made pair of jeans instead of buying a knick knack at the hotel gift shop; rejuvenate at Mon Corps wellness spa with a chocolate mask massage instead of choosing the hotel spa. A stay at URBANAUTS encourages an exploration of the city from the viewpoint of locals that walk the streets every day.
Their very first URBANAUTS loft was once home to a tailor shop located in the midst of Karlsplatz, Naschmarkt and Belvedere castle. While the space is clearly revamped, it still pays homage to its former business with decorative details and wall art. Here, guests are a seven-minute walk to the 1st district, three minutes to the metro and a quick bicycle ride (bikes provided for free) to the best attractions awaiting them in the heart of Vienna.
To better understand this new hotel concept, how it works, and what travelers can expect, we spoke with one of the initiators, Theresia Kohlmayr.
How did the idea for URBANAUTS lofts come about? What was the inspiration?
Theresia Kohlmayr:
Due to the fact that we (Theresia Kohlmayr, Jonathan Lutter and Christian Knapp) are three prospective architects with a strong focus on urbanism, we started to think about the development and gentrification of European cities. There are thousands of unused square meters of space in our urban areas that went "useless" in the last decades. We wanted to establish a social and economical function in this microcosm that satisfies the needs of independent city travelers combined with a strong experience on one side together with a soft reactivation of our local resources on the other.
What is your background in? (hospitality, architecture, design, etc.)
TK:
We all studied architecture in Vienna. And beside the architectional background I know how to sell beds because my family runs a holiday hotel in Salzburg. There I grew up and could gain experience in all areas. Christian is our interior director—he has a an education in constructing furniture and worked 10 years in an interior design office. And Jonathan, our strategist, studied philosophy and photography and worked as film production assistant.
Why is Vienna the ideal location for the first URBANAUTS hotel room? When did it first open?
TK:
There are lots and lots of empty storefronts throughout Vienna. And as our office is also based in Vienna, it was natural to open our first prototype here. In July 2011 we opened our first street loft.
What has been the reaction by locals and tourists?
TK:
We are overwhelmed by the great response we get from both sides! Since we opened our first room last year we got a lot of positive feedback from our guests! Many of them leave messages for us on the old typewriter in the room or come to visit us at our office. Local entrepreneurs as well as public institutions are excited that we engage in the neighborhood. It is also in their interest that empty storefronts be revived and put to new use and contribute to the development of the city. But also the inhabitants see our initiative and support us—for example, they send us emails in which they give us hints for empty storefronts.
How does staying in an URBANAUTS loft differ from a hotel stay? How is it similar?
TK:
URBANAUTS offers a 4-star-accomodation. The usual hotel services are embedded in the local neighborhood and provided by our fellows. Breakfast, lunch and dinner in selected nearby cafés and restaurants, wellness at the hammam around the corner. And we also provide our guests with our latest tips, put them on guest lists for special local events and so on. URBANAUTS engages tourists in the local culture, which is something that many people seek.
What is your target demographic? What makes someone want to stay in this type of lodging option over a typical hotel?
TK:
People who want an authentic experience off the beaten track – as "residents on time." Insider-led travel is becoming an integral part of how people would like to experience a city. URBANAUTS is a great way for travelers to discover the city's hidden gems and see Vienna from a local perspective.
What are some luxury aspects to the URBANAUTS street lofts?
TK:
The experience and our services! Guests get part of the city neighborhood and the URBANAUTS community. Our fellows provide not only the services, they treat our guests as friends.
A nice example:
A couple from Italy, which stayed at URBANAUTS, went to one of our fellows for dinner and faced closed doors: Ten-year celebration. But when they said that they are from URBANAUTS, the owner invited them to join in the party.
Concerning our street lofts we offer 4-star accommodation with 25 sqm space (270 sqft), king size bed, rain shower, separate toilet, multimedia, TV, safe—and includes a wide bunch of services which you would expect from a luxury hotel such as internet, WLAN, DVD, music, minibar/grocery package, coffeebar, organic body care products and two bikes for the entire stay.
Where else do you plan on opening lofts? Do you have any plans to bring them to the States?
TK:
The street lofts will be clustered in one district to make up our decentralized hotel and to build up our community. We are currently developing our first cluster in the 4th district, where our current loft is located. Then we will "occupy" further districts with street loft clusters in Vienna. Our future plan is to conquer other European cities where similar circumstances ask for street lofts. The States? We will see!
Can you briefly explain the process of checking in and out of the loft?
TK:
As there is no reception, our guests get their room key through our key safe at the loft entrance. To access the key safe they simply use a code which we send them three days before arrival. When checking out they just leave the key in the room.
How do you go about choosing storefronts to renovate and how are their former uses represented in the new URBANAUTS spaces?
TK:
Currently we are looking for storefronts in the 4th district. In order to build a cluster the shops should be in a certain radius. An interesting surrounding is important, size as well as economical conditions also relevant criteria.

As part of the emphasis on locality, artists from the immediate environs are invited to design the rooms. Our first street loft was a former tailorshop, so we call it "Die Schneiderin" (=tailoress in German) and constructed a big wall installation in cooperation with the local art photographer Sue Sellinger which relates to the former use.