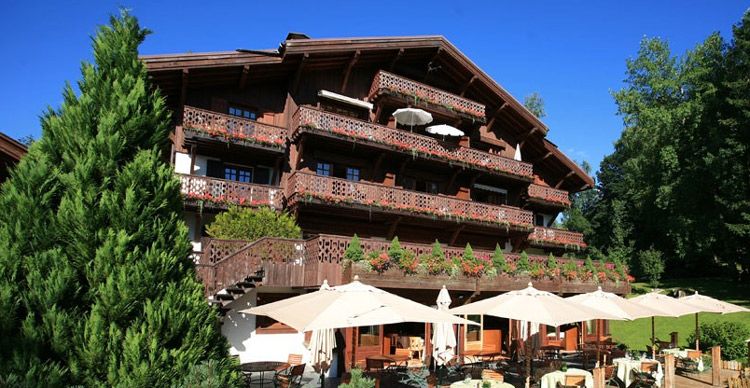 Photo Courtesy of Domaine Du Mont D'Arbois
Living like a Rothschild probably sounds like a pipe dream to most people. But the banking family's French Alps vacation spot is available for reservations starting at about $400 a night, so perhaps that dream is within your grasp. The Domaine du Mont D'Arbois is an authentic piece of Rothschild history, with a five-suite
luxury chalet
that was built in 1920 and includes a number of Rothschild family artifacts and a few other reminders of the location's wealthy patrons. The resort is nestled in the French Alps between Italy and Switzerland at 3,600 feet and is surrounded by the Savoyard village of Megéve.
In addition to the three chalets and 41 rooms that the the five-star Relais & Chateaux Chalet du Mont d'Arbois offers, it also boasts a golf course, five restaurants, and a spa. The 18-hole golf course was commissioned by Baron Edmond de Rothschild (and more importantly, golf enthusiast) and is overlooking the beautiful alpine village. It sits on a plateau, ensuring that your stray ball won't roll down the mountain and hit some poor local on the head. The fourteenth hole offers a panoramic views from the highest peak looking out onto Col de Véry, the Mont Joly mountain chain, and l'Aiguille de Varens just above the Arve Valley.
The spa is unique, with innovative treatments, and a swimming pool that is half indoor and half out. There is also a team of therapists trained in the mystical art of Crystal body therapy. The crystals directly affect the "body's main organs via energy pathways," while stimulating the senses. The spa also features a sports trainer to help you keep in shape during your stay, and a number of other treatments for both men and women to hydrate, detoxify, purify or calm, along with a complete line of anti-wrinkle products.

Outdoor activities are a main attraction at the Domaine du Mont D'Arbois, as the region is famed for its biodiversity and stunning landscape. While hiking around Megéve, tourists are beckoned to scattered restaurants around the area. These off the beaten path eateries often serve traditional Savoyard food, with views of frolicking antelope and towering mountains to keep diners enthralled. Rothschild or not, the French Alps are an impressive place for anyone to visit, so why not try living like the banking tycoons on your next holiday vacation?